Garden Tool Box » Best cordless nail gun [UK] for 2nd fix for brads: top Dewalt, Makita, Ryobi, Vonhaus nail guns
Written by Terry Smith
Our site is reader supported so when you click a link to Amazon we may earn an affiliate commission.
Best cordless nail gun [UK] for 2nd fix for brads: top Dewalt, Makita, Ryobi, Vonhaus nail guns
This article was last updated on March 5th, 2022 at 8:59 pm
I decided to team up with well known and respected Carpenter Brian turner (an expert with cordless power tools) from London Sash Window repairs Ltd link. He kindly popped into my little home workshop for the day and showed me how to use, and get the most from cordless nail guns. He's a lovely guy and very well trusted when it comes to power tools. Just take a look at the glowing reviews Londoner's leave him!
Battery technology led by your known big names are making 2nd fix nailers an absolute pleasure to use. I have tested both 18gauge and 23 gauge to show you just how effective this cordless nail guns are at pinning and nailing. You would be quite frankly shocked by the power delivery and lose very little to your air compressor comparable nail guns, and this really does apply to brads up to 50mm 18gauge. You wouldn't believe the time these save. You can literally fire in brads, which are the equivalent to a panel pin in a fraction of a second and leave the smallest blemishes on timber, be it hardwood or soft. If you have much in the way of 2nd fix then one of these nail guns is going to pay for itself in no time.
Best cordless nail gun in the UK
Comparison table: Best cordless nail gun [UK] for 2nd fix for brads: top Dewalt, Makita, Ryobi, Vonhaus nail guns

Product
What We Think
Price

2 Non-marring pads to keep work surface free of tool marks
Fires 18 Gauge (1.2mm) nails from 15 to 50mm long
2 Firing modes, full sequential mode for precision and contact actuation mode for rapid fastening...

Depth adjustment.
Anti dry-fire mechanism
Trigger lock
Capacity : Length: 15

18V XR Li-Ion Cordless Brushless 18GA Finish Nail Gun

Slim nose for better visibility
Anti-dirty fire mechanism
Rocker switch to select sequential or bump fire mode
Tool-less depth adjustment
Nail gauge 18 glass

2 in 1 cordless nail and staple gun
Features smooth action trigger switch
Powered by an 18V Max
Heavy duty plastic body with tool belt hook and ergonomic handle
Manufacturer 2 Year Warranty Included
1. Makita DPT353Z Pin Nailer
What can I say… Be prepared to be shocked by this little cordless nail gun. It fires the thinnest 23g brads I've ever seen from 15-35mm and leave the smallest puncture in timber you can possibly imagine. Let's talk about the gun itself. It feels great in the hand and well balanced with a battery attached. It certainly does not feel heavy at all.
It has the Makita clip so it can go on a holster – that's fine if you need the freedom but I don't like the weight around my belt, there's plenty of weight there already 😀 I like the safety features too. You cannot shoot without having the 'lock mechanism' set to fire as well as the front of the nailer (the nose) pushed in and engaged. It is practically impossible to misfire so it's a big thumbs up on safety but I would say with one little niggle. They have tried to hide the lock so you can't accidentally catch it and disengage to a live position. This is great until you need to lock or unlock it. My fingers are a bit big to get in there. I suppose this isn't really a point of complaint, more a point of how seriously they are taking misfires and your safety so hard to complain.
Here's a look at the locking mechanism, as you can see it's tucked away where you're least likely to knock it either way by accident: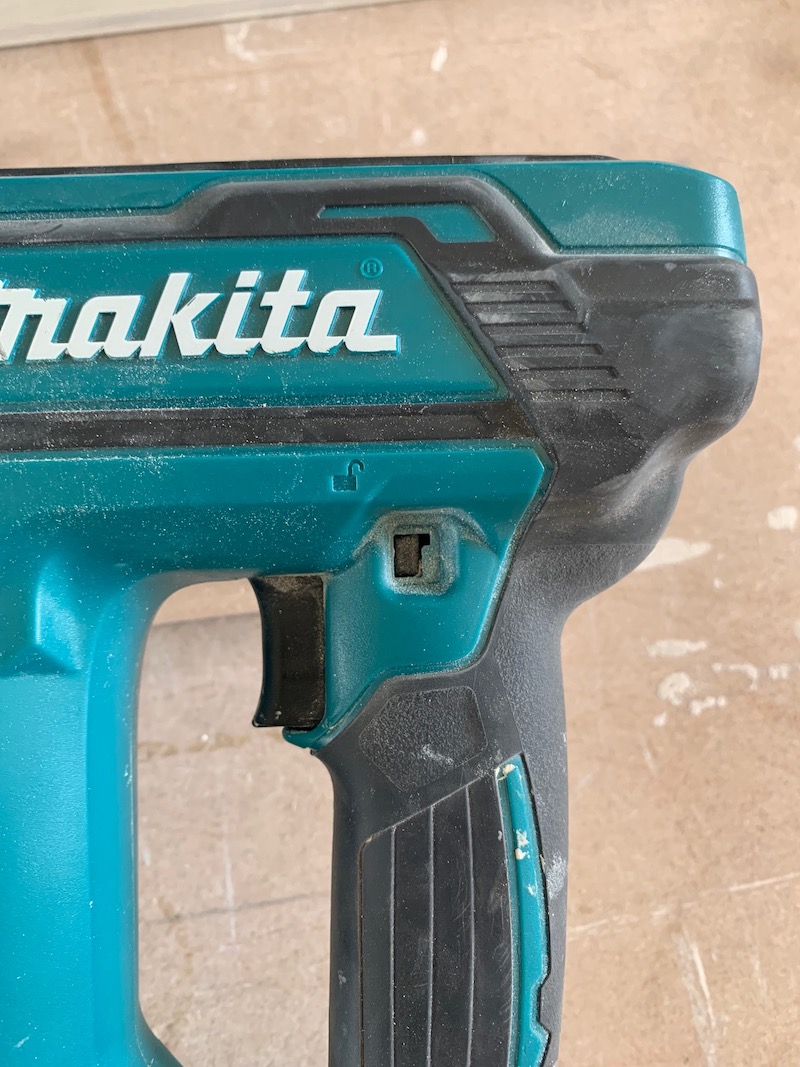 Talking performance I very much doubt this nail gun had to be 18v as the brads are so slender but the result is you can use this pin gun with a 4 or 5 amp battery literally all day and barely knock a bar off when you check your power gauge. The pin gun fires very quickly, if you need but I rarely found myself doing anything too rushed because the sheer amount of time I saved nailing made accuracy even easier to achieve with joints.
I love the reload mechanism too. You simply release the clip in the picture below, insert the brads with the triangles conveniently showing you which way round (given the brads are headless you need that help) as you can see in the picture below: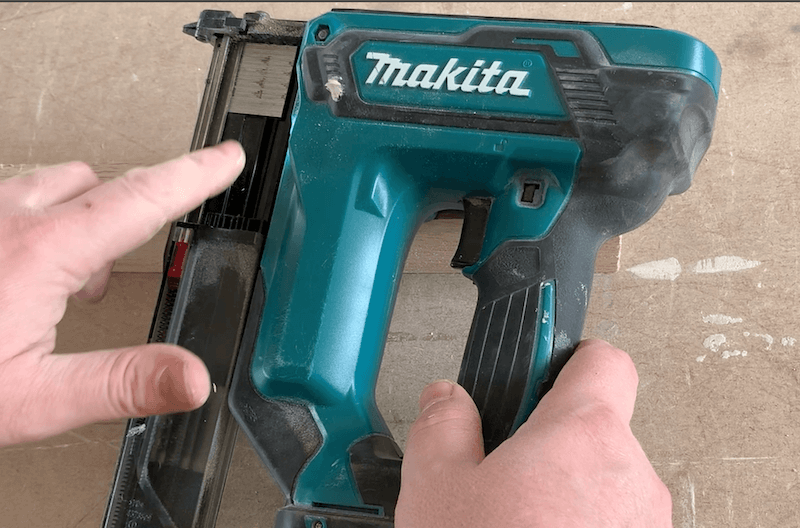 They give you the Allen key in the event of a jamb which is neatly stored on the side of the gun itself. Brian reliably informs me that he has never had a jam on this little pin gun so no need to open it up, not even for a clean up and he has had this one for 6 months or so. He did however mention the odd pin will curl up and do random things based on the knotty timber – so always wear your goggles. I have to say when I fired it I was really impressed by the power and accuracy. The live of engineering to accurately fire one little pin off at a time is really impressive. Here's a look at this gun in action – a short video of the Makita DPT353Z Pin Nailer
Vid of gun in action for those on mobile
Let's assume you are looking to do some skirtings, architraves, some glazing bead, or any of the lighter second fix jobs you will not be disappointed by this gun. As you can see softwood or hardwood the pins disappear leaving only the tiniest mark as a trace. So it won't matter what material you are firing it, you'll finish cleanly. For something heavier the requires more hold like a window board I would look to the 18gauge range which we will review next.
Overall this is very impressive to use and work with. I am definitely adding this to my range of Makita cordless tools such as the cordless lawn mower, cordless brush cutter, pole hedge trimmer, and of course the ultimate cordless chainsaw I have too. Once you have Makita batteries the whole game opens up. The bare tools are superb professional standard equipment at sensible prices affordable at home. You can do work to a professional standard too, the tools make a job that much easier I can assure you. As Best cordless nail guns in the UK go, for a 23 gauge this is my top pick.
The Makita DBN500ZJ Brad Nailer is far more fun that the smaller version. It packs way more power and punches with 460 Watts as opposed to the 100 Watts the 23 gauge Makita fires. Needless to say 40mm or 50mm headed brads disappeared into hardwood effortlessly. What I really like about this gun is the size of the nose. The slender nose makes looking right down the barrel at where you're firing very easy indeed. Here's a look at that on the ciao so you understand what I mean:
Vid of firing straight down the line.
At the same time I wanted to show you how easily this gun pumps 40mm 18 gauge brads into hardwood. The gun reloads itself much slower than the smaller pin gun but that is to be expected as it has to wind itself up to fire. What I did notice when using it all day was the occasional misfire. It would make all the noises but not let go of a brad – every time this happened to me was when I was testing the speed. It clearly needs a chance to wind up so don't rush it – no nee when it's twenty times faster than a hammer and panel pins already and leaves far less damage on the timber. If you look closely this finish is a decorators dream, most will fill that with a dab of caulk, if that.
I didn't run a battery out when using it all day but I did swap over at two bars – I felt as if I was losing power. I am not sure if this is the age of my batteries or not. I would say probably yes but it's worth knowing as having two batteries is going to negate any downtime.
If you have large skirting, window board you want to fix down, architraves, and any general second fix work this gun is a big step up in power from the first 23 gauge pin gun and will hold timber very firmly. You could easily attach larger skirtings into a timber stud with this leaving practically no making good at all. It's a very very accomplished bit of kit. Brian tells me he uses this on parting and staff bead on sash windows, putting trims on garden conservatories and all panelling.
To hold it's far heavier, it feels more powerful as it punches in nails too. There's very little in the way of recoil and we didn't have a jam all day using it though Brian mentioned in the 18 months he had this, he did experience one jam and this came from the last couple of pins not firing/aligning properly. It was a case of using the hex bit provided and removing the offending brads. Straight back to work five minutes later.
Once I started thinking out the box I realised this is a superb bit of kit to hold fence panels together. I duly cut one down and rebuilt it with this pin gun. Have to say it beat a hammer and nails all day long. Very neat and tidy indeed: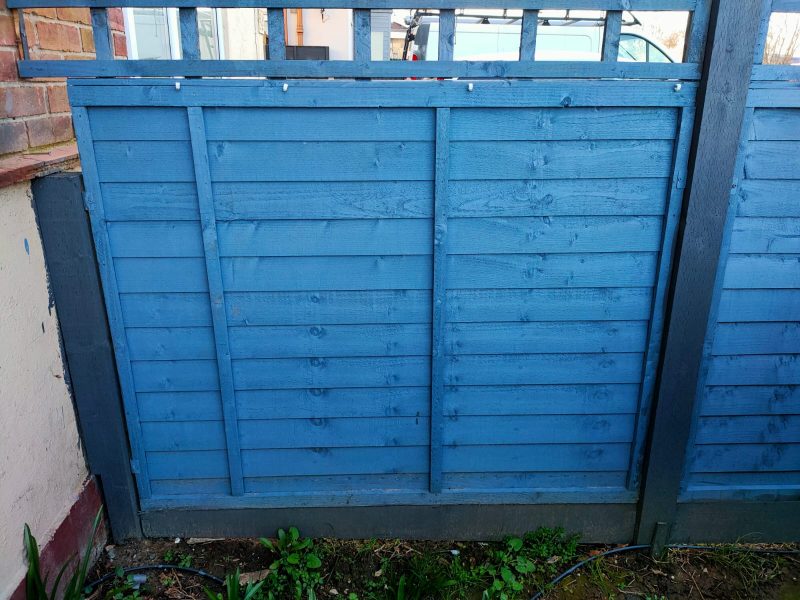 You can barely see the holes after painting – absolutely no filling at all here.
I wish I had this for weatherboard on my shed – the time it would have saved, oh well hindsight and all that – another superb use I could get in was garden gates – look how neatly it finished the braces:
Pic of braces on garden gate
For slightly heavier work this is a lovely bit of kit and I would pick this as the best 18 gauge cordless nail gun in the UK. It beats hand nailing all day long on mid weight tasks.
3. Dewalt DCN680N-XJ DCN680N Brushless XR 18 Gauge Brad Nailer
The Dewalt DCN680N-XJ DCN680N is a cracking bit of kit no doubt. It fires off 18 gauge brads ranging from 15-54mm (that's slightly longer than the Makita) at a scary rate of 4 nails a second if you ask it. Why you would need that kind of speed I don't know – perhaps I am slow 😀 but still if you want speed it has it.
The design is nice and the nose allows you to look down the barrel and aim accurately. It's also much lighter than the Makita which is a plus point too. The trigger is pretty light and it has the trigger lock on top of the gun as opposed to underneath. This is definitely more accessible. It only misfires occasionally and that's pretty good going considering it's firing the same size nails and giving up a huge amount of weight to the Makita comparable model.
There's not much in the way of kickback and it feels powerful. If you are a Dewalt junky then this is really going to help you with skirtings, MDF, architraves, panels, fence panels, and just about any second fix work you can think of.
The only thing to make sure is that you're buying 18 gauge brads and from there you really can't go far wrong. A great machine that'll last we'll and comes with excellent customer service should something go wrong…
4. Ryobi ONE+ 18G AirStrike Nailer
You will be pleasantly surprised by the Ryobi ONE+ 18G AirStrike Nailer. Ryobi and relative newcomers to the cordless game and are playing each up with the professionals. Whilst this tool is far from a rounded and complete nailer, it does offer superb value for money and more than enough for your typical second fix at home.
Like the top pick Makita it fires 15-50mm brads and it has no problem pumping 50mm brads into softwood timber. The finish is excellent – if I could say one thing, I prefer the nose on the Makita but when you compare costs this may even represent better value for money. With all bare tools remember that you'll need to buy batteries separate.
You'll have no trouble firing into ply with a softwood timber stud behind. So if you're panelling out you can buy in confidence. It does have rapid fire too if you're in a rush but my preference is to take it steady and nail accurately. After all, this is a solid bit of kit and removing nails after they are punched in is quite some task, especially if you do a test like me and fire into Oak. I had a go at 44mm (4 by 2) Oak and the heads were still punched in. Excellent bit of kit with good customer services and on a budget I would highly recommend this as a buy rating.
VonHaus Cordless Nail Gun with 18v Battery, Charger and 200 Nails/Staples – 2 in 1 Stapler Nailer with in Built Air Compression – 2yr Warranty
Of all the guns reviewed this has the least firing range from 20-50mm. However, what this gives up in size of nails, it more than makes up for with the ability to fire both nails and staples. The gun itself is robust and if you have Vonhaus batteries already then it's a no brainer.
Like the Ryobi there are two firing modes, slow and fast basically. It's a nice touch that they'll supply you with a few nails and sales too. This makes sure you know exactly what you need (18 gauge) for next time.
The body itself is rigid plastic and feels like it could take a drop. It has the hook so you can hang it from yourself if needs be. This is particularly going to be useful with beading, plastic sheeting, thin ply sheets, and general picture framing. For the lighter tasks this is just the ticket.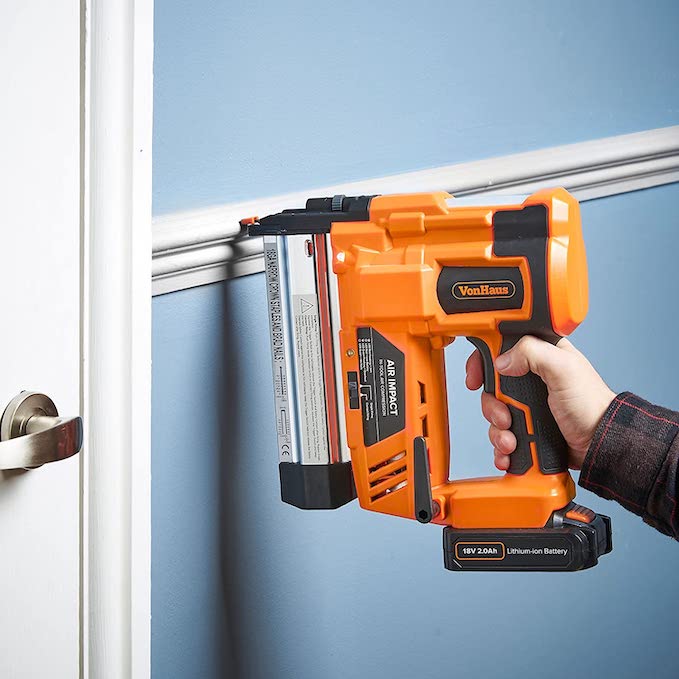 ---