Garden Tool Box » Best car covers [UK]: Top heavy duty car covers for outdoors with some fleece lining
Best car covers [UK]: Top heavy duty car covers for outdoors with some fleece lining
This article was last updated on July 31st, 2021 at 4:22 am
Now, there's a few reasons why car covers are an excellent item to own, and they really do come in handy for a few reasons. They're not incredibly expensive either, so it's not going to run you dry getting one. All they effectively do is cover your entire car, so there's no hidden speciality that you can expect, as it's a simple case of doing what it says on the tin.
What is a car cover and what are the benefits?
A car cover is generally a plastic liner, sometimes with a fleece inner designed to lay over your vehicle and shield from the weather. However, the best car covers (especially on hot days), protect the car from absorbing heat and getting to high temperatures, and let's face it, there's nothing worse than that! They're also perfect for stopping your car getting dirty from rain drops or bird muck, as well as any hail or snow that could be a pain to get rid of in the morning. There's a number of reasons why they're useful really, but primarily, they protect your car and keep it in good condition, so it's definitely worth it and it'll be much cheaper than investing in a car port which will do the same thing when compared but cost a lot more money.
Even though there's plenty of reason for you to buy one, there's so many available that it can be difficult to tell which is best for you. Obviously size is important in this case, as the size of the cover you get depends entirely on the dimensions of your car, so make sure to measure this up beforehand. To help you out with choosing what's best for you, we've reviewed the best 6 options for car covers here in the UK and provided a short buyers guide to help you along the way.
Before you read on, just note that we've also reviewed the best options for car covers with fleece lining, as this addition is really useful in a car cover to help with insulation on a cold day and further protection. They're a great addition and worth reviewing, so read on for more!
Best car covers: our top picks
Comparison table: Best car covers [UK]: Top heavy duty car covers for outdoors with some fleece lining

Product
What We Think
Rating
Price

Dripex Truck Car Cover 6 Layers - Waterproof All Weather Car Cover

My top pick for a large cars and pick up trucks is the Dripex Truck Car Cover 6 Layers because of all the car covers this is the largest and fits my car great. With 6 layers built in it'll actually keep your car dry! This is for large cars and pickup trucks and genuinely will cover a 6 metre long car. I use this on my luxury car and have no concerns - it's been good to me. You'll be able to remove and fold up the cover in a few minutes. Generally, not too much hassle

Cartrend All-season fleece full car cover

The Cartrend All-season fleece full car cover is all about keeping your car in good nick under a shelter. It'll keep the dust off and the lining will stop any scratches. If you're really serious about looking after your car and don't get it out all that often then this is a great pick.
The Shield Autocare WATERPROOF CAR COVER is our wild card for the best car covers in the UK. it's not been around long and has limited reviews but everything looks good so far. If you take a look at the price, I am willing to bet that this will be more expensive once it's established considering it comes with decent straps to hold it down and the material appears pretty much waterproof.
Price wise the MIMIDI SUV Car Cover Sun Protection Breathable Cover is well up there but I feel this is pretty heavy duty and if you are in tough weather conditions should do well with this pick. If you're looking for a Winter solution this would probably be the one I go to at the moment. The double stitched woven fabric gives you half a chance of coming out the other side of Winter in one piece!

VONLUXE Car Cover - All Weather Waterproof Protection Full Cover

The VONLUXE Car Cover manufacturer claims this is dustproof. I can agree it does a super job of keeping the dust out. The aluminium layer goes a long way to ensuring it's pretty water proof too. Overall this is a really good car cover and my vote for the best dust proof car cover in the UK at the moment.
The Tofern Half Size Waterproof Car Cover is a pretty sensible option as far as waterproofing goes. With a decent balance between price and ability to keep a car protected it made our list for top car covers in the UK. The only issue I have is it doesn't cover the car entirely. With that said it's still a super option and has loads of decent feedback online!
1. Dripex Truck Car Cover 6 Layers - Waterproof All Weather Car Cover
Our first place spot is taken by this excellent bit of kit that is the Dripex truck car cover, and it's well deserving to say the least. It costs sensible money too as seen in the average four and a half star rating for over 500 customer reviews. As you can see by the title it's obviously made for trucks, so it measures in at 625 x 203 x 175 cm, which is pretty big for a car cover and should cover your car just nicely (unless you have a truck larger than this!)
I have to tell you all car covers are a pain to take on and off but this one takes me about five minutes to get over my car carefully without scratches or dragging it on the ground picking up dirt and dust. Pretty obviously if you're buying a car you want to look after it. This is my second home and I don't have a car port yet as I bought this little sea getaway to renovate it just how I like. I don't mind using it to cover my Rolls Royce Phantom so it should be a pretty good indication of the trust I have. I haven't had any scratches yet and it keeps the bird crap off my paint work just fine. So I'm pretty confident in the application of this car cover and wouldn't hesitate to recommend it.
It is composed of 6, yes 6, different layers, all of which are made from high density and easily breathable material. It has cotton/fleece lining as one of these layers and aluminium coating on the outside, so it's perfectly suitable for weather protection. This layer, alongside the inner layers, make it waterproof and dust-proof and therefore excellent for the outdoors, but it's also UV resistant, so it's perfect for sunlight protection for long periods of time. The most inner layer is not only made from fleece/cotton lining to aid insulation, but it will also prevent any scratches or marks when you take it off.
All in all, this has everything you need in a car cover and it really is useful to have. It looks great from the outside too as you can see below(photo below this paragraph?), and it's most definitely big enough for any car. You might think it's too big but as said, if you have a smaller car, then you need to check the dimensions before to see if it really is too small (you don't want it swallowing your car up!).
It easily secures to the truck as it has pretty strong straps and buckles, and its anti wind design means I didn't have to worry about it flying off. As well as this, it has an inverted "V" design that actually makes it universal to all larger cars, so this makes it more useful for whatever size car you have and means you have to worry less about size.
Overall, it's easily the best out of these options and for reasonable money, it has everything you need and more to protect your car and manage its temperature. On a hot day it should stop it getting too warm, and vice versa, so it's definitely handy all year round. However, if it's a tad too big, you can actually get a smaller version (480 x 175 x120cm) for less too, so you're still getting a bargain! If you need to, the company offers a warranty and also allows you to send them pictures/information on your vehicle and they can help you decide what size/if the size of the cover is suitable for your truck.
We couldn't recommend this enough as not only does it really serve its function well, it looks great and doesn't look like you've just thrown some tinfoil on your car…always good for the neighbours to see! If you're looking for a good value, well fitting, high-quality car cover, then this is for you.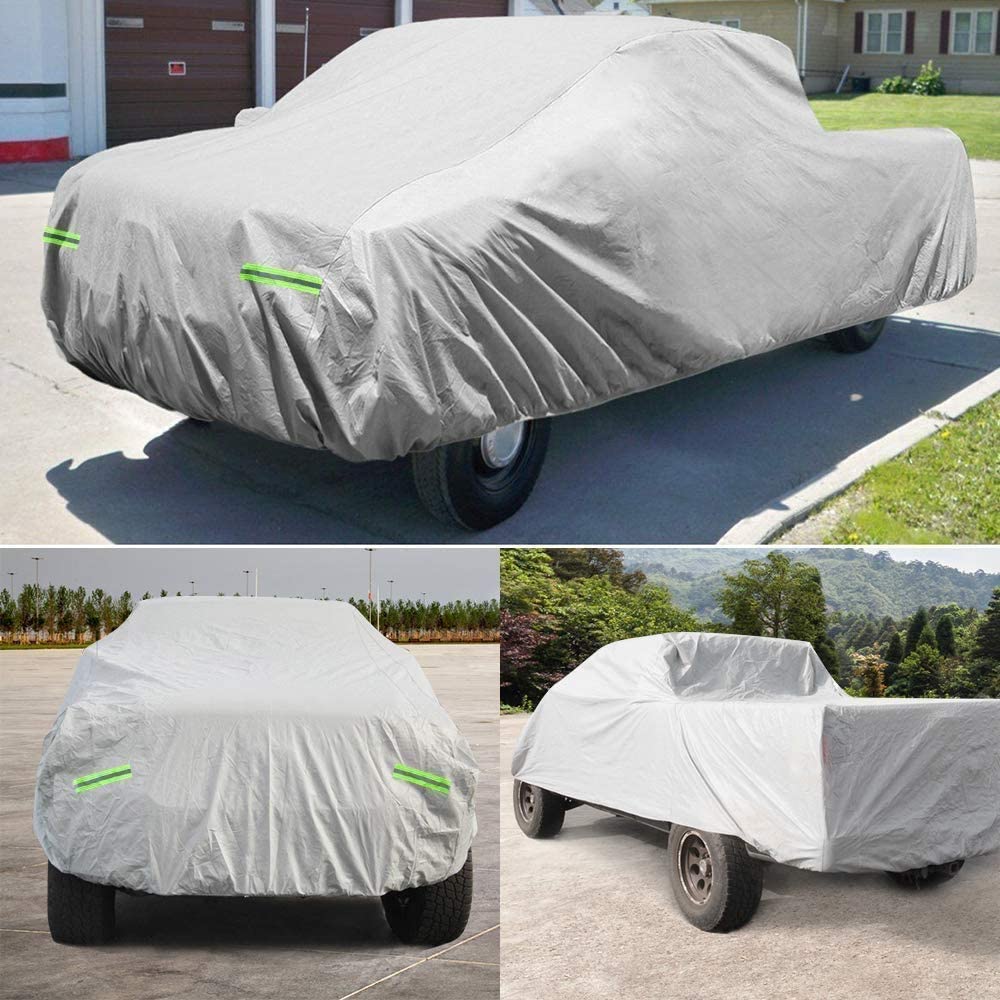 2. Cartrend All-season fleece full car cover
In our second place spot comes the Cartrend all-season fleece car cover, averaging at four and a half stars over 700 customer reviews and costing less than the first pick. It measures in at 482 x 177 x 121 cm, with another option depending on the size of your vehicle, but this one is perfectly suitable as it is. When they're all available it comes in either blue red or black, so the colour choice helps you decide what looks best for you.
This is a great car cover for its price and is suitable if you're not looking for something overly expensive but that will do the job, and we couldn't recommend it enough. On top of that, its got inner fleece lining which uses synthetic fur, so you can feel confident that your car will be properly insulated and protect it from extreme temperatures inside. It looks good too, which definitely always helps.
The only thing is that it's not waterproof, so it's really only useful for either a car cover indoors or for extremely cold or hot days. Make no mistake, that's still useful and what you'll be using a car cover for most of the time, but it just limits it a bit in terms of practicality. Despite this, it does its job perfectly and the manufacturer also offers a year long guarantee, so this should help you feel more comfortable with buying. Overall, a great item that we strongly recommend, but not if you're looking for something that's waterproof and suitable for snow or hail.
3. VONLUXE Car Cover - All Weather Waterproof Protection Full Cover
Our third place spot is another 6 layer car cover and is fairly similar to the Dripex cover in first place, so already we felt pretty confident. It's pretty big, measuring in at 193" x 75″ x 60″ and it still only costs the same as my top pick when compared, so you're getting good value for money.
It has an outer aluminium layer which is UV resistant and suitable to protect your car against the weather, as well as being dustproof and waterproof. Its inner lining is made from oxford fabric (very fancy) and will keep your car nicely insulated and protected from extreme temperatures. The inner lining and outer aluminium layer should prevent scratching or marking. On top of this, it has various zips which makes access easy and can easily be secured to the cars, so it's protected against wind and should stay secure. It also comes with a large bag for storage.
The manufacturer provides a one year warranty and since this size cover should fit most cars, we think it will be suitable for you. There's no denying its similar to our first place spot, so what's wrong? Well, really not much, but there are a couple of differences which mean you're not quite getting as good value for money compared to the Dripex cover.
Firstly, it doesn't have the V shaped design, which does make a difference in terms of how it looks on your car, especially if it's not exactly the right size. Furthermore, it might cost less, but the Dripex cover is a lot bigger and you get more surface area per pound. These aren't major differences and are why it's still high up on our list, just not quite enough to beat that top spot!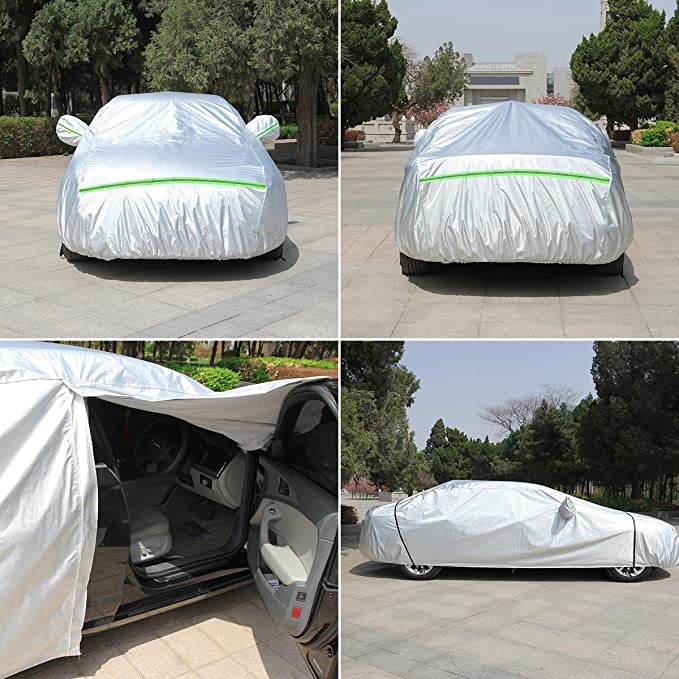 4. MIMIDI SUV Car Cover Sun Protection Breathable Cover
Next up is a slightly more expensive cover, hence its fourth place spot, but it's still just as good. It currently costs £67.80 and has an average four star review, and whilst it only has 15 ratings, it still has everything you need in a car cover. Before we talk about its features, it's important to know that this is a perfect option for a car cover and works great, but it's only in our fourth spot because of the price.
The cover is made from a durable, non woven fabric that is double stitched for maximum strength, so you can be confident that it protects your car from all types of weather. It's proven to be especially useful in winter too, as its inner fleece lining acts as an insulator and warms the car efficiently. It's dead easy to put on and there's little faff, and its elastic straps keep it secured to the car. Its waterproof and UV resistant too, so it's suitable for remaining outside. It's especially good in heavy wind too. Its luminous stripes make it useful to know where it is in the dark too, which can definitely be useful!
Overall, this has everything you need but like we said, it's too expensive and you can get everything this cover has to offer elsewhere. Similar to other options, the seller/brand offers to contact you to see if your vehicle will fit, but this cover was designed to be universal and hopefully shouldn't be an issue. We definitely recommend it!
5. Tofern Half Size Waterproof Car Cover
Next up is the Tofern car cover, another excellent buy that we highly recommend. It's made from a number of durable and high density materials that make up a strong bit of kit, so it's perfect for weather resistance and protection against harsh conditions (snow, hail, etc). It's waterproof too, so you can leave it out as much as you want, especially since it's UV resistant too, so the sun shouldn't be an issue.
There's a number of size options available so you should be able to get the right size for your car, so choosing the appropriate type is made a lot easier. Most of the different sizes are the same price too, so it's a good price for a car cover. It has mirror view pockets and reflective strips, which looks good as an added feature to its already-sleek design.
So, what's wrong with it? Well, you get a good product for the money, but as far as car covers go, it really doesn't cover that much! It effectively covers the top half of your car, in that the windows, front and rear windscreens and the top are covered efficiently, but the rest is not. This means that any dirt or water, as well as any extreme weathering, could easily get onto the bottom half of your car and make it look dirty. It might be cheap, but compared to the other options, you're effectively getting half a car cover. If this is fine then by all means get it, but it just doesn't cover as well as the other options, so it's up to you!
6. Shield Autocare WATERPROOF CAR COVER
In our final place spot is the shield auto care car cover, another great option for a car cover that has cotton/fleece lining to insulate your car properly. It seems pretty standard at first, which is always good as it means it gets the job done, but it's got a bit more to it than that. The average four star rating seems to be due to its practicality when insulating the car, but customers have also reported that its easy to use and stays secured to the car easily.
Just like the other options in this list, the car cover has everything you need. It has thick straps that seem secure enough and due to its reasonable weight, it's windproof enough, since it secures itself to the car easily and easily stays on. Whilst not much is said about its waterproof properties, its safe to assume this car would definitely be a suitable cover for indoor car storage, but possibly not outside. This of course limits it slightly, but it doesn't make it any less useful.
It's a straightforward yet high quality cover, its a steal! We're just not sure on its waterproof or weather-resistant properties, so we can say with perfect utility that it's suitable for outdoors. Since it's similar to the others on this list, but with less available information and a design which isn't as appealing, that's why it comes last.  Either way, it's a great option and although we're limited in what we know about it, it's clearly still a good cover and its limited reviews rate it highly.
Car Covers – Buyers guide
Now you know what options are there for you, it should be easier to decide what car cover is best suited for you and your car. It might seem like a pretty straight forward product, but as you can tell, there's a few important things to consider before buying. Whilst an important feature to any car cover is the addition of inner fleece lining, there are more features that affect how useful a cover can be whether it has fleece lining or not. Don't worry though, because there's some tips below that will help you understand what's important to look for in any car cover.
Weather resistance
This seems like a very vague feature to look for, but once you break it down, it makes sense. The truth is though a heavy duty water proof cover that you pay more for like the MIMIDI SUV Car Cover Sun Protection Breathable Cover or the Tofern Half Size Waterproof Car Cover is going to serve better than a cheap flimsy one. You get what you pay for essentially.
Firstly, any car cover that isn't waterproof isn't going to be suitable for long stays or leaving your car overnight outside, as there's always the chance of rain at any time of the day. If this isn't an issue for you and you'll be leaving your car inside anyway, then a waterproof cover is not strictly necessary. Either way, without this feature your cover is quite limited, so it's really key to look for it in any car cover. If you're not sure if it is waterproof or not, contact the manufacturer.
In addition to this, it needs to be strong enough to protect against other weather conditions, primarily wind and hail. Make sure that it has secure straps that easily attach to the car, as this will prevent wind being an issue. As a general rule of thumb, the more layers you have, the thicker your cover will be and therefore the better protected against hail it is. Protection against the outside is the key thing to look for in any cover, so it's important to consider how your cover is made to do this.
Size
Pretty straightforward one, but as we've already said, always check the size of your cover actually covers your car! The dimensions should be available in the product description, so just quickly measure up your car and make sure that it will fit. The largest car cover is the Dripex Truck Car Cover 6 Layers.
Some covers (like number 5) are designed to only cover a part of your car such as the windows, but in honesty, this doesn't give you the best protection. It's up to you, but consider a cover that is large enough to cover your entire car, without being too big! Some covers also come in an inverted V design which helps the cover fit on most cars, so this is always a useful feature to look for.
Fleece lining
If it wasn't obvious already, were a big fan of fleece lining! This is usually the inner most layer of a cover and usually a type of fabric or cotton which can be found on the Cartrend All-season fleece full car cover. The great thing about fleece lining is that it doesn't just protect your car against scratches or marks, but it has its own insulation properties.
This has already been mentioned, but effectively, a thick polymeric fabric traps heat extremely well when absorbed, so this heat then transfers slowly to the surface of the car and eventually to its interior. This means your car stays warm when it's cold, but even when it's hot, it traps the excess heat from the sun in the fleece layer, so you really have control over your car's temperature! It's a great feature to any car cover and we highly recommend it. It doesn't have to be the most inner layer, but it certainly makes it better if it is. Check for this in the product description.
Overall, these are the main things to look for in your car cover to make sure you get the best value there is. These features make a huge difference and whilst they're prominent in most car cover products, you should still check for them anyway. Happy buying!
---