Garden Tool Box » Best shed organiser [UK]: Top shed tool storage ideas and solutions
Best shed organiser [UK]: Top shed tool storage ideas and solutions
This article was last updated on July 31st, 2021 at 4:01 am
Your garden shed is notorious for being a mess, and even if you consider yourself a tidy and well organised person, at some point or another, your shed will end up in a mess too. The number of tools and other items that you store in your shed mean it can get quite chaotic, which could be why it's always difficult to find things! It may be common for this to be the case, but it doesn't make it any less annoying.
Typically, the shed is used for garden and DIY tools, so it's no wonder why it can get so cluttered and messy. It doesn't matter if you have a small shed, large one, or an outdoor garden storage shed, it's best to maximise the usability of these spaces with the most useful shed organiser. This can considerably enhance the overall efficiency of your shed.
Fear not though, as there's all sorts of ways to do this, as well as many ways to make more space in your shed. At the heart of any organised shed is one simple category of item, and that's what are known as shed organisers. Let's just say that with the right shed organiser product, it's a lot easier to keep things tidy!
What is a shed organiser? 
Well as we said, its not a specific item as such and more of a category, but a shed organiser refers to any storage product designed for heavy duty use in a shed that compartmentalises or organises your specific tools. This can range from tool racks to basic plastic organisers, but overall, its simply any product appropriate for storing items that are kept in the shed (surprisingly).
With this more general definition however, there are many products that can be referred to as she organisers. On top of this, many of these products don't just have to be used in the shed but can actually be used elsewhere. Either way, shed organisers are heavy duty products, typically plastic, that can be suspended on the wall or floor to help organise your items in your shed.
6With that idea in mind, we're going to talk you through what we think are the best shed organisers on the market today. As we said, this ranges from some tool racks to plastic organisers, but our list covers all your shed storing needs, so you know which is best for you. We've got some products best for storing your gardening tools, DIY bits and heavy-duty items. As well as this, we will talk you through what's best for your shed and what product would suit you and your needs most, as well as how you can use these products to solve any storage issues or make more space.
Read on for more!
Best shed organiser list below:
Comparison table: Best shed organiser [UK]: Top shed tool storage ideas and solutions

Product
What We Think
Rating
Price
Burwells Garden Tool Holders is the best option for a wall mounted organiser that can organise your garden tools, with each rack being 1m long with 16 hooks. Customer images and personal experience show that you can easily store larger tools on their (even power tools) with ease. They're perfect for reducing floor space whilst still organising your small and large garden tools, but compared to our first-place spot, they haven't quite got the same compact and detailed nature to be more ideal for a shed. If you need a garden tool organiser strictly for your shed wall and are limited for floor space, this product is for you.
Draper Plastic Organiser is a lot smaller than others and actually has the best organisational features compared to other products in this list, but its only suitable for small parts or items and even small hand tools. It wont store anything too big so if its tool storage you need, this isn't for you. It can be wall mounted but really belongs on a surface, so this isn't the best option for limited space compared to other items. Despite this, its amazon's choice for organisers and is cheap, highly rated and clearly very popular. If you need to store small parts or small hand tools, or both at the same time, this organiser is for you.
BRIEFNESS Shelving Unit is the best option for heavy duty organising, so if you have heavy power tools or generally heavy DIY/Garden tools, this organiser is for you. Its compact (for a shelving unit), adjustable and will suit any shed, but its unnecessary if you want an organiser for smaller parts or items. Most shelving units act as good organisers, but the fact that this damage-resistant, adjustable unit is designed for heavy duty use, it makes it perfect as a shed organiser. Compared to others in this list though, its only useful for heavy items, nothing more.

Garden 2 Shelf Tool Tidy by Garland

Garland - 2 Shelf Tool is perfect not only if you're on a budget, but if you're looking for that bit of extra organisation to your shed. This product will store your basic garden tools, small or large, but not much more. It can be attached to the wall and is easy to assemble, so its really handy as additional organisation rather than a primary organiser. It's the cheapest organiser compared to others in this list, but due to its cheap nature, its very basic and for around £7 more, you can get the organiser in first place on this list. Either way, its great for budgeting or if you need extra organisational space for garden tools.
Compared to the other products in this list, KCT Garden Tool Storage is perfect for storing your garden tools, both large and small, for any sized shed. Its compact but sturdy, and its easy to assemble. The main reasons its in first place is because for its small size, it can store over 40 tools, and for only £22.95 you're getting more than your moneys worth. It will store all your basic gardening tools (small and large) and due to its low price, you shouldn't need to buy much more on top of this. Compared to our other spots, this is the best value organiser you can get that is perfect for your organising your shed's items.
Compared to other organisers, VonHaus Wall Tool Rack has the most features due to its adjustable, assorted hooks and specific design. Its perfect for organising all your DIY and workshop tools into their separate categories, but its not as suitable for all your garden tools. It's a bit more expensive too compared to other organisers, and whilst we recommend it as the best organiser for DIY tools as well as wall hung organisers, its not the best option for gardeners. That said, it will still organise small tools, so it depends on your needs. If your organiser is for DIY tools or you need it wall hung, this is for you.
1. KCT Garden Tool Storage Organiser Rack
In our first-place spot is the KCT garden organiser, prices well and currently amazon's choice for garden tool storage on the market. This product earns its first-place spot compared to the other options in this list, and whilst its really only for garden tools, its still perfect for the shed. It has an average of four stars from over 180 ratings on amazon.
Now, why is it in the first spot? To keep it simple, it's a compact yet handy product with many storage features, for both small and large garden tools, yet still manages to be appropriately sized. Its nature makes it perfect for both small and large sheds as it doesn't take up all the room, but it can store plenty of your items, so it really is great to keep things compact.
The item itself is made from durable plastic and its storage bag on the front of the item is made from strong polyester, so it has the strength to hold your tools. Its weatherproof too, so any dirt or water that comes trailing in after your day of gardening won't affect its quality over time, which is an important feature of any outdoor storage item. Its dead easy to assemble and only weighs 1.75kg, so it's got some good weight to hold your items but not too heavy to be a pain.
It can hold larger tools, such as rakes and brooms, in its main body and any smaller tools, such as pliers or sheers, in the canvas bag attached to the front. This bag is detachable too (big bonus!) so you can bring it in and out of the shed to make your gardening easier. If you want then you can use the canvas bag just as well for DIY tools, but the only difference is the main frame won't hold any big DIY tools like it will garden tools.
For its price, you're getting a bargain to say the least, as this organiser has everything you need. When it comes to actually fitting it in your shed, it only measures 60 x 32 x 11 cm, so it can store plenty of tools for quite a small size. It works perfectly in the corner of a shed, but whatever you do, the items compactness makes is the best feature of this product for shed storage. It should fit in your shed even if its on the small side, and one reason it's the best on this list is even though its small in size, it could really store all the most important gardening tools you have, so you shouldn't really need additional organisers.
Overall, this is perfect for the gardener who needs something a bit smaller for their shed, which can store plenty of gardening tools, without spending too much. It simply ticks all the boxes and is our go-to organiser for any shed. As mentioned, a downside is that its not great for DIY tools, but it will definitely store all your gardening items in a compact, organised manner.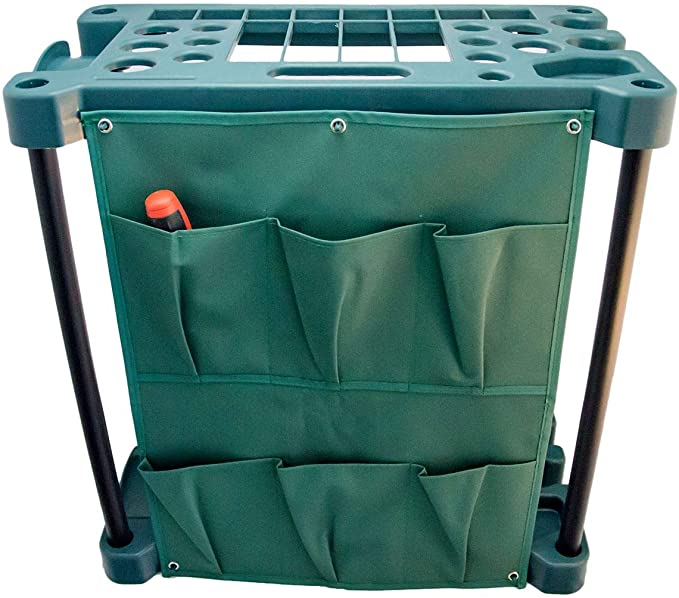 2. VonHaus Garage Wall Tool Rack Pegboard
In our second-place spot is the Vonhaus wall tool rack, a fancy-looking organiser which is perfect for your DIY tools, or even smaller tools for that matter. Priced a bit more than the top pick, this pegboard unit isn't the cheapest in our list but its still not steep, and with over 1000 ratings averaging at 4 stars, its safe to say that this organiser is worth the money and has gone down well with customers.
Firstly, the organiser board is made from robust, strengthened plastic to enforce integrity, whilst being durable and lightweight enough to setup. All it needs is a bit of drilling to secure it to the wall and you're good to go, so it really isn't all the difficult to set up. It has a reinforced design to make sure it can handle the weight from your tools and stay strong.
This really is a great organiser, and with 50 assorted hooks that you can place anywhere, you can install them to match the size of your tools. Since its wall hung, it saves floor space and is perfect for those gardeners or DIYers who have plenty of hand tools or small parts. It can store some larger tools, but nothing too big, so you're limited to size. It measures 96x 54cm, which might seem big but since its wall hung, it doesn't matter too much…it just means more room for your tools!
Overall, a fantastic bit of kit but since it will really only organise your DIY tools, it doesn't leave much room for garden stuff-and it's a bit more expensive than our first-place spot.
3. Burwells 2 x Extra Long Garden Tool Holders
Our third-place spot is taken by some classic hanging racks by Burwells, which are priced similar two the second pick and have an average four and a half star rating for over 40 reviews so compares well. For this price, you get some robust and reliable hanging racks that can organise tools of any capacity, which are perfect for sheds with limited space or that are already cluttered.
For this price, you also get two racks, so you're getting really good value for money. Each rack has 16 pegs and measures 1m wide, so you have plenty of space for organising tools of different sizes, making it perfect for gardening and somewhat ideal for DIY. Whilst its not the best for DIY, it will still store some larger items, but we suggest using this rack purely for gardening tools and using the floor space which this product saves for your DIY tools.
Whatever you choose to do, this rack is made from sturdy 5mm metal which has been coated for additional protection, so it should last you. It just needs securing to the wall of your shed, at whatever height you think is suitable, and you're good to go. Images from customer reviews demonstrate customers organising their larger tools, even power tools such as lawn cutters, on the rack alongside smaller hand tools. These shelves are perfect for your garden, but even with the reduced floor space, our first-place option is better just because of its compact nature and high storage capacity. Either way, if you need an organiser for your garden tools that cannot be on the floor, then this is for you.
4. BRIEFNESS Standing Garage Utility Shelving Unit
Our fourth-place spot is taken by a much larger unit, which priced at a VERY reasonable price, is perfect for heavy tool storage for both garden and DIY tools and items. This 5-tier shelving unit has an average four and a half star rating for 39 views, and whilst not many, customers cannot speak more highly of it.
The shelf itself measures 150x70x30cm as the standard option, but there is also a choice to go larger if needs be. This is a suitable size for larger sheds and isn't too big, but its still big enough to store power tools on or larger units or items that you have. It comes in different colours and is also adjustable, so you can rearrange this organiser to whatever suits you best. It's constructed from MDF, a robust material, and a reinforced metal frame to make sure it can hold up to 175kg in weight. The shelf height is also adjustable, making life a lot easier.
Overall, this is a great unit as a heavy-duty organiser and is a great idea for any shed, but not if you're only dealing with small DIY/Garden tools or smaller parts. It will take up some more space than other options in this list, which isn't ideal if you're limited for room. That said, it works great as an organiser as most shelves would, but this heavy-duty product design to be damage resistant and to hold weight is perfect as a heavy-duty tool organiser…just don't get it if you want a more compact organiser!
5. Draper 12015 Plastic Organiser
( 2376 customer reviews )
You may have seen products like this before, but this is what you might call a classic organiser. Its perfect for small bits, particularly screws and bolts, but can also be used to store tools and other handy items. Priced lower end with an average rating of four and a half stars for over 2000 reviews, as well as being amazon's choice, its clearly a popular product when compared to the other UK top picks!
Many workshops have these and its perfect for DIY, but this particular box has larger compartments, meaning they would be great for smaller tools. It can facilitate wall mounting too, so you have that extra security. It comes in a sleek design and looks the part, but all in all, it really brings that organisation to your shed. The unit itself is quite small, measuring at 50x16x25cm, meaning you can keep things compact and make this most effective on a surface on your shed or even in a corner.
Overall, this product is great and probably has the best organisation features of the lot, but its just not suitable for tools that are fairly big in size. This will store small hand tools, but anything bigger that you need organising wont fit. If you're someone who has lots of loose parts in your shed and needs them in one place then this is for you, but if its tool organisers you're after, this isn't the most appropriate. Either way, there is quite a market for this type of product, but this is definitely the best one out there.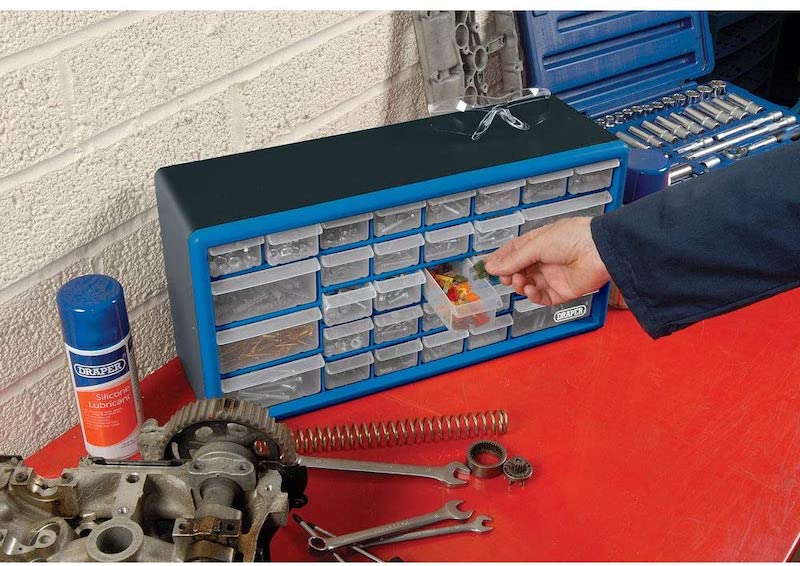 6. Garden 2 Shelf Tool Tidy by Garland
( 1520 customer reviews )
In the final spot for this list is our choice for the best garden organiser if you're on a budget, as this product is the best priced on our list. Don't be put off by the cheap price though, as this is amazon's choice for garden organisers and has an average four start rating for over 1000 reviews. Its nice and compact, easy to assemble and is perfect for your garden tools.
It has a specific design so that you can easily organise larger hand tools and other garden tools, with a base on the bottom that could even store smaller tools. However, you are limited as to how much you can store, as there are no additional features to increase organisational capacity unlike our pick for first place, as well as being smaller in size. Its perfect if you have the basic garden tools, especially if you're on a budget as we said, but its not suitable for much else. Its smaller size is more beneficial if you're looking to create space however, meaning this product is perfect for you if you're just looking for that little bit extra organisation and have a little room in your shed.
The only reason its not higher is because its just very basic, which isn't always a bad thing, but for not much more you can get a product that is a lot handier and has additional features to help with organisation, as seen above. Either way, its perfect if you're looking for some extra storage or if you're budgeting.
Shed Organiser – Buyer's guide 
You've probably been made aware of this whilst reading, but shed organisers technically come under the description of many organisation products, so it can be difficult to tell. However, there are some key features that make some organisational products perfect for sheds, and its important you know about it before buying.
As well as this, the last thing you want to be doing at the end of a busy day out in the garden or in the workshop is to put your tools away, so the shed is a great place to chuck them!
Keeping this in mind, it's important for you to have your shed organised so you're ready to go for any of your gardening or DIY activities. After all, a messy shed can just make for unnecessary work and time, so best to add some features to your shed to make sure it looks good in there.
Size
Many organisers come in different sizes, but for shed organisers, its important that they're not too big. When I say not too big, the largest in this list is 1.5m high, which is a push even for the largest. The point of shed organisers is that you can store your items in an organised and compartmentalised manner without it taking up too much space, as this effectively defeats the purpose of an organiser, as it just makes things cluttered and limits space again.
So, what's best? Well, it depends on the size of your shed. If you have a large shed with available floor space, pick organisers that take up small amounts of floor space or that are on the larger side, much like Draper Plastic Organiser or Garland – 2 Shelf Tool on this list. If your shed is smaller, or if you don't have much floor space, wall hung organisers are better for you. Just consider the space available in your shed before buying an organiser.
Wall hung or floor? 
Well, the same rationale for why size of your organiser is important applies to this question too, as it really makes a difference. Less space and smaller sheds should have wall mounted or wall hung organisers, whereas larger sheds or sheds with more floor space should have floor organisers. Its up to you, but this is what we suggest, and it really depends on the size of your shed though.
One additional thing to consider however is that with wall mounted organisers, you're already saving space in your shed for any potential future investments, such as large machinery, so it might be wiser to invest in one compared to floor organisers. That way, you still get the organisation you need, but without worrying about future items that you may need to put away. Wall-mounted organisers typically show more compartmentalisation features too, but this isn't always the case.
Amount of compartments/organiser features
Probably seems obvious this one, but the number of compartments and/or organised features your product has, the better. For example, VonHaus Wall Tool Rack has many features that allow you to organise your items according to what suits you, meaning your life can be made a lot easier and the product is a lot more flexible to your needs.
Other products, such as Garland – 2 Shelf Tool have many different compartments and are designed in such a way to accommodate different sized items. These are always ideal, unless you're going to be simply using large tools all the time. Whether its wall mounted or not, the amount of compartmentalisation your product has really defines how well it acts as an organiser in your shed.
This again comes down to your tastes, but its really important to consider before buying. If you have lots of items that you need to organise, look for an organiser with plenty of compartmentalisation. If you're dealing with larger/less tools, consider a product with slightly less compartmentalisation to make things easier.
Overall, these three aspects are important in any organiser, but as we said, it all comes down to what you need. Organisers come in all sorts of shapes and sizes, but by considering these aspects beforehand, buying the right organiser for your shed should be a lot simpler. Using our recommendations above and these handy tips, you now have all the information you need.
Happy organiser buying! 
---