Garden Tool Box » Best Bubble Machine UK For Kids In The Garden: The Top Bubble Bath Machines
Best Bubble Machine UK For Kids In The Garden: The Top Bubble Bath Machines
This article was last updated on July 31st, 2021 at 4:11 am
This is a fun one for any children coming to the garden (or the inner child inside us)! Great for parties, entertainment or just a fun afternoon in the sunshine with the kids, it's the top outdoor bubble machines!
They're such a fun and easy product to get out at any time, whether you've got a planned event for your kids, or you just need something to quickly entertain them. Especially if you're meeting up with other households and you need to keep your children entertained outside as per the current rules.
We've got a great range of brands, shapes and designs to keep your kids happy. From animal shapes to abstract designs, there's a fantastic selection. And stay tuned for the VATOS Bubble Machine which play music and light up as well. A great option if you're after something more multifunctional.
And for extra tips on purchasing your bubble machines, head down to the bottom for your buyer's guide to bubble machines.
What are bubble machines?
Bubble machines are devices used to make bubbles of all different shapes and sizes. They don't require any effort or physical attention as they are either battery operated or USB powered. You don't need to anything to them except for refilling, either with liquid or batteries/USB power.
Recently the range of bubble machines has massively grown, meaning there are portable options as well as more permanent products.
Best bubble machines: our top picks
Comparison table: Best Bubble Machine UK For Kids In The Garden: The Top Bubble Bath Machines

Product
What We Think
Rating
Price

Ucradle Bubble Machine, Automatic Bubble Maker With 236 Ml Bubble Solution

Ucradle Bubble Machine - Overall, we have another hand held option but with with a bit more longevity than the last. What sets this one apart is that it comes with a tray that you can dip the toy into, rather than filling it up.

VATOS Bubble Machine - Bubble machines for Kids Toddlers with Music & Light

VATOS Bubble Machine - This one is unique out of the selection as it has sensory extras like LED lighting and it plays a musical tune when the bubbles blow. You get a bit more for your money with this bubble machine.
HellDoler Bubble Machine - Overall, this one has the advantage in the fact that it doesn't require AA batteries, just a USB cable. This is great so that you don't go though hundreds of batteries, which is great for the environment and your bank account. Plus, gives you a bit of flexibility if you don't have batteries in the house.
Bubble Mania Bubble Whale - What makes this product unique (apart from the character design) is really down to the placement of where the bubbles come out, so if you're happy to stock up on bubble liquid and are looking for an outdoor machine with a ton of bubbles, this is definitely your one to go for. A nice design too, if you're looking for something fun and relatively neutral. Also, very reasonably priced, coming out at mid range from this selection. It also comes with a 236ml bottle of bubble liquid.

Bubble Machine for Kids, Automatic Bubble Machine, Bubble Maker Bath Toy for Baby Toddler

Bubble Machine for Kids - In short, this machine gives you variety. Firstly, because you have the option to either use batteries (4 x AA batteries) or a USB cable to power it. Secondly, you have two settings so you can pick whether you want fast bubbles or slower bubbles. And this gives you a bit more flexibility with placement. The downside is that this uses a lot of liquid.

KreativeKraft Bubble Machine For Kids, Automatic Dolphin Bubble Maker, Indoor and Outdoor Bubbles For Babies And Toddlers Toys

KreativeKraft Bubble Machine For Kids - What's great about this product is that it shoots the bubbles upwards at an angle, meaning they extend further, without the limitations of one that shoots straight up. It also makes this one suitable for bath time use or indoor use. Comparatively, this option is more practical in terms of the angle the bubbles come out at. However, 6 x AA batteries is quite a lot of batteries when you compare this to the other products (all of which use 4 x AA batteries or less).
KreativeKraft Bubble Machine - Overall, you get what you pay for with these toys. They're not expensive and you get a few uses out of them, maybe more if they don't leak. So they're great for a couple of uses but I wouldn't rely on them for long term use. The upside to this is that they are portable, and you can't always expect much longevity for children's cheap bubble machines.
1. Bubble Mania Bubble Whale - Automatic Bubble Making Machine
( 1557 customer reviews )
Currently on sale, the Bubble Mania Bubble Whale is a really fun and popular bubble machine with our customers right now. Built and decorated as a sweet, round, whale design, this one is quite unique as the bubbles blow upwards, apparently mimicking that of a real whale…
Whale anatomy aside, this is a good idea as the bubbles get pushed further upwards and create a really nice bubble flow. The bubbles are created by the spinning ring at the top of the product. And it makes a LOT of bubbles – which really sets it apart from many other bubble machines out there at the moment. This is ideal for outdoor use as you really do get what you expect from a bubble machine – a huge number of bubbles! Perfect for entertaining the kids as the effects are very appealing.
The slight downside is that this machine isn't really suitable for indoor use due to the sheer volume of bubbles it produces as you will also get a lot of excess liquid. Also, you do sort of rely on the outside to disperse the bubbles.
Another thing is that with lots of bubbles comes a lot of bubble liquid. This isn't surprising, just something to bear in mind. But this is just the case with all machines and the advantage with this machine is that it can hold more liquid to create more bubbles. Plus, bubble liquid is very cheap.
The machine does make a noise when in use but this is more like white background noise, which can actually be soothing to young children. It also needs 4 AA batteries to run, which isn't too many compared to some other products.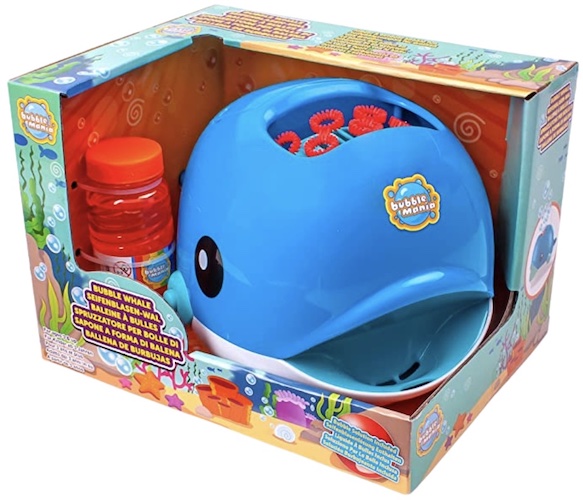 2. KreativeKraft Bubble Machine For Kids, Automatic Dolphin Bubble Maker, Indoor and Outdoor Bubbles For Babies And Toddlers Toys
Another sea creature design, the KreativeKraft Bubble Machine For Kids is another popular option on sale too. On first impressions, the design is very fun and a bright orange which is great for kids. The machine also comes with a 236ml bottle of bubble liquid.
First off, this one shoots out its bubbles at a diagonal angle out of the mouth, sending them at a 45 degree angle from the ground. This is slightly more practical than the first option as you can put the bubble machine on a surface if you need to, rather than having to leave it on the ground or a low surface.
This machine is another one which products a lot of bubbles – and keeps them coming in a constant stream rather than stopping and starting, which some other products can do. You'll need batteries to put in but that's not an issue – this one requires 6 x AA batteries.
Like with the last product, this machine does use up a lot of liquid. Again, not a problem per say as the liquid is so cheap and easy to get hold off. You could easily use shampoo or fairy liquid if you need to. Needless to say, the bottle that comes with the machine did not last very long.
3. Bubble Machine for Kids, Automatic Bubble Machine, Bubble Maker Bath Toy for Baby Toddler
Priced well, the Bubble Machine for Kids, Automatic Bubble is the most expensive out of this selection. Although this one doesn't have a fun design like the products above, there are still many advantages which explain the price, mainly being its power and multiple user options.
This one comes with the option to power either with batteries (4 x AA batteries) or with a USB cable. This is always great as you can use batteries when you need to carry your machine around (which is easy to do as it's only 530g in weight) or if you want to keep it anywhere it might get wet. But it's great to have the option of the USB cable if you don't happen to have batteries on you at the time.
The machine runs well on both batteries and USB power. It has two settings so you can choose how fast you want your bubbles to come out, which is handy depending on where you want your bubble machine to be at the time. The faster setting would be ideal for outdoor use, and the slower setting for indoor use, for example.
This definitely generated a lot of bubbles, even on the slower setting. And this one didn't make as much noise as some of the other machines which is a good thing to bear in mind if you're after a quieter option.
The one, slightly obvious thing to note is that with the faster speed, you will use up much more liquid. It seems that with this machine, it would be more practical to choose the 'slower' setting so that you can keep it on for longer, especially as you can keep the power going with the USB cable. The fast setting really did need refilling often. Whether this is an issue is really up to you – refilling is very easy, it just depends whether you're looking for a machine you can leave on its own for a while or not!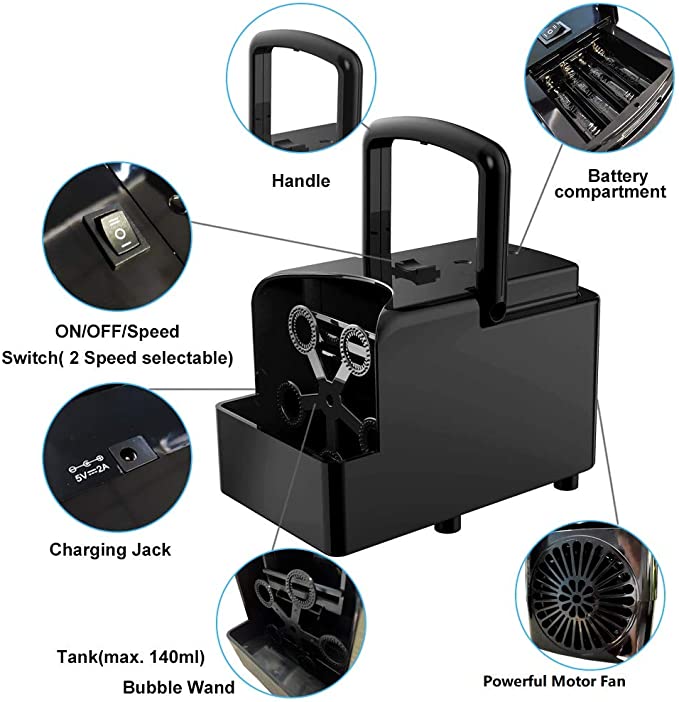 4. KreativeKraft Bubble Machine, Bubbles for Kids 2 Pack
Another one from KreativeKraft, the Bubble Machine Kids 2 Pack comes as a set of 2 bubble shooters and 2 150ml bottles of bubble liquid. At mid range money, this one is a slightly different take on the bubble machine, but one that is more interactive for children.
This is definitely great fun for kids as you can take them around with you and it gives them an activity as well as something entertaining to look at. They're very easy to use so you can happily leave them with the kids.
After first use, they produce a great amount of bubbles, which was slightly surprising from the look of them. The bubble liquid that they come with works really well.
The downside to them being portable is this has slightly compromised on their quality. They're great for the first few uses but I have noticed that the liquid can leak, either out of the machine (meaning you wouldn't want to put them straight into a bag) or into the battery compartment. And then this means that they don't always work for very long after that. Or they just don't produce many bubbles.
5. HellDoler Bubble Machine with 1 Bottles of Liquid
We've got another fun animal design, this time a little monster creature, with the HellDoler Bubble Machine, priced at similar money to my other top picks. What's different about this one is that the bubbles blow out the side AND this one doesn't need batteries – you just charge it with the USB cable.
The great thing about this is that you don't have to worry about getting hold of batteries, or suddenly needing the toy when you don't have any in the house. And, unlike some of the other products we've tested, you don't have to worry about any liquid leaking into the battery space, because there is none. The one thing I'd say is that you do just need to remember to charge this one before using it!
I like that the space to put the bubble liquid is right inside the machine so you don't have to worry about the liquid spilling out, especially if your kid is playing with it and moving it around.
The bubbles come out of the mouth at the side of the machine which is great if you want to place your machine on a surface to keep it out of reach/off the ground. This is ideal if you want to keep it running without having to worry about it getting knocked or you kid moving it too much. And the bubbles it produces are great! Definitely plenty of them.
6. VATOS Bubble Machine - Bubble machines for Kids Toddlers with Music & Light
Another one priced similar, the VATOS Bubble Machine is another really fun option with a kind of octopus design. It's light and portable, and only needs 3 x AA batteries, which is fewer than some of the others. What sets this model apart is that it has added extras to enhance the sensory experience like LED lighting and a sweet musical tune when blowing the bubbles. This is a very nice added touch as it gives more to the kids in terms of all round entertainment and activity. And they definitely love it!
The bubbles come out really quickly and there's lots of them – they shoot up a 45 degree angle which is pretty reliable in terms of where you can place the machine. The solutions it comes with actually lasts a very reasonable amount of time, especially compared to some of the other products.
You do have to unscrew the panel every time you want the refill the machine which is a bit of an effort, but it's a good thing you don't have to do this often. And this massively helps with the no leaking feature, along with the fact that you pop the little bottles into the machine rather than pouring liquid inside. This is definitely a big advantage against some of the other products.
A nice size too so you can slot it into a small space without it taking up too much room.
7. Ucradle Bubble Machine, Automatic Bubble Maker With 236 Ml Bubble Solution
Another portable and hand held toy, the Ucradle Bubble Machine is another unique design currently on sale too! This one is lightweight and easy to hold with two bubble fan sets. And you get 2 x bottles of 118ml of bubble liquid which is great. The toy has a tray with it as well so you don't have to worry about any excess leaking after you're finished with it, you can place the toy in the tray.
You need 4 x AA batteries. Once in, I can say this toy produces a lot of bubbles and very quickly (within seconds). The main benefit of the tray is that you can fill it up with liquid to dip the toy into it. This is great as you can let your child dip the toy without any worries about refilling. And it gives them something extra to do and allows them to take some control with the toy. It's also very easy for them to use!
I love that this one is also portable so you can take it with you to the park or anywhere you're off to where you need some extra entertainment for the kids. And the handle is easy to grip so suitable to let your kids to use easily.
Buyer's Guide To Best Bubble Machines
The main thing to think about when buying your bubble machines is where you're looking to put your machine, and whether you want it to be easily portable or not.
Batteries or USB?
If you go for the cheaper options then you're probably going to be paying for batteries or need to get a rechargeable set of batteries too. An example being the Ucradle Bubble Machine, Automatic Bubble Maker With 236 Ml Bubble Solution which is a lovely machine but being on the cheap side means paying for batteries.
There are a few factors which effect your choices when it comes to bubble machines. Firstly, whether you want the product to be powered by batteries or a USB cable. There's advantages to both, as discussed above, mainly being that batteries give you more flexibility in terms of where you take or keep your machine. Whereas a USB cable allows you to use your machine even if you've run out of batteries, which is great for a sudden kid-entertaining emergency! You could always select an option like the Bubble Machine for Kids, Automatic Bubble Machine, Bubble Maker Bath Toy for Baby Toddler which accommodates both!
Handheld vs fixed
Another thing to think about is whether you're after a handheld toy which you can easily carry around with you like the KreativeKraft Bubble Machine, Bubbles for Kids 2 Pack. Or if you want a more permanent machine like some of the other products. The lightweight, portable ones are great to take with you to the park or to someone's garden for quick entertainment. Just be mindful that they don't tend to have great longevity compared to the more permanent machines for sale.
I can tell you from personal experience as my kids have both that they far prefer the machine that is stationary so they can run about the garden breaking and popping the bubbles. The whole family and my sisters kids love to do this as well and I'll have to admit I join in sometimes too 😀
Get lots of liquid!
One last thing… make sure you've got yourself lots of bubble liquid. Because the thing these products all have in common: they all use a lot of bubble liquid.
Thank god it's cheap!
---