Written by Terry Smith
Our site is reader supported so when you click a link to Amazon we may earn an affiliate commission.
Best heavy duty garden swing seats for adults and with cushions
This article was last updated on July 31st, 2021 at 9:55 am
If you're looking for a fun way to lounge out in the sun or read your book in the shade with a nice cold beer, seriously consider a garden swing seat – they're so relaxing. Something about that gentle rocking on a summer's afternoon is so peaceful and with our heavy duty selection here you can't go wrong!
Best heavy duty garden swing seats
We've got a really good selection of heavy duty garden swing sets here from metal to wooden, including 2 seaters and 3 seaters (or a one seater if you just want to put your feet up, like me). I personally love the last one on the list, the Outsunny 3 Seater Larch Wood Wooden Garden Swing Chair Seat Hammock Bench Lounger Wood. It's so traditional and charming.
Every swing set I've chosen to test comes with a canopy – something I think is essential for these as it gives you way more freedom with where you can place them, depending whether you want to be in the sun or the shade.
If you're after any tips or notes on buying your garden swing sets, check out the buyer's guide at the bottom (or just skip ahead).
Happy swinging!
Comparison table: Best heavy duty garden swing seats for adults and with cushions

Product
What We Think
Price

Outsunny Garden Outdoor Swing Chair 2 Seater Swinging Hammock

✅Canopy porch swing comfortably holds 2 people for the ultimate lounging experience
✅Built with heavy duty steel frame in powder coated finish for long lasting use...
✅2-seater separate swing design for customized seating experience
✅Features anti-UV canopy and washable padded cushions
✅Overall Size: 170L x 136W x 170H cm; Weight Capacity: 220kg(in total)...

BARGAINSGALORE 3 SEATER GARDEN SWING CHAIR SEAT HAMMOCK

Get ready for the summer by grabbing yourself some bargain garden furniture and you won't be caught unaware when...
This super-comfortable swing chair seats three people on its thick padded cushions...
It's so easy to set up on your lawn
With a comfortable seat and back cushion with thick padding.
A wonderful relaxation spot for your lawn

Outsunny 3 Seater Larch Wood Wooden Garden Swing Chair Seat Hammock

✅Made from high quality Russian larch wood
✅6 mm diameter thick Galvanized metal chain
✅The wooden canopy will protect you from searing sun.
✅Approx overall size: (L) 200 X (W) 125 x (H) 185cm
✅Sturdy construction and easy installation

Garden Market Place Luxury Heavy Duty Garden 3 Seater Swing Seat

Heavy duty steel framed swing seat and bed with textaline seat and shower proof luxury cushions...
Supplied flat packed, easily assembled in 30 minutes by 2 people
Matching beige / brown coloured frame and thick cushion
Very Comfortable 55mm thick padded rich cushions made from polyester which is easily removed...
Adjustable canopy angle. Simply goes from a swing seat to swing bed with 2 catches...

THREE-SEATER SWING CHAIR WITH DETACHABLE CANOPY: This SUNMER Three-Seater Swing Chair with Detachable Canopy is the perfect way to...
WATERPROOF AND UV PROTECTION: This swing chair features 100% polyester fabric cover which provides waterproofing and protection from UV...
STRONG AND STURDY DESIGN: Made from a strong steel frame
CUSHIONED FOR COMFORT: The swing chair includes a cushioned seat which is filled with luxury-feeling foam and has a...
WARRANTY: This product comes with a 365-day warranty to give you peace of mind when purchasing one of our...
1. BARGAINSGALORE 3 SEATER GARDEN SWING CHAIR SEAT HAMMOCK
To start with, we've got a neat and simple swing seat made from polyester, cotton and alloy steel. Seating up to three people, the Bargains Galore 3 Seater Garden Swing Chair Seat is priced very low and at the cheaper end of the selection. It also comes in the choice of two colours, black and grey.
When it came to assembly, I have to say the instructions were a bit poor – they were just pretty basic and not great quality. Looks a bit like the instructions weren't printed properly Apart from that, actually putting the swing set together wasn't too long a job once I got round the instructions.
Once up, the swing seat feels sturdy and secure, although I'd be sceptical about having three people on it depending on weight and movement as it's quite low to the ground. But two people could definitely fit comfortably.
The one thing I would say from sitting on it is that the cushions aren't the thickest so you can feel the bar under your legs. Not a huge problem as it's kind of to be expected when you look at it – maybe just bare this in mind. Definitely can be resolved with more or different cushions, though.
The canopy is a great addition and easy to adjust so you don't have to worry about being in the shade. Overall, I think this swing set is great value for money and a good option to consider at the lower end of the price range.
2. SUNMER Swing 3 Seater With Detachable Canopy
With the SUNMER Swing 3 Seater With Detachable Canopy, we've got a similar option to the last but slightly cheaper. This swing set is also made out of polyester and alloy steel.
This one was a little easier to put together as the instructions were simple to follow. Assembling the seat can be done with just one person quite smoothly.
The swing seat feels very sturdy and strong when you sit on it. I would say though, like the Bargains Galore 3 Seater Garden Swing Chair Seat, this would be a bit more comfortable as a two-seater. I tried it out with one other person and I'd imagine that it would be a bit of a squeeze with a third person.
Another thing to note about this swing seat is that the canopy is more removable, rather than retractable so you do need tools to remove so that's something to keep in mind.
3. Garden Market Place Luxury Heavy Duty Garden 3 Seater Swing Seat
Here, we've got a great three seater with the Garden Market Place Luxury Heavy Duty Garden 3 Seater Swing Seat. Seating up to three people, what I love about this one straight away is that it reclines into a bed as well so you can have the seat as a chair or a flat surface.
The swing seat was pretty easy to put together – I'd recommend having two people for this one just for a bit more ease.
The seat is really comfy and the bed function is easy to use and switch between the two. And I love that you can make it into a flat sun bed as it's comfortable and a nice space to lie out on. It feels very sturdy to sit on.
I have noticed, and heard from some customers, that the canopy does blow around and tilt a bit in the wind. This isn't necessarily too much of a problem though as you can flip the cover on and off.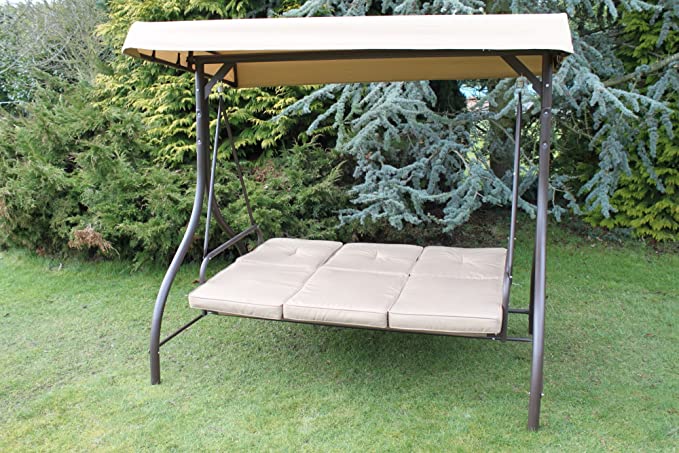 4. Outsunny Garden Outdoor Swing Chair 2 Seater Swinging Hammock
The Outsunny Garden Outdoor Swing Chair 2 Seater Swinging Hammock Bench Patio Cushioned Seat With Tray Beige is an interesting one as it's two separate chairs in one – like two swing decks chairs. Priced well, this one comes at mid range out of the selection.
This one was fairly easy to construct although I found some of the instructions didn't quite match up the process – this wasn't really a problem though and these parts could be figured out with a bit of common sense. Again, I'd say an extra helping hand would be great.
It's very comfy and I love the separate swings. It's a nice touch, particularly because you get separate canopies which is good if one person doesn't want the shade. And it's a little different to the other swing seat sets out there.
The frame feels really sturdy and of good quality so this is definitely a great option to consider!
5. Outsunny 3 Seater Larch Wood Wooden Garden Swing Chair Seat Hammock
A different swing set from the same brand, the Outsunny 3 Seater Larch Wooden Garden Swing Chair Seat is my favourite out of the selection! I just love how its wooden and looks like a really traditional and charming park bench style swing seat.
Putting this swing seat together was a little bit fiddly as there are lots of parts and the instructions were a bit sparse. Also one where two people would make the job a bit easier.
The larch wood is really sturdy and attractive – and a nice change from the polyester swing seats. The bench feels really spacious and could comfortably seat 3 people. I love the wooden canopy; I think this looks really smart. However, if you're after a retractable canopy or one that's a bit more flexible than this one might not be ideal. It just depends what you're looking for.
One more thing that's worth mentioning is obviously this one doesn't come with a cushion. That really doesn't bother me as it kind of comes with the style of the swing seat and extra cushions are very easy to get hold of. And I think the addition of some cushions or a blanket would look really great.
Buyer's Guide To Garden Swing Sets
Think about your materials!
This seems like an obvious point but it's worth saying: consider which material you want your swing set to be in terms of care and maintenance.
While a wooden swing set may look very attractive, you might want to think about how you're going to keep the wood protected. So maybe consider a protective layer like a varnish as you may see some weather marks appear over time.
Alternatively, consider a cheaper option made of polyester or a similar material which is easy to wipe clean or wash.
Measurements
Just a quick one to say watch out for those measurements before you buy your swing set. I've noticed that with a couple of these options, while the description and instructions say the products can seat three people, they often don't live up to that.
And the best way to combat any disappointment is just take a good look at the measurements first.
---