Garden Tool Box » Best electric weed burner [UK]: Top electric weed killers and cordless models reviewed and compared
Written by Terry Smith
Our site is reader supported so when you click a link to Amazon we may earn an affiliate commission.
Best electric weed burner [UK]: Top electric weed killers and cordless models reviewed and compared
This article was last updated on April 23rd, 2022 at 1:36 am
We all know the hassle of garden weeds and no one enjoys getting rid of them, its tedious and if it's not dealt with, it can be a real problem. They appear absolutely everywhere and even with different treatments they can still grow in some areas. Not only do they look nasty, but they can really affect the growth of any other plants you've got growing in your garden.
That said, it's not impossible to keep them away, and this is where an electric weed burner comes in. For years I've typically used Glyphosate to keep them away, but it doesn't always work 100% and I've still found some on the drive and in-between paving slabs in the back. Obviously we can get down on our hands and knees and pluck them out, but who could be bothered?
That's why we are reviewing the best electric weed killers on the market currently to decide which is the most efficient in removing those weeds that just won't die, without doing major damage to the surroundings. They vary in price but for how cheap most electric weed killers are, they're a god sent in the garden for saving time and keeping weeds away properly. You don't need to get on your hands and knees either, so it makes weed killing a lot easier.
What is an electric weed killer?  
Well they look quite similar to hedge trimmers, in that they're a long power tool which are connected to the mains. No current cordless electric weed killers exist or are prominent on the market unfortunately, so whatever product you're going to get, chances are you'll need an extension lead. The reason for this is because the electric weed killer needs to generate plenty of heat in quite a short time, with most products going up to 600° minimum, and so cordless just doesn't quite cut it.
Their function is simple, it just generates enough heat to burn/heat shock the weeds to death and to destroy their cellular structure so that they don't grow back. You couldn't use one instead of a herbicide though, as the energy requirements are huge, but that's why they're perfect for removing some weeds or for tidying them up. As said above you could just do it yourself on your hands and knees, but this will only remove the weeds and not stop them growing back, so electric weed killers are a win-win really.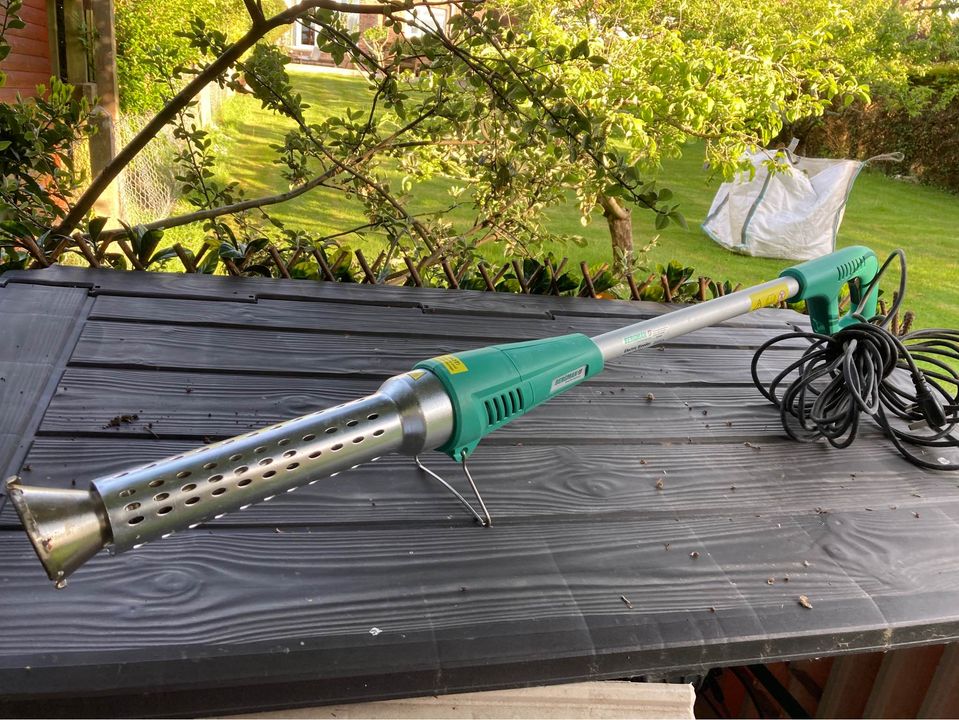 They typically have a couple of heat settings and require a fair bit of power to get it heated up, which does mean that you can experience difficulties with them. By this, I mean that using it for too long/consistently for a long time could damage the element, so it needs to be used sparingly. This was worrying at first as lots of reviews talked about them breaking after a while, but after a good look and some reading, it was clear that most people just used it for way too long and so it's no wonder they damaged it. Point is, use your electric weed killer sparingly and only use it on loose weeds, as it really shouldn't take long to burn them and you'll damage it if not. I had no issues when we used it properly, so we're confident you won't either.
Anyway, now you know why electric weed killers are a godsend, it's time we told you about our favourites that are currently on the market. To help you buy the right one for you, we've included a buyers guide below too.
Best electric weed burner
NASUM Weed Burner Electric Weed Killer Thermal Weeding Stick (Best overall)
Homeatk Electric Weed Burner, 2000W Handheld Safe Weeding Killer with 3 Heat Set, Detachable Garden Remover Weeder Thermal Stick 60-650℃ (Second best option) 
Tooltime UK 2000W Electric Garden Weed Burner Blowtorch Torch Wand (Best cheapest/budget option) 
Hozelock 4184 0000 Green Power Thermal Weeder (Best expensive option) 
ToolTronix 2000W Electric Weed Killer Hot Air Burner (Best option for beginners or for occasional use) 
Qdreclod Electric Weed Burner 3M Cable 2000W Garden Gear Weed Burner Hot Air Weed Killer 5-in-1 (Best option for multipurpose but still with good specs) 
Potential problems with electric weed burners and what you need to lookout for
Weed burners are pretty simple and most products are relatively similar, but there are still a few things you need to keep in mind when buying to avoid problems down the line. They all look similar and you'll know one when you see one, but just keep in mind the things below and we're sure you'll get the right one for you!
You'll need to consider electric weed killers require a huge amount of electric and that means a power lead. So you'll only get the chance to use one if you're prepared to use an extension reel. This means only really using it in dry weather as electric and the wet don't mix so just bear that in mind too but with that said, you can only use chemical weed killers in the wet too.
Heat generation and time
Probably the most important aspect of any burning tool is its heat generation, for pretty obvious reasons. With weed burners, most spec's state they can heat up to 650°C or just below that, which is obviously hot enough to burn your weeds down. This sounds great, but make sure to look deeper into the specs or into the reviews for its generation time.
The reason I say this is because that's quite a high temperature, and as you can imagine, some burners can take a while to get to that point. This isn't a major issue in itself, but the longer it takes to heat up (and cool down for that matter) the longer the burner is heated, which can actually increase its chance of breaking over time. Now this isnt always the case, but with most weed burners excessive use or retaining heat for a long time will reduce its reliability.
Ideally, get a burner which has the right specs (typically 2000W/230-50V) but which has a short generation time. You might need to pay slightly more for this, but it's worth it.
Ergonomics
A pretty obvious one here but for weed burners I felt it was a really important aspect. It's important that the handle is comfortable and feels good in the hand, but it's also useful if it's made from some form of plastic or thermopolymer which doesn't conduct heat well. As you can imagine 600-650°C is quite hot, so after a while this heat can easily transfer up to the handle and it needs to be the case that the handle resists this. Most burners do, but some products I've come across have reviews stating the handle heats up and it's those products that have cheap or flimsy plastic handles-so just watch out.
Oh, and an adjustable handle is always ideal, makes it a lot easier to manoeuvre to say the least!
Variable heat settings
As already mentioned heat is the most important part of a weed burner, but having variable speed settings offers way more control than without and actually makes a difference to the weeds too. From the burners we tried above, the ones with variable speed settings were probably the most useful, as they typically had two settings (60°C low heat and 650°C high heat) which might seem huge in terms of difference, but it really came in handy. The lower heat allowed for a light burn of the weeds and were good for really small weeds/roots, whereas the higher heat obviously provided the power needed for most weeds out there. It was good to use the lower setting first too and then go higher, as it gave the weeds a good shock before really burning them down.
Variable heat isn't exactly a necessity, but it was a really useful feature and since most weed burners have them, we strongly suggest picking one with variable heat settings.
Those are what we thought were the three main aspects to consider when buying an electric weed burner, so make sure to keep them in mind. Alongside the products above you should be set to buy, but just make sure you own an extension lead before you buy!
---