Best Binoculars for Bird Watching Reviewed (UK)
This article was last updated on August 7th, 2021 at 3:50 am
It doesn't matter if you are just getting into bird watching, or if you are a more seasoned 'birder', one piece of kit that should be right at the top of your shopping list is a great set of bird watching binoculars. 
The best binoculars for bird watching need to offer the right combination of a good field of view, sharp image clarity, should be not overly complicated to operate, and shouldn't cost you the Earth. They should also be durable and not overly heavy or cumbersome. While there are very expensive brands and models of binoculars for bird watching, we decided not to concentrate on them and instead review the products that most people are buying when they are first starting out in the hobby.
Other articles you may like
With new birders in mind, we also included a buyer's guide on this page that can aid you when making your decision on a pair of binoculars by pointing out features and such that all good bird watching binoculars should have. So, let's dive into these reviews for the best binoculars for bird watching that you can buy in the UK at present time.
Comparison table: Best Binoculars for Bird Watching Reviewed (UK)

Product
What We Think
Price

High reflection mirror-coated prisms for enhanced brightness
Long eye relief design ensures a clear field of view
Turn-and-slide rubber eyecups with a multi-click adjustment make it easy to correctly position the eye...
Extremely lightweight with rubber armouring for shock resistance and a firm
Waterproof (up to 1m/3.3 ft

【LARGE FIELD OF VIEW】: 12X High power magnification with 25mm objective lens...
【CRYSTAL CLEAR IMAGES】: Bak-4 roof prism and Fully Multi-coated green film Optics guarantee the best light transmittance...
【ADJUSTABLE EYE WIDTH AND DUAL FOCUS】: Variety of eye widths makes them suitable for both adults and kids...
【COMPACT AND FOLDABLE DESIGN】: This binoculars can be folded into palm size so that it's easy to fit into...
【USED WIDELY AND BEST GIFT CHOICE】: Ideal for Bird watching

APEMAN 10X42 HD Binoculars for Adults with Low Light Night Vision

【PROFESSIONAL AND POWERFUL BINOCULARS】: Equipped with a high magnification of 10x42 and a large 97m/1000m field of view...
【HIGH-QUALITY OPTICAL COMPONENTS】: With BK7 large prisms and multi-layer coated lenses
【ROBUST AND DURABLE, STURDY AND ANTI-SLIP】: Lightweight and easy to carry
【SMARTPHONE ADAPTER INCLUDED】: A smart phone adapter is provided free of charge...
【PERFECT AFTER-SALES AND TECHNICAL SUPPORT】: Supports 30-day money back and 12-month warranty...

12x magnification porro prism binocular
Large 60 mm objective lens offers maximum image brightness in low-light conditions
Multi-Coated optics for sharp
Suitable for terrestrial or astronomical viewing
Protective rubber covering for ultra-firm grip

Maximum image brightness
Large centre focus knob for fast and easy focusing
Sure grip rubber coating
The binoculars measure 5.8 x 18.2 x 15.2 cm and weight 0.79 kg

Optical zoom: 10.0 multiplier_x
1. Olympus DPSI Binoculars
If I had to choose the best value for money pair of binoculars for bird watching, these would be them. The image quality and clarity is at a level that I would expect to see in much more expensive models. This is due to the anti-reflective lens coating that Olympus have given these binoculars which, along with the porro prisms, and aspherical lenses, really help to provide you with more colour and brightness. The images also have a nice '3D' look to them, which says a lot about the quality of the optics.
A 6.5 degree field of view makes things easier when trying to track a moving bird, and if you buy the 8-16 x 40 version of these excellent binoculars, you will be able to use the variable zoom to keep an eye on it even as it flies off into the distance.
With the model we tested weighing just under 800 grams, they have enough about them not to feel flimsy while still being light enough to hang around your neck or carry in the hand without it bothering you.
They are great for people new to bird watching because of how easy to use they are. The large focus knob that sits right in the idle of the binoculars is easy to find with your finger without taking your eyes away from the target. The response to the controls is very quick and it all felt smooth working together.
These binoculars aren't designed for night vision, however they work surprisingly well in low light conditions around dusk, and you can use them to get a better look at the moon at night. 
Overall finish and build quality of the Olympus DPSI bird watching binoculars is excellent, with a solid feeling to everything and a rubber coating for extra grip in rainy conditions. There are a few little things that some people might gripe about, such as the lens caps not being tethered, so you have to be careful not to drop or lose them, and the neck strap could be a bit thicker and more comfortable, but these are just me trying to find faults really and not something that would bother the vast majority of people, and as an added bonus, Olympus have thrown in a free padded carry case for these DPSI bird watching binoculars.
These are top notch binoculars for bird watching at a very affordable price, and in my opinion you can't go wrong with them.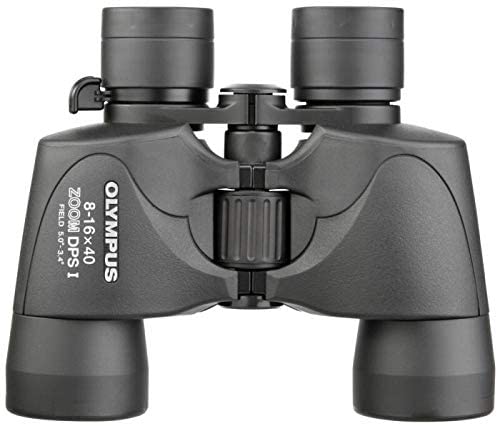 2. Celestron 71007 SkyMaster
Plan on doing your bird watching from a greater distance, or maybe a bit of celestial body spotting? Well, in that case you are going to need some binoculars with a higher magnification like the Celestron Skymaster range.
Available in a selection of sizes and magnification levels ranging from 12 x 60 to 25x 100, these are not the type of bird watching binoculars that you can carry around easily and swing up to your eyes to catch a glimpse of passing bird as the high magnification would make the image to shaky to make that practical. Instead, these are meant to be mounted in a tripod and used at greater distances than say the Olympus DPSI binoculars. 
We tested the 12 x 60 model in the daytime, at dusk, and at night, and were impressed by the performance at all three times. The larger diameter of the objective lens allows for more light to enter, and this has a dramatic effect on image clarity, especially at dusk and at night.
If you plan on doing some star gazing, these are probably the model to go for, I was staring at the details on the moon and was absolutely taken aback by the sharpness and colour contrast. This is no doubt thanks to the BAK-4 porro prisms and multi-coated optics. The field of view is also nice and wide.
Celestron have done a great job at making these binoculars hardwearing. The casing is very thick and solid, and there is a rubber coating to them. The eye cups are also made of thick, yet soft rubber, and these can be used with eyeglasses by folding them down.
This solidity also means that these are quite heavy binoculars and weigh in excess of 1.1 kilograms. Still, if used with a tripod like they are meant to be, this shouldn't be a problem.
For the low price, you get quite a few accessories thrown in by Celestron including a carrying case, neck strap, lens cap, lens cloth, and rain guard. 
The lens caps are untethered again like the Olympus DPSI, but the strap is thick and comfortable, and while the other accessories didn't blow me away, there was nothing wrong with any of them and about what is to be expected at this price.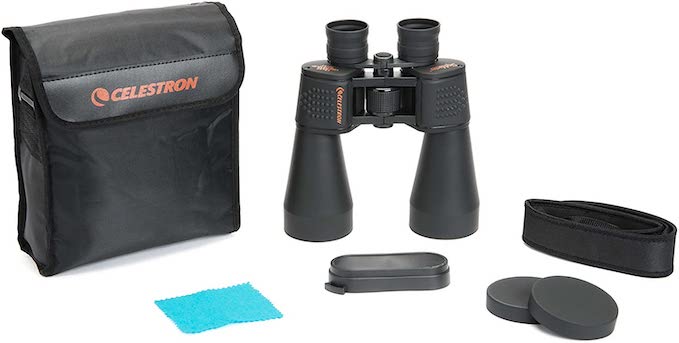 Portability is what springs to mind when I think about the Apeman 12×25 compact bird watching binoculars. They have been designed so as to be foldable and this allows them to be easily carried in one hand or in a jacket pocket.
Even when they are fully unfolded, these binoculars are still small and light enough that your kids can use them comfortably, and because they are built with kids in mind they are extremely durable and can take the odd knock or two. Anti-scratch lenses and rubber armour and just two of the design features intended to keep these binoculars working as they should, despite your kids' best efforts to the contrary.
Apeman have made these binoculars to be accessible to all people, not just kids, and the eye width can be adjusted to suit the wearer. There is also adjustable dual focus with the centrally situated focus knob and dioptre adjusting ring to really customize them so everyone can have a pleasant viewing experience.
In addition to this, instead of folding down rubber eyecups for people with glasses, these binoculars have eye pieces that can be extended or retracted simply by rotating them.
To keep the weight and size to a minimum, Apeman have fitted these 12×25 compact binoculars with BAK-4 roof prisms instead of porro ones, but this has very little effect on the actual clarity of the images you get through them, and certainly not enough to be noticeable.
At dusk in low light they work just fine but this is where the different prisms in some of the other models beat this Apeman model, as the amount of light getting let in by porro prisms makes them much better for early evening and nighttime viewing than the roof prisms in these binoculars.
Having a 12x magnification has its pros and cons. On one hand, it gives more range and allows you to see things in detail if they are further away. On the other hand, it can reduce the field of view a little (although I didn't notice that on these) and also makes it a bit trickier to fix on to what you want to see due to the shaking effect also being magnified.
With a little practice you get used to this though, and are soon enjoying using them.
Included in the price are the usual accessories such as eyepiece, lens covers, carry bag, cleaning cloth, and strap. All this for something that costs under 22 pounds on Amazon at the moment. That's very good value for money.
4. Celestron DX Nature Binocular 8x42
As the name implies, Celestron's DX nature binoculars have been made with bird/animal watching in mind. To give you the best light transmission, Celestron have used fully phase coated BaK-4 prisms and multi-coated lenses so the level of detail and contrast is just what you want when out looking at nature- excellent.
What I like about the DX nature binoculars is that they combine the ability to view far off wildlife through the 8×42 magnification with the close range focus that allows you to see things that are less than 7 feet away just as clearly. This is perfect for viewing butterflies and other insects in more detail.
If you wear glasses it's not a problem with these binoculars for bird watchers as they have twist adjusted eye cups. There are multiple stopping positions too, so you can find that comfort sweet spot.
To keep your binoculars safe from accidental bumps and knocks, the casing has been made out of a strong polycarbonate and then covered in a thick rubber coating which adds yet more protection and also helps with grip. 
They are also fog proof, waterproof, and are completely airtight thanks to nitrogen purging. This means you won't have to worry about water, dust, and other foreign objects getting into the important parts of your birding binoculars. For this review, we tested the 8×42 model as this is about the perfect type for beginner birders, but there are other models in the range with greater magnifications if that interests you more.
At 790 grams, they weigh about the same as the Olympus DPSI so you won't find them too difficult to hold for prolonged sessions, and the 8×42 model isn't too large or bulky either, but I can't comment on the other models in the same range. As usual, these binoculars for bird watchers come with the almost obligatory set of accessories that we've already mentioned in the other reviews i.e. carry bag, strap, etc. Once again they are not bad, nor will they fill you with excitement, but they will do the job they are intended for.
5. Nikon Prostaff 7S 8x42 Binocular
These Nikon Prostaff binoculars for bird watching/hunting are considerably more expensive than most of other reviews priced at just shy of 180 pounds on Amazon when I was writing this. For the extra money. I have to admit that you do get a superior image quality with colours, details, and that '3D' effect I spoke about earlier being even more noticeable when looking through these. The brightness is striking when compared with lower quality models and this is because the Nikon Prostaff uses high reflection, multi-layer, mirror coated roof prisms. 
With twist adjustable, rubber eye cups that stop on 4 settings, a super smooth and responsive main focus dial, and a secondary focus dial to adjust to your eyesight behind the right side eye cup, getting the set up just to your liking is no hard task.
One of my favourite things about these bird watching binoculars is the ergonomic shape of them. Anyone who has had to hold a pair of binoculars for a long time will tell you how important it is to have a pair that sit naturally in your hand, and these are some of the most comfortable I've ever used. 
They are also lightweight at only 650 grams, despite being longer than some of the heavier models, and there is the option to mount these binoculars on a tripod although I personally don't see any reason to do that.
One reason for the lack of weight is because they are a polycarbonate construction which keeps them from being heavy while still giving them a lot of strength and durability. Like most decent binoculars for bird watching these days, they have a rubber coating to help prevent damage from shock and slippage.
Like the Celestron nature binoculars we just reviewed above, Nikon's Prostaff have been nitrogen purged so you won't have trouble with them fogging up or getting damaged by particles. They are also completely waterproof. Even if you drop them in water, as long as you get them out within 10 minutes, they will be perfectly fine.
One thing I was disappointed with with the Nikon Prostaff was the quality of the accessories. For the extra you pay for these binoculars, you would expect rubber lens caps but unfortunately they are the same plastic covers you get with cheaper models. It's not a deal breaker for me, but I would have expected more for the money. Apart from that small flaw, I really can't say anything bad about the Nikon Prostaff and would recommend them to any serious beginner birder.
6. APEMAN 10X42 HD Binoculars for Adults with Low Light Night Vision
Want to take photos and videos with your smartphone with the aid of your binoculars?
The smartphone attachment that comes with these Apeman binoculars allows you to do just that. It is simply to set up and use and now you can share your experiences with friends and family and maybe even convert a few of them into new birders?
With 10×42 magnification and 87m/1000m field of view, you will be able to get some good shots to show off too.  Fully multi-coated lenses ensure that you get enough light transfer to provide you with nice and clear images with a good level of detail, and they even work pretty well in low level light.
The central focus dial is very large and easy to adjust with a single finger without looking, and there is a secondary focus on the right lens. Both do their job just fine and I didn't find it any bother getting the images how I wanted them. For such a low price, I was pleasantly surprised by the quality of these binoculars for bird watching. They have a strong plastic body and rubber armour that is thick enough to provide resistance to shocks.
At 440grams they are very lightweight and portable, this plus their compact design making them conveniently portable, and they can be carried in any oversized pocket such as on a winter coat or on the leg pocket of khaki trousers. If you want though, you can always use the free carry bag or hang them around your neck by the strap. At only 440 grams they are not going to be too much of a nuisance.
These, like the other Apeman binoculars we reviewed earlier are not top level premium products, so don't expect wonders. What they are, are a low cost, decent pair of beginner level binoculars for bird watching that offer a good clear image, and a handy attachment for taking photos.
Binoculars for Bird Watching Buyer's Guide
One thing about starting any new hobby or interest is that there is always a lot of new vocabulary and terms to learn. When it is a hobby that involves some technology like a pair of binoculars, you can times that by ten. There's no need to worry though because we have you covered with our handy buyer's guide. We will look at the different things that you should be interested in when choosing your first good pair of binoculars for bird watching.
Magnification
So, you've probably seen models that have 8×40, 10×42, etc in the name. The first number is the magnification level and the second is the size of the objective lens. As a new birder, you will probably want to stick to something around 8×40 as this will make it easier for you to focus on your target and to keep it in your sights. A higher level of magnification will allow you to see further away animals and objects, but any shaking will be much worse at these magnification strengths.
Size
If you read through our reviews above you soon realise that bird watching binoculars come in a variety of shapes, sizes and weights. Have a good think about what you intend to do with your binoculars before you decide on a pair. 
If you want to be able to move around easily, you'll probably be better off with a lightweight compact pair. If you plan on using a tripod and going for longer range watching, the weight of the binoculars won't be an issue , nor will shaking so you can afford to have something larger and heavier with a stronger magnification.
Price range
How much are you prepared to spend? The cheapest of our reviewed binoculars cost not much more than 20 pounds, while the Nikon ones were closer to 200, that's quite a difference. Then there are much pricier top tier models that we didn't feature here because they are outside of a lot of people's price range.
As with most things in life, you get what you pay for, and generally more expensive models will be better, but that doesn't mean that you can't pick up a very good pair of binoculars for your bird watching for an affordable price, the Olympus DPSI are a fine example of that.
If you do go for a budget model, you have to expect that certain things might not be up to the highest standards, such as the free accessories that come with it, but for a new birder, the products we reviewed today should see you ok until you are ready to upgrade in the future.
Features
The most important features on your bird watching binoculars will be the focus controls and the eye cups. The main focus dial should be large enough, and well positioned so that you can easily adjust the focus with a single finger. The smoothness and response of this control is equally as important. A secondary focus adjusted on the lens is also something to look out for.
When it comes to eye cups, the best thing is to get twist adjustable ones, especially if you wear glasses as they offer more control over the viewing position than fold down cups.
Other important things are waterproofing and dust proofing. If a pair of binoculars has been nitrogen purged it means that they are airtight, and therefore much more resistant to these things.
---