Written by Terry Smith
Our site is reader supported so when you click a link to Amazon we may earn an affiliate commission.
Best cordless router [UK]: Top wood Dewalt, Makita, Bosch, Ryobi routers
This article was last updated on July 31st, 2021 at 10:44 am
Did you ever think we would get there? Ten years ago when I used a cordless planer for the first time I put cordless tools down for eight years after that. The only 40mm cordless pin/nail gun was a gas powered Paslode, a cordless jigsaw hadn't been played with yet (with exception of Festool maybe). I was appalled by that planer (no naming brands – it was a decade ago and unfair as no comparison now) that I had just tried to use. How was I going to explain to my customer I had just chewed up their door with my 'new amazing cordless' kit? Well I didn't, I got out my corded tools and planned that door up nicely but still, it left a bitter taste in my mouth after I dropped nothing short of a fortune on that kit (prices were not the reasonable numbers they are now). Needless to say it went back for a refund and I shelved the idea of cordless tools (with exception of my cordless drill).
Amazingly now, eight years later, we are now looking at the best cordless routers as genuine bits of kit to leave the power lead at home. Whilst they don't have the power for tougher jobs, small straight flute cuts, hinges, round overs, and generally finishing work are more than achievable (without stuttering or a drop in power). With the batteries all being interchangeable and the bare units all coming at superb prices, I can honestly see a time where we don't have a power lead anymore, with exception of maybe half inch routers and heaters that draw big watts…
Comparison table: Best cordless router [UK]: Top wood Dewalt, Makita, Bosch, Ryobi routers

Product
What We Think
Price

Push button with lock On/off
Aluminium base for durability and accuracy
Aluminium housing
Connectable to dust extractor
Collet capacity 3/8"and 1/4"

LED lights up your work area for better visibility
Powerful 29,000 rpm and lightweight trim router adds the edge to any project...
For performance and runtime we recommend using a 5.0 Ah lithium plus battery which can trim up to 22...
Includes 6 mm collet
Aluminum base offers stability and accuracy

POWERSTATE brushless motor delivers the power of AC trim routers max 31 000 rpm for powerful smooth cutting...
Variable speed dial allows users to adjust the speed between 10 000 and 31 000 rpm to choose the...
All day run time on a single charge of an M18 5 0 Ah battery (up to 115 m)...
Innovative height adjustment system incorporating a 0 4 mm micro adjustment
Active brake stops the router bit quickly
Best cordless router
So with the shift toward a fully useable cordless router complete, I have rated best best cordless routers based on power, cut ability, ease of use, how quickly you can change router bits, the safety screen/fence, and of course good old price.
What a tool, for me it's certainly the best cordless router. Going all the way back to 2018 this tool in conjunction with an extractor has kept me in customers houses routing and machining rather than outside, which is a big deal to me in terms of lugging doors around as well as the time saved. The Makita DRT50ZJ Cordless Router is the backbone of that. Trimming up for hinges, latches, allowing me to easily rebate the door for fire excluders, and all the little tasks like rounding over window boards on the cuts. It's been an absolute pleasure and saved me so much time.
I found some useful tips on the way too. Firstly, I wouldn't touch this router with anything less than a 4 amp battery. My site chippy Paul reckons it's better balanced with a 3 amp battery and I would agree lighter is always better but he isn't getting much time with a full power meaningful cut, so personally I wouldn't to take that opinion too seriously – though if you have 3 amp batteries it'll work just fine. It does draw a lot of power so a battery won't last long at all. If I am running this thing for fifteen minutes I will definitely need a second battery. And that time frame is stop start, you probably only get five minutes actually runtime but then how much machining do you actually do cutting out a hinge or rebating for a fire seal.
I love the one handed grip too. Amazing how easy this thing is to make accurate straight cuts with one hand. This also applies to when you are using the router for rounding over. I don't think I've ever wanted to turn the speed setting down off full. I have definitely taken advantage of maximum power at all times. The adjustable height is a bit fiddly. As times gone on it needs a little wiggle but nothing that would put you off using this tool over a corded version. Here's a little demonstration with the DRT50 in action:
The router connects beautifully to the extractor in the sense that very little dust (if any) and only a few wood chips escape, certainly manageable with a dust sheet in a customers property with absolutely no anxiety or worries at all. I also find the way the extractor mounts, it really does hold on much better than the Makita cordless planer, which does slip off occasionally. I've rarely had that issue with this router. The extraction is powerful enough that it helps stop any clogging too. It'l pull out some wood chips from your straight cuts that get inevitably stuck which is nice too.
As with all Makita the two button safety lock setup makes sure you really really are turning this on, and it wasn't an accident. I have never started this cordless router by accident in the best part of three years. It'll handle a 3/8 collet but I only ever use 1/4. How much do you want from a cordless router? 😀
The lights are a nice touch too but no where near as crucial as having one on the cordless jigsaw as you follow your cut guided and assuming you're half handy with a router you'll know what I mean here. And on the straight line thing, there's practically no vibration at all when using this thing so you don't wobble which is very nice.
You can plunge 40mm. I've never tried to take that in one go, not even 20mm. I will normally cut at a max of 8-10mm depth at a time, and that is assuming I am using a 8-10mm straight flute cutter. You do have to go steady, it's not like the power corded version, you duo lose a bit of power if you try to go fast, and the battery will stall at this depth if you're on two bars. But again, this is just what it is, not a criticism, we obviously realise the huge power draw on routing and 240v vs 18v there are bound to be some give more than take moments.
Do I have any complaints? Would I cut a worktop with this? No way, that's not its intended power use. But complaints that are genuine – no not really, the battery lasting longer would be nice but lets be realistic, this is doing a lot of work and with where battery tech is at the moment this is a gem of a tool. You might say the way the fence attaches is a bit of a pain – you really have to tighten it up to avoid a slip, more so than a two prong router fence. But then that's what comes with small and compact!
If they took this out of circulation for whatever reason, I would be scrambling to buy whatever I could second hand, I can't live without this cordless router now.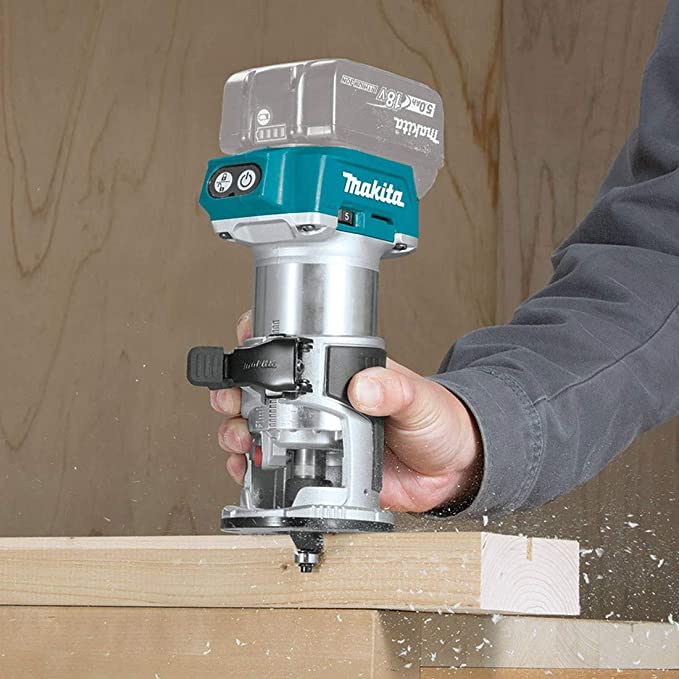 2. DEWALT DCW604NT 18V XR LI-ION BRUSHLESS CORDLESS ROUTER
Back when I bought the Makita DRT50ZJ Cordless Router, the Dewalt had yet to get out of the gate in the UK and at this point still hadn't caught Makita. Well they have more than caught up now, in fact this is more powerful in my opinion and only didn't make the best cordless router due to it's size. It is huge!
Have you got the corded Dewalt compact router? If yes, you are staring at exactly the same thing with a couple of exceptions. Firstly the motor is brushless, and without stating the obvious it's cordless. Otherwise they are practically the same.
The minor adjustment works completely different to the Makita, you basically spin the adjuster like a nut and bolt. In my mind this is better than the Makita as it's easier and less fiddly – but not by much, there's no clear winner on that part of the router.
It handless a 3/8 round over very nicely, just as well as the Makita, if not a little better. The cut is smooth and leaves a crisp finish, be it rebating, straight flute, or round over.
The collet is quick and easy to change, just like the Makita you have the collet stop button that engages and allows you to simply loosen it with the fence still in situ. I sometimes remove the fence for easier access – given it's easier and less fiddly I didn't mind losing a few seconds to make life more comfortable.
There are loads of speed settings but I have never used this in anything less than top power (setting 7). The more power, the cleaner the cut but you can play around with this as my style isn't necessarily how you'll want to handle your tools.
It feels a bit noisier than the Makita but that might just be the high pitch noise it gives off. Overall, it would have definitely been my top pick if not for the fact it's a bit bigger than I'd like. But I could easily see why others might vote this higher. A top tool from Dewalt.
3. Ryobi R18TR-0 ONE+ Cordless Router
I have to say, I really like the Ryobi R18TR-0 ONE+ Cordless Router. Based on price point alone now, it's where the Makita top router used to be when it was first release. And seeing as you're only going to use the cordless router for jobs like door keeps and hinges, it really does those jobs incredibly well. Like all the recommendations so far, I would want to put a big battery on this unit. It comes with a 6mm and 1/4 inch collet which is nice too.
I like the size of this router too. It's very much in the bracket out being able to be he'd with one hand and use the other hand for stability. The Dewalt moves away from that a little and I think it's a big deal for a compact router to be small enough to handle comfortably (with one hand).
I would recommend buying the Ryobi A99HT2 Door Hinge Installation Kit. I mean this with the upmost respect. I doubt I will be seeing you on site with your Ryobi kit anytime soon but for a hobbyist it's brilliant and very well priced. So I would take advantage of the kit and buy this jig. It'l make even the most nervous and inaccurate use bear on foolproof (within reason).
Remember you can't use this as a plunge router but adjustment isn't all that difficult. I would definitely go with a pilot hole first, it'll be easier and won't kick you off. I mention this because Ryobi themselves mention it's 38mm plunge depth in their sales patter and you see the word plunge and just assume. But careful reading you'll note they duo not sell this unit as a plunge router 🙂
Overall this is a nice little router, if you have some simple jobs like hinges or round overs then you'l be over the moon with this lovely bit of kit.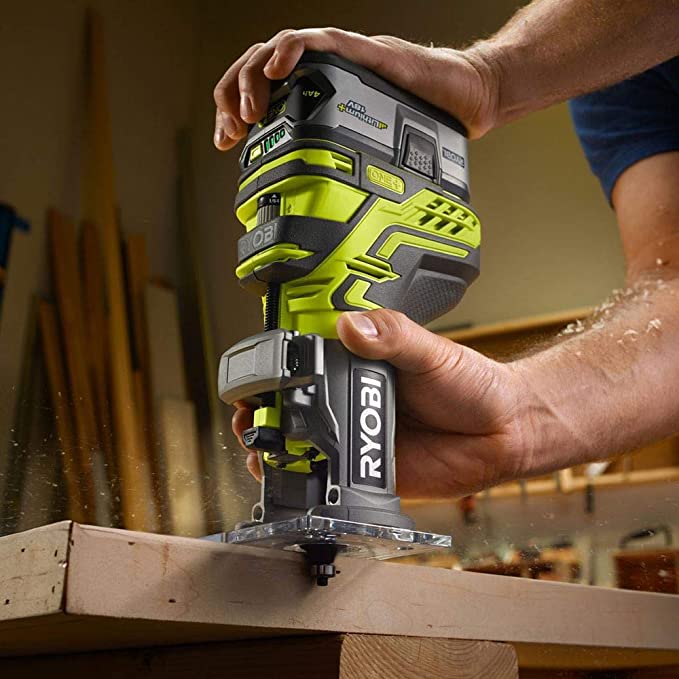 4. Milwaukee M18FTR-0 M18 Fuel Trim Cordless Router
Milwaukee don't often make it into my reviews but the Milwaukee M18FTR-0 M18 Fuel Trim Cordless Router deserves a spot. Whilst I'm not a Milwaukee fan I have to say this router packs a punch and if you already have the battery series then you won't be disappointed by the results of this little cordless router.
It's built pretty similar to the Makita, it uses a switch, like the corded Makita version actually ( the cordless has the two button lock method). The housing adjusts in a pretty similar way as does the way the extraction sits. So when comparing the two models I still prefer the Makita but this does have a couple of cool points.
Firstly you can easily grab the router and use it one handed. This applies to cutting hinges and round overs. Very easy to do if you are confident with a router. It comes with both fences which does actually make this cheaper than the Dewalt and Makita, as we as the plunge bases. Overall it's a nice cordless router and a definite buy if you already have the batteries.
---