Written by Terry Smith
Our site is reader supported so when you click a link to Amazon we may earn an affiliate commission.
Best cordless planer [UK]:Top Ryobi, Makita, Dewalt cordless planers reviewed
This article was last updated on July 31st, 2021 at 10:46 am
Have you ever used a planer and literally from new it didn't work. You couldn't even cut half a millimetre at a time? The blades instantly dulled and you either returned it to the high street DIY store, or worse was thoroughly annoyed and threw it in the shed to never be used again? Well, do not fear, that was ten years ago, even the cheap corded models at B & Q are half decent now but the best cordless planers are still miles better, one in particular from Makita can perform as well as a corded version! I can literally cut 2 mm softwood and 1 mm hardwood pretty neat and clean with my top pick in this article. I could barely do that with my monster corded Metabo ten years ago but what a bit of kit that was back then.
Best cordless planer
So I rated the best cordless planers (with fifteen years of experience planing own timber) based on depth of cut, how clean the cut was, how good the associated dust extraction works with it, value for money, and safety. My top pick, the best cordless planer was unquestionably the MAKITA DKP180Z 18V LXT CORDLESS PLANER (what a bit of kit this is for the money) but it wasn't all clean cut, the Dewalt and Ryobi have pretty serious cordless planers too and depending on what you need this kit for may make more sense for your own personal solution so worth having a read on those too.
Comparison table: Best cordless planer [UK]:Top Ryobi, Makita, Dewalt cordless planers reviewed

Product
What We Think
Price

Planning width 82 mm
Planning depth 2.0 mm
Maximum rebate depth 9.0 mm
No load speed 14000 RPM

The DCP580 is the first Planer to join Dewalts impressive XR 18v li-ion family...
Because it joins the XR range we can be assured that its compatible with the full range of 18v...
Its also got an all new 'brushless' motor
Because of this the DCP580 will have an increased runtime over other brushed cordless planers and its motor will...
Brushless Motor - Increased power and runtime

High powered brushless motor allows up to a maximum 3mm cutting depth...
Housing design has been re-engineered to allow for up to a 25mm cutting depth...
Easy chamfering by aligning the groove with the edge of the workpiece...
Electric Blade Brake

Chamfering groove in die-cast front shoe for added precision
Positive depth adjustment 0-0.4mm
Additional front handle for greater control and micro-depth adjustment
integrated technology for maximum dust pick-up
Includes side Fence, dust bag

The Einhell cordless planer TE-PL 18/82 Li
Large knife shafts deliver optimum planing results and the solid aluminium soleplate ensures flat results...
There is an automatic parking rest to protect the planer and the workpiece...
The product is supplied with a parallel stop for precise planing results...
As a member of the PXC family
1. MAKITA DKP180Z 18V LXT CORDLESS PLANER
Very very rarely will a product rate and rank 4.95/5 over thousands and tens of thousands of reviews from fellow carpenters and enthusiasts alike, and actually be legitimate. Welcome to the MAKITA DKP180Z 18V LXT CORDLESS PLANER which genuinely is a piece of engineering excellence and performs superbly.
You're going to love this review. Not only am I going to show you how good the cut is out of the box, but I'm also going to show you one of these after a year of daily use. I can tell you I have hit nails, screws, odd bits of hidden metal in doors and windows – I even bent the planer blade plates that hold them in place but it is still going strong. Obviously I have replaced tens of blades, but I am talking about actually smashing up the plates too 😀
This is a very precise cordless planer. You can cut 9mm shiplapping and 2mm in depth with ease. I highlight that point because it is seriously refreshing to be told a stat, and it just be exactly the case. Well done to Makita on that, no thrills, as it says on the box, it's all we ask for as a buyer, trust in the spec.
Granted the cut is a little off and it is the reason I bought a new one but still working well all the same. It's still under warranty but the hammering I have given that thing and how well it's stood up, I don't even want to get my money back – I'd feel terrible taking it back after it's given me resilient service for so long, and to be honest it only needs a new set of plates….but I bought a new one as they are just so cheap and handy to have a spare. Also once you've invested in the batteries the more bare tools you have the better, I love my Makita cordless nail guns, my good old Makita cordless chainsaw, and the best Makita cordless jigsaw literally ever. 🙂 Once you've got those toys, I mean tools 😉 the next thing to look at is their Makita cordless lawn mower – unbelievable bit of kit.
The first thing to talk about is the rubber belt drive on the motor to the blade. I've never sheared or damaged one in all the time I've owned and used this model for over a year but they always come with a spare or two which makes me think they do fail sometimes but like I say, not for me it hasn't. Here's a look at the rubber belt drive, blades, and plates: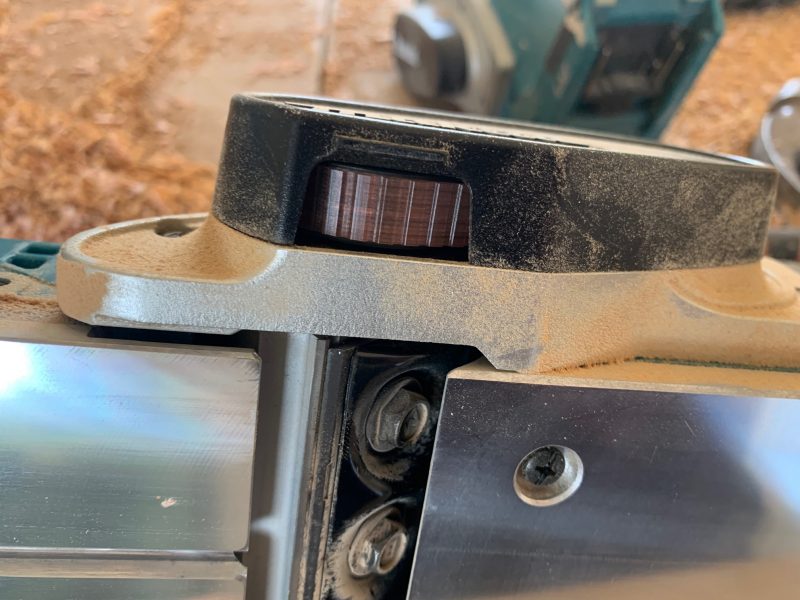 The blades supplied with new are superb, they would cost you 15 quid alone and miles better than the tungsten carbide (TCT) you get from Toolstation for a fiver. So off the bat you'll test this with a bit of 4 by 2 and be over the moon with the cut, and just how sharp it is.
I love the safety switch start too. I didn't think I can recollect in tens of hours of use ever turning this planer on by accident. You have to push and hold the switch down until you press in the trigger.
The chamfer groove works just fine and you'll be able to remove sharp edges consistently and identically.
Video here of the DKP180 Makita cordless panner
The first thing to take note of is just how accurate the cut depths are, in the video I show you how 1mm really does mean 1mm. It sounds trivial but so many planers do not cut just hoe they are supposed to.
As you can see from the new planer and old. The power delivery from 4 and 5 amp batteries is superb. Not that the amps makes any difference to total power, that's just how long a battery will last. I will say this though, as a battery goes down to about two bars you do notice some loss in performance so best to be using a full battery where possible. I do know you're supposed to run a battery right out but when I weigh up the cost of machining and my time versus getting a couple of years from a battery rather than three or four, I am happy with how I am doing things. If budgets an issue run your batteries down then keep them at full charge thereafter for the best lifespan.
The battery itself gives me about 10 minutes or so of cutting. That doesn't sound like much but you get a lot of work done in that time with a planer. If you are cutting more than an hour at a time you'll want to go with a corded version really. I'm not sure what you would be doing with a hand planer at that point though as a planer thicknesser makes much more sense anyway!
The dust extractor is great most of the time, I find it tries to fall off sometimes if I get into a funny angle with it, but overall pretty decent fit and really helps if your making a deep cut as it really does stop a clog up. On that note if you do get a clog up from cutting so deep it fills the chamber too fast, for the love of god remove the battery before you put anything down that hole to clear it.
I use this planer all the time for trimming down doors, cleaning up wood, and windows. It's the perfect bit of kit and absolutely super value for money. For just about every great reason listed above and from a year of testing this daily I vote it the best cordless planer in the UK.
2. DEWALT DCP580N-XJ 18V LI-ION XR BRUSHLESS CORDLESS PLANER
If there's a contender for the best cordless planer it would definitely be the DEWALT DCP580N-XJ 18V LI-ION XR BRUSHLESS CORDLESS PLANER. It performs lovely and certainly comparable to the Makita for power on the cut. I again love the blades that come with this out the box, they are much better than the standard TCT you can buy for a fiver too. It handles lovely and the power delivery/cut is just as you would expect from a quality tool manufacturer.
The safety mechanism works much like the Makita too, you hold down the safety switch, then you can engage the trigger. The fact both professional manufactures are aligned on this trigger and safety release tells me this is definitely the best way of going about ensuring you don't engage the motor accidentally. They are pretty much aligned on cutting too: 2mm depth and 9mm rebate for shiplapping etc.
The chamfer groove works as expected – no problems there, and it has the same ability to hook this up to the extractor if you so choose. The planer feels best to me with a 4 or 5 amp battery, this seems to balance the planer the best.
Being brushless you can expect some good life out of this planer. Our main man Andy in the video below has been using his daily for much of the last 2 years with absolutely no problem at all.
Vid of Andys dewalt cordless planer.
Andy totally disagrees 😀 but I think the Makita has this on power – I'll leave you to make your minds up when you compare the videos but both are cutting at 1mm depths here so it's a pretty good comparison though my timber is hardwood 😀
As you can see there's not much in it performance wise with the Makita and let's be honest, it literally boils down to the fact that at the moment Makita is about ten percent cheaper. If you already have Dewalt batteries then this cordless planer is a no brainer. A total steal just like the Makita and easily the second pick for top cordless planer in the UK.
3. MAKITA DKP181Z 18V LXT AWS BRUSHLESS PLANER
Do you need a heavy duty solution? Are you looking to cut 3mm depth or a shiplap/rebate of 25mm? Incredibly there is a cordless planer that does this! Makita are miles ahead with performance on this one. It has the same spec as a corded planer, literally!
I have to question this level of work though. For on site free and easy to use cordless planers rarely need 3mm taking off a door in one sweep, and when would you need a 25mm rebate? Quite frankly the stats are unbelievable but it's a bit overkill for me, their Makita DKP180Z is already superb for site bashing; shooting in doors, frames, trimming down. I just don't think you need the extra performance but if you do, this is without doubt the go to tool!
This is pretty cool if you have the wireless bluetooth dust extraction too. They can communicate and both can switch on at the same time saving you battery as you go. This is very nice because my earlier model doesn't do this – I have to turn on the extractor manually then switch off. This is a real pain and I think the problem was highlighted early on (I was a sucker that bought the product early) and is now definitely resolved. The other benefit over the cheaper model is the ability to switch your collection bag (if not using an extractor) to the other side. This is very handy and stops you turning joinery around much much more. It's a simple twist release so very fast to work with
Whilst I very much like the cheaper model, set at a 1.5mm depth side by side this planer leaves noticeably less scallop marking on the timber. Quite frankly it is a superb bit of kit and justifiable if you have the money or do a serious amount of planning everyday.
4. Ryobi R18PL-0 18V ONE+ Cordless Planer
Very nice tool indeed. The Ryobi R18PL-0 18V ONE+ Cordless Planer has great reviews all round the Internet and is a super little mid range cordless planer. Over the recent years Ryobi continue to impress with their improved battery tech and expanded range of cordless tools. Most notably the cordless Ryobi nail gun and the Ryobi cordless pole hedge trimmer.
Whilst the Ryobi is no match at all for the Makita, and I wouldn't rock up on a building site with this kit, if you already have the batteries you are talking about a superb value cordless planer for home use. The chamfer groove works nicely and the depth of cut is 1.6mm – you also need to consider the battery tech which I do not personally believe after using is anywhere near Makita or Dewalt, if Ryobi disagree with this statement then they are welcome to send me their latest batteries as I am commenting on '19 use.
A drawback is the blade mount, they use the old school spanner method, which is fine, but a hexagonal bolt is so much faster, perhaps in the future they'll come up with something far more similar to the MAKITA DKP180Z with regards to blade change.
Ryobi recommend using this planner with a 2.5 amp battery or up and I think this is where it falls down. When my Makita hits 2 bars out of 4 on a 5 amp battery, I feel like it's time to change over (at the point 2.5amps are left) 😀 . You'll get much better results and power stabilised delivery if you pony up and pay for the 5 amp Ryobi batteries.
All in all an accomplished bit of kit for home use and if you have batteries already, it's probably the best of the cheap cordless planers on price.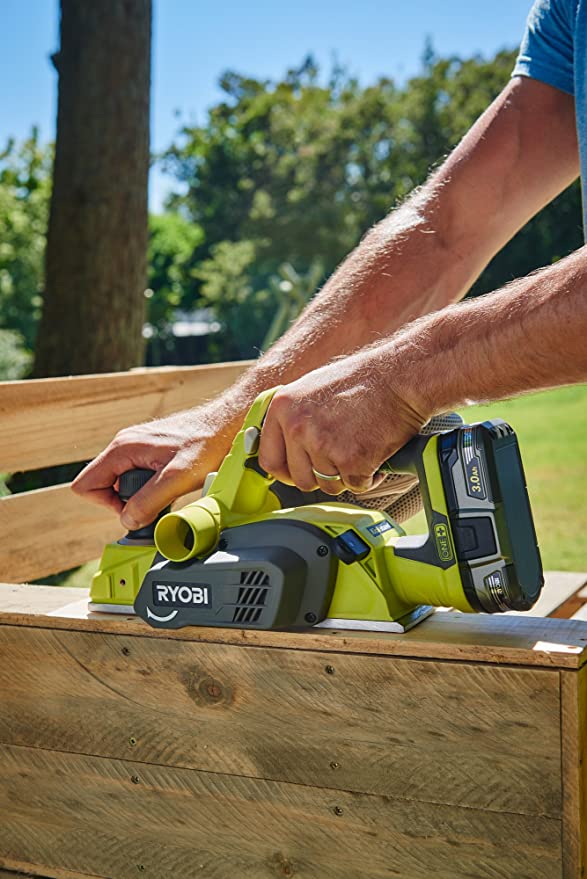 Einhell Cordless Planer TE-PL 18/82 Li
Do you have Einhell batteries already? Then this is a super bit of kit to add to your collection. Well priced and delivering a legitimate 2mm cut as they say, for the money, it's a bargain. I've hit this with Sapele at depths of 1mm and Douglas fir nearer two. Both left nice finishes with minimal scalloping. There was plenty of power in the cut and that's what left a decent, crisp finish.
Einhell is really creeping up on Makita and Dewalt and ok, they won't catch them in my opinion, they are certainly starting to make inroads toward a decent market share, healthily led by major UK high street adoption.
I'm not a fan of a single blade but it's clear the cutting power is there. You can also argue it's far more economical and quicker to change blades. If you're doing the kind of work that involves battering screws and nails then smashing one TCT blade a time will go a long way toward reducing your net spend. I don't like the spanner blade replacement as it's slower than the Makita hexagons bolts but overall this is a pretty accomplished bit of kit and wouldn't hesitate to recommend it if you already have the PXC battery range and well deserves it's spot on the best cordless planers in the UK list.
---