Garden Tool Box » Best parasol bases UK: Top cantilever parasol bases reviewed and compared for price and sturdiness
Best parasol bases UK: Top cantilever parasol bases reviewed and compared for price and sturdiness
This article was last updated on July 31st, 2021 at 3:26 am
I don't know about you, but every time the English summertime swings around I completely forget just how hot the sun is. After a miserable month spent stuck inside during winter, the thought of clear blue skies, let alone a heatwave, simply seems inconceivable. This lapse in judgement leads to one thing…sunburn. Us Brits still haven't quite gotten the hang of tanning, and you'll find that in any holiday destination it's always the Brits who are walking around, stiff back, pink nose, and peeling shoulders.
Of course, the best thing you can do to protect yourself from sunburn (and all the genuinely dangerous consequences of this) is to wear SPF sun cream, however there is another, less sticky, alternative. Cantilever parasols are a great way to transform your sun trap garden into a shady oasis, free of sunburn whilst using your sun lounger or zero gravity chair. We don't always want direct sun in the UK (amazingly) 😀
Why you want a parasol base?
However, with UK weather being about as reliable as a chocolate teapot, it's important to keep your parasol protected from freak snaps of bad weather. Parasols are prone to damage in high (and even light) wind, so it's a good idea to invest in a solid parasol base to keep your parasol safely in one spot, and not upside down in the neighbour's pond. Whoops.
So, you know that you want a parasol to protect you from the much appreciated, but strong, summer sun and you know that you need to also invest in a base to keep your parasol upright and in one place. But what kind of base should you buy? Let's find out.
There's a fair amount of variation within the parasol base market, and before deciding on your new parasol base, it's a good idea to have a think about exactly what you need from your ideal base. The first thing to consider is what kind of parasol you have. Is it a straightforward umbrella or is it a cantilever parasol (essentially the same as a straightforward umbrella except its stand is on one side, so that it hangs over your furniture without a pole getting in the way)? Furthermore, what is the weight of your parasol? This will be important when choosing a base, as a heavy parasol supported by a light base won't last very long. Similarly, what are the measurements of the pole of your parasol? Some bases are adjustable, and some are not, so check this before making any investments.
This guide will focus specifically on cantilever parasols, and the strongest, sturdiest, and most cost-effective bases to support this kind of garden equipment. So, let's jump in and take a look at our favourite cantilever bases…
Here's my pick of the best parasol bases in the uk
1. Woodside 4 x Parasol Base Stand Weight For Cantilever & Banana Hanging Umbrellas
We will start off with my favourite cantilever base on the market, the Woodside base. Designed specifically for cantilever parasols, this product clearly reads the brief when it comes to strength and durability, plus it doesn't look half bad either.
Its rustic look design mimics that of a copper drain, which sounds like a bad thing but, for my money, looks great. Obviously, this is a case of personal taste, but for anybody with a pastoral, old school countryside theme going on in their garden, this base would be the perfect fit. Besides, the design of parasol bases usually tends to be fairly bland and ordinary, so why not mix it up with a unique design?
Aside from the base's aesthetic appeal, I'm drawn to the impressive weight and usability of this product. It consists of four separate panels, each panel measuring 47cm x 47cm, with a thickness of 4cm, an overall diameter of 94 cm and weighing in at 12kg per segment. This means all four panels weigh a whopping 48kg when used all together. It would take some pretty strong winds to mess with that kind of support. In addition to this, the base can hold up umbrellas and parasols measuring up to 3.5 metres, so the sky's the limit with Woodside.
But I know what you're thinking – 48kg is a lot, how am I going to carry the base? Well, luckily for you, Woodside have already taken this potential problem into consideration. On the side of each panel is a retractable handle, making it easier for you to get a good grip on the panel and move it around with no trouble.
Another great feature about the Woodside parasol base is the fact that the weights do not require any kind of filling. In the parasol base market, it is normal to come across products which require filling with either water or sand, however this product comes pre-filled with heavy concrete, saving you time, money, and effort.
On the flip side, this product is on the expensive side, so is certainly an investment worth thinking about. Moreover, the design is not to everybody's taste, so whilst I'm a big fan, those looking for a more subtle and minimalist parasol base may wish to look elsewhere.

2. Tee-Moo 18 inch. Square Detachable Umbrella Base Weight Bag
Next up is the Tee-Moo Detachable Umbrella Base Weight Bag, a product which goes against the grain in terms of design and functionality. Also designed to support cantilever parasols, the adjustable nature of this product means that it is effective in weighing essentially any type of garden furniture down. Where the Woodside base comes in the form of four weighted panels, the Tee-Moo base is made up of two fabric bags, each measuring 45cm (length) x 22.86cm (width) x 10.16cm (height) with a gap in the middle for the pole of a parasol.
The idea is that you fill each bag with sand, or any heavy material you have spare, and then attach the two bags around your parasol pole for stability. The product comes with a free shovel, making it super easy to fill with sand, and each bag also has a handle, so manoeuvrability is a breeze.
Once filled with sand, this product weighs approximately 38.5kg, which is a pretty decent weight in the parasol base world. Furthermore, the fabric bags are made with a durable, waterproof material, so that the sand filling will stay dry, no matter how wet the weather is – we all know how much of a nightmare wet sand can be.
However, there are a couple of downsides with sand filled parasol bases. Firstly, you have to source and buy your own sand for this product, adding a small cost to the overall price. Secondly, if you wanted to empty the bags and pack them away, to take on holiday for example, you will most likely find yourself in a sandy mess.
In addition to this, whilst Tee-Moo boast of the fact that the hole for the pole (a mouthful I know) can be adjusted to fit any size pole, what they really mean is that you can make the hole bigger, but not smaller. This means that if your pole is small, their hole is likely going to be too big. I feel like we are on the precipice of an unfortunate innuendo.
It is worth mentioning, however, that despite the handful of drawbacks with this product, it sits nicely on the cheap end of the price scale.
3. Woodside Black 13kg Garden Patio Cantilever Parasol Umbrella Base Weight Stand
We're taking it back to Woodside with this product, and most certainly back to basics. Where the previous two products have been a little wacky in their design, the Woodside Black Base is a fan of the simple and stripped back. In garden furniture and equipment, stripped back and basic often equates to bad, but I'm not sure that the same can be said when it comes to this product. After all, we are comparing parasol bases here; it's not rocket science and there is no need for it to be too fancy.
This base is made from resin with a concrete filling and has a simple circle shaped design. It's essentially exactly what you would expect from a parasol base. It is suitable for cantilever parasols as well as straight forward umbrella parasols, and measures 48cm x 31cm, with a pole hole of 4cm. This means that it is only appropriate for parasols with a pole diameter of 4cm or less but, whilst this does limit the usability of the product, Woodside makes up for it with the addition of a handy knob which tightens around the pole, increasing the stability of the pole once inserted.
Another strong plus point for this product is the fact that it doesn't require extra filling, as it comes pre-filled with concrete. Nice one, Woodside. This concrete filling gives the base a weight of 13kg, which is on the light side, but still not terrible. This mid-range weight is reflected in the mid-range price of the product, so if you are looking for a cheap and cheerful parasol base which still packs a punch, then this may be the product for you.
4. AIRWAVE Set of Four Quality Cantilever Banana Parasol Base Weights
Our penultimate product is the AIRWAVE Set of Four Parasol Base Weights. Similar in functionality to our number one product, the Woodside base weights, this product can be used on any type of parasol or umbrella and comes in the form of four weights, attached to a base. With rounded edges, this product is 100% stubbed-toe proof, and with its sleek and simple design it will fit in well in any type of garden, whether minimalist, maximalist, plain or decorated.
Measuring at 50.5cm x 50.5cm x 7.5cm, it is a large base, perfect for holding large umbrellas and parasols. Furthermore, the product comes with locking bands which connect each individual weight, to improve stability and ensure that a wobbling parasol will be nothing more than a distant memory.
The weights are designed to be filled with either sand or water, and AIRWAVE claim that filling the base with water means that each section will weigh around 13.5kg, whereas filling the sections with sand will give them an impressive 20kg weight, making the whole base 80kg. Clearly, AIRWAVE is a heavyweight operation, but this is reflected in its price which sits on the more expensive end of the scale. However, if you have a tall and heavy parasol, investing in a base like this one is the best way of protecting your parasol from future damage, and I believe that the whooping weight makes up for the increased price.
In terms of disadvantages, it is worth considering the fact that it only fits one size parasol and is designed solely for a 3m x 3m cantilever, so there is no room for manoeuvre with this product. Furthermore, each weight is fairly difficult to fill, especially if you are working with sand. The spout is on the narrow side, so you may encounter some issues transferring the sand into the weight, but nothing that a little patience won't fix.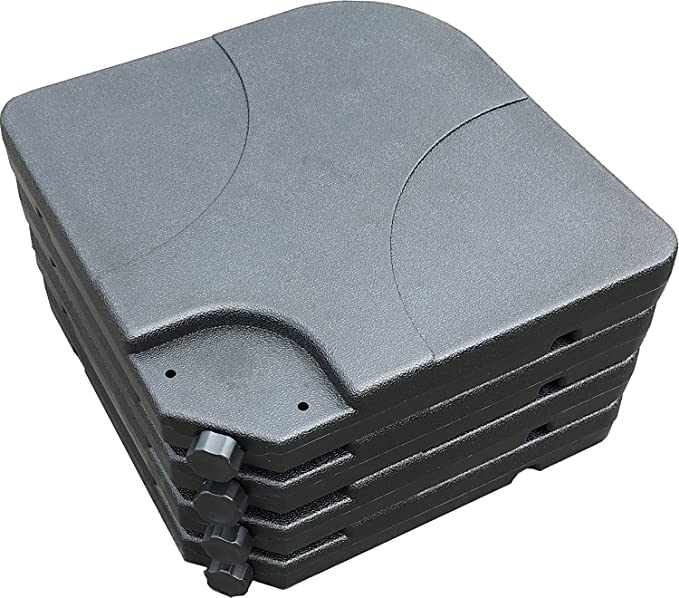 5. FiNeWaY® Heavy Duty 9.5kg 45cm Dia.
Our final product is the FineWay Heavy Duty Cast Iron Parasol Base, unique from the rest of the bases on this list largely due to its pretty floral design. Again, it is all a matter of taste when it comes to designs like this. I personally like products which have a unique feel to them, as there are so many uniform and bland garden products already on the market. However, the rose design of this base could be a massive no-no for some buyers, so consider how it would fit in with your garden first.
In terms of usability and measurements, this base measures in at 45cm (length) x 45cm (width), and weighs 9.5kg which, admittedly, is not a lot. The lightweight nature of this base makes it super easy to carry and transport, so it is ideal to pack away into the car and take on holiday. However, it means that this product is likely not suitable for a heavy/tall parasol or umbrella, especially not in high winds.
Despite the underwhelming weight, the base can accommodate parasol poles up to 5cm in diameter (which is most parasol poles), and even comes fit with an adjustable tightening knob to keep the pole secure and stop it from spinning around in the wind.
The most significant issue with this parasol base (and it is significant) is the fact that it may be too light to support a cantilever umbrella. This, unfortunately, seriously limits its usability – sorry FineWay. This is a particularly relevant point when considering the mid-range price tag. For such a light product, you would expect a much smaller price, but perhaps you pay a premium for the floral design.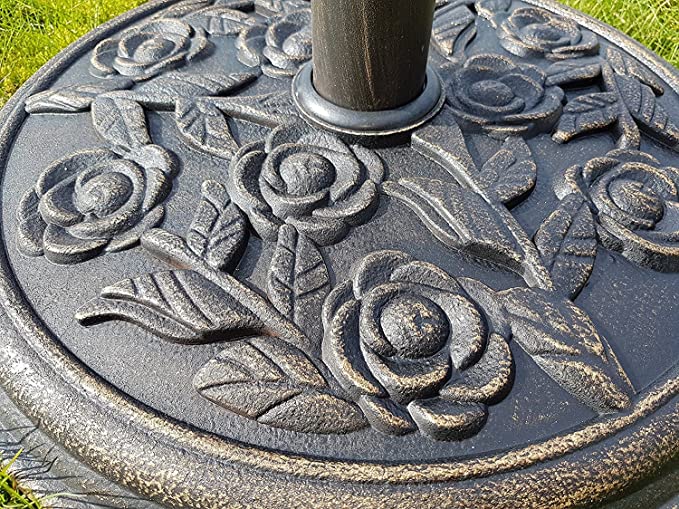 ---