Garden Tool Box » Best cooler bag [UK] for frozen food and beer: Top cool bag rucksacks reviewed and compared
Best cooler bag [UK] for frozen food and beer: Top cool bag rucksacks reviewed and compared
This article was last updated on July 31st, 2021 at 5:40 am
Now we're all meeting up outside and the weather is improving, it's the perfect time for drinks on the green or a picnic in the park. Perhaps you're off to the common or heading out on a camping trip, or even planning ahead for a festival.
What is a cooler bag rucksack?
A cooler backpack is designed to keep food and water at a steady low temperature for long periods of time to increase their lifespan. You could compare a cooler backpack to a mini fridge but with the ability to be portable and change your experience out and about, camping, down the beach, or on long picnics and work beautifully in conjunction with a portable charcoal bbq ( or portable gas bbq) to make a superb day out. But it gets better still…some cooler bags in the UK market come with a beer opener attached 😉 Talk about a deal sealer 🙂
So used in combination with a picnic table and a disposable bbq you can get most of the benefits from home but with the added benefit of being outdoors. We are talking a real game changer not having to carry a cool box any longer…
A cool bag comes with one last awesome ability you wouldn't expect, being comparably like a thermos flask, they will also keep your food and drink warm as well as cold. So if you've setup and cooked already you can expect reasonably warm drinks a couple of hours later too.
But the most important thing about any outdoor activity? Food and drinks of course! And when the weather warms up, there's nothing worse than a lukewarm beer. Enter the cool bag!
Best cooler bag top picks:
We've got a great selection of cool bags here that are, better yet, cool bag rucksacks! Perfect for carrying around food and drinks with more ease when you're on the move. Because traditional cool bags can be very awkward to carry around – something about the shape for me.
With a variety of sizes, prices, and brands, we've got your next cool bag covered. And for some tips on purchasing your next cool bag rucksack and an important point about packing, take a look at the Buyer's Guide To Cool Bag Rucksacks at the end (or just skip ahead).
Enjoy!
Comparison table: Best cooler bag [UK] for frozen food and beer: Top cool bag rucksacks reviewed and compared

Product
What We Think
Rating
Price
The TOURIT Cooler Backpack 30 Cans Lightweight Insulated is so well rated online I wouldn't blame you for looking closely at those reviews to check their authenticity. I can tell you after testing and keeping two bottles of Prosecco cold for a couple of hours this is the perfect cool bag for a day at the beach. With loads of pockets you'll be well impressed with this for the money.
As you'd expect, the Lifewit 24L (30-Can) Soft Cooler Backpack with Hard Liner is tailor made for keeping cans cool. A top tip to really leverage on this cool bag is to make sure your can are ice cold, that'll give you hours of cool drinks and you'll be very pleased if you go with this cooler rucksack.
The PENGDA Cool Bag Rucksack - 25 Cans Insulated Backpack has the same volume storage as the Tourit bags but isn't the strongest cool bag option. However, on fair balance it represents excellent value for money and easily deserves its position on our top cool bag reviews.. Proven to keep food cool through testing and hundreds of reviews, you simply can't go wrong.
The biggest food bag on our list is the Mixfin Large Capacity Insulated Cooler Backpack 32.8L and I have to say it's my favourite. More drinks equals more fun. With few reviews it's relatively unknown but the ruck sack has been around for a good while now and a really nice choice if you need a big bag!
The TOURIT Insulated Backpack Cooler is similar in capacity to its sister model the TOURIT Cooler Backpack 30 Cans Lightweight Insulated but looks far better for a day out and far more natural looking on your shoulder. This is the right model if you prefer style and a mix of performance balance overall.
Our Apollo walker Picnic Backpack Bag for 2 Person pick is the Rolls Royce of cool bags. With built in wine storage that is detachable, an array of pockets for cutlery and seasoning, a holder for picnic blankets, this is by far the most rounded and best cooler bag rucksack option available in the UK at the moment.
1. TOURIT Cooler Backpack 30 Cans Lightweight Insulated
So our first product is a highly reviewed one from our customers. The TOURIT Cooler Backpack 30 Cans Lightweight Insulated Backpack Cooler is a great option to look at as a benchmark to compare other bag coolers.
This one comes in three different colours: grey, blue and black, with the price varying depending on the colour – I went for the grey which is the cheapest option.
With dimensions of 33 x 19 x 40 cm and a capacity of 25 litres, this bag has a decent amount of space – I've tested this out and can confirm that it holds two bottles of wine. (I did actually research the height of a standard bottle of wine (or bubbles) and it's 30cm so we're all fine here – no worries there! :D) And this is just in the main compartment. I love the different pockets, including two front pockets and two side pockets – there's even a beer bottle opener on the strap! My kind of bag.
I've heard from some customers that this has held up well against spillages so I decided to test that for myself. After spilling a bottle of water in the bag, I can say that I'm very impressed with how well it held up – no spills or leakages! This is definitely a great feature as there's nothing worse than feeling a spillage through the bag on your back.
One thing I'd note is, because of the waterproof material inside the bag, it could be at risk of tearing from bottle tops. This isn't a deal breaker as you need that material for its waterproof abilities, it's just something to bear in mind when you're packing up your bag.
The bag's a really nice size – nice and lightweight. With that in mind, you won't want to fill this one up too much. It holds up well and feels strong but I would be concerned about how well it can hold heavy weights. But that seems evident from its size as well and I'd be confident putting a decent amount of food and drinks in there.
And, most importantly, it does the job of keeping everything cold!
2. Lifewit 24L (30-Can) Soft Cooler Backpack with Hard Liner
Coming in as the cheapest from the selection at a price to suit most budgets, the Lifewit Soft Cooler Backpack with Hard Liner has a capacity of 24 litres. The cool bag comes in two different colours, black and grey (both the same price).
This bag is really comfortable with padded straps and lightweight to carry so great in terms of initial comfort. One thing I have heard though is just watch out for the sweat patches – a risk with any of these bags but just thought I'd throw that in there with the warmer weather coming up and they always creep up on you.
When opening it up it has a very decent size with measurements of 31 x 21.5 x 37 cm. Enough to fit in a couple of bottles and some food, so definitely a good one for a family/friends picnic. It seems very robust and holds up well with a decent amount of weight, although again be careful not to overpack this one. You shouldn't have a any problem with that you can get plenty in there.
Food and drinks stay cool for a good few hours or so with some ice packs inside. And there's a few pockets around the pack which is a great addition.
A good thing about this bag is that it's really easy to clean – the lining is separated from the bag at the bottom which makes cleaning nice and simple.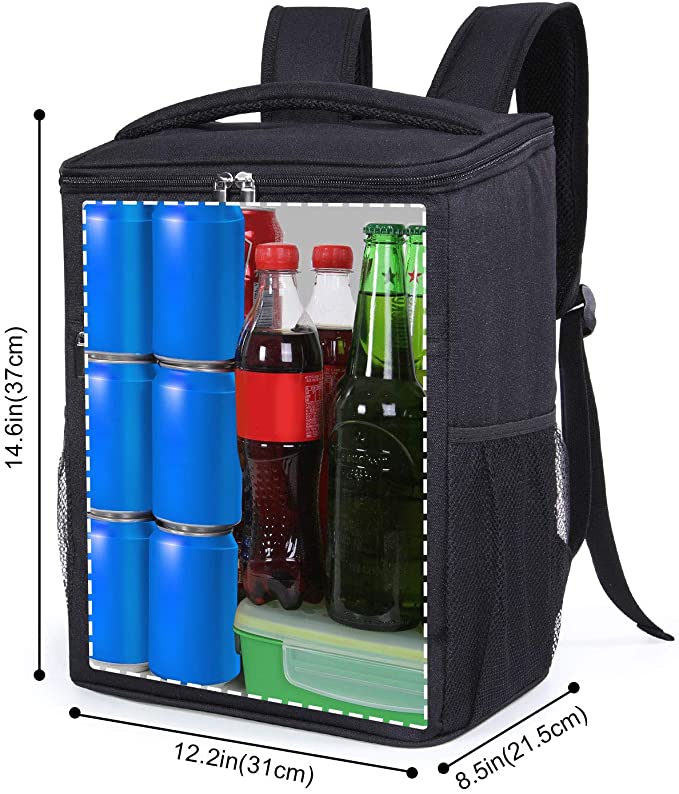 3. TOURIT Insulated Backpack Cooler
Another one from Tourit, the TOURIT Insulated Backpack Cooler Leakproof Lightweight Cooler Backpack comes in at middle range money. This one comes in four different colours, black, grey, blue and dark grey. For some reason, the dark grey option is marginally cheaper at the moment so if you're looking for a bargain here's your bag…
After inspection, this appears to be a decent size, holding up to 25 litres, similar to the other products. Plenty of space for some bottles and food. After packing the bag up with a couple of drinks, some cold foods and a couple of ice packs, I've left the bag out in the sun for a few hours and I can say the bag has held up very well! Everything is still cold so good points for that.
I've done a little spill test and the cool bag did not disappoint – all the liquid was contained and didn't leak throughout the bag so it's passed the test in that sense! Also very easy to clean up any spills as you can just wipe it clean and the material doesn't absorb anything which is great.
After using the bag for a while and packing it with lots of bottles, it shows no signs of wear so I'm impressed! This is another one with extra side and front pockets for extra snacks and things.
4. PENGDA Cool Bag Rucksack - 25 Cans Insulated Backpack
Another cool bag that comes with a beer opener! The PENGDA Cool Bag Rucksack comes in at mid-range price wise and is made from a black nylon.
So this bag comes out at a similar size to the other cool bags, holding up to 25 litres which is the same as the Tourit models when directly compared. I've tested the bag with some food and bottles and it does do that job keeping everything cool!
The only thing I'd say about this bag is that the lining isn't attached to the actual bag. This is both a good thing and a bad thing (depending on how you look at it). It does impact on the amount of space inside the main compartment. And I would be careful about some beer bottles and things catching on it. Just something to bear in mind.
However this feature means the bag is very easy to clean that way as you can completely remove the lining to wipe the bag.
It comes with the addition of pockets, which is great for non valuables like extra snacks and napkins and so on. This cool bag isn't the most durable out there, perhaps compared to the first TOURIT option. However the plus side of this is that the bag is very lightweight so it's comfortable and easy to carry around, especially with the padding around the straps.
Overall a good bag for what it does – keeping your food and drink cool while you move around!
5. Apollo walker Picnic Backpack Bag for 2 Person
The Apollo Walker Picnic Backpack Bag is at the most expensive from the selection compared to other cool bags of on the UK market. I thought I'd add this one to the mix as it's slightly different to the other products as it's primarily a compartmented picnic bag with a cooler section. This is definitely a fun option if you're serious about your picnics!
This rucksack comes with a great selection of things including cutlery, napkins, blankets, a salt and pepper shaker and a bottle opener. And a compartment for keeping your food/drinks warm or cold.
The cool compartment is very roomy and definitely does the job to keep things cold with an ice pack or hot things warm on their own.
Everything is plastic which keeps the rucksack nice and lightweight, and comfortable as well. But the quality of the material is still very good – and very thick.
Overall, this isn't the cool bag to go for if you're after just one large cooling compartment as there isn't loads of room in this one for big things, more for snacks or small bottles. But it's worth considering if you fancy something a bit fun that comes with everything you need for a great picnic.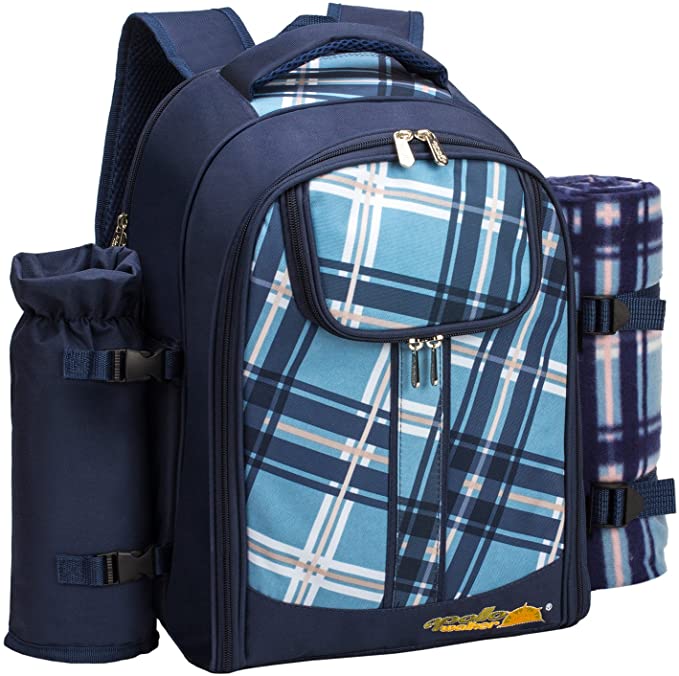 6. Mixfin Large Capacity Insulated Cooler Backpack 32.8L
With a capacity of up to 32.8 litres, the Large Capacity Insulated Cooler Backpack is the largest cool bag out of the selection. This one comes in two colours, black and grey, with the black option being £1 cheaper when compared so there's your discount of the day 🙂
This is your large capacity cool bag with the measurements of 46 x 34 x 21 cm. It's a great size if you're looking for something a little bigger – or you're wanting to pack a few more bottles… no judgement here! Otherwise, this bag would be great for a family picnic as it has enough room for several drinks and a decent amount of picnic food. Or even to do your weekly shop if you need to keep things cool.
With a frozen ice pack or two, this bag does it's job and keeps everything cool for a good amount of time.
Despite it being bigger than the rest, this cool bag rucksack is still very comfortable because of the padding on the straps. The bag is very well made – great padded lining inside as well as breathable mesh sections on the back part. Could also double up well as a general storage bag for camping or hiking.
And this one comes with a beer bottle opener too! As well as 5 extra pockets with sturdy zips.
Buyer's Guide To Cool Bag Rucksacks
Tune in for a couple of tips and things to note that I've picked up along the way from testing cool bag rucksacks.
Keep an eye out for the lining
Now, there are positive and negatives either way but you do have a look at the details for whether the lining inside is attached or not. Whether this bothers you or not is up to preference but it's worth bearing in mind.
If the lining isn't attached, it can prevent you from being able to maximise the cool bag space. If this doesn't bother you then just take into consideration bags with detached lining may come out smaller than their measurements.
On the plus side, detached lining often makes them easier to wipe clean more thoroughly.
Careful when packing!
As these rucksacks are designed to be easy to carry and comfortable, they are generally made of lightweight materials. So, naturally, this will affect how much you can carry (although most boast fitting up to 28 cans so that shouldn't limit you too much!)
Also bear in mind that some of the material, especially in the cool bags with detached lining may be susceptible to tearing or snagging. I haven't experienced that yet with lots of these bags but one bottle cap in the wrong place and I can see that being an issue for a couple of these bags. That in mind, just be a little bit mindful when packing – might be handy to throw in a tea towel or something to protect your bag.
This isn't a bad thing, just something to consider as that is generally where you do have to compromise if you want a comfortable rucksack.
Comparing what you can fit in your cool bag rucksack
Most cool bags will have a height of at least 32cm as this will give you the height you need for a standard wine bottle. This is particularly true of the TOURIT Cooler Backpack 30 Cans Lightweight Insulated which is quick to highlight this. The easiest way to measure the amount of food you can carry is volume. All bags are clear, for example one of the larger options when compared is the Large Capacity Insulated Cooler Backpack 32.8L.
Another thing to consider is how much can be tied onto the side of your cool bag. For example, The Apollo walker Picnic Backpack Bag for 2 Person has the ability to carry picnic blankets and a detachable wine holder.
---