Garden Tool Box » Best Rabbit Hutch [UK]: Top Luxury, Indoor, and 6ft Rabbit hutches compared and reviewed
Best Rabbit Hutch [UK]: Top Luxury, Indoor, and 6ft Rabbit hutches compared and reviewed
This article was last updated on October 16th, 2021 at 8:41 am
Spring has sprung. The weather is warmer. New flowers are blossoming. And new animals have sprung to life. Including a whole new batch of bunnies. Easily the best and happiest time of the year for almost everyone in the UK
What is a rabbit hutch?
A place to eat, a place to sleep, or just a place to get away from it all. Here's another one for our furry little friends… rabbit hutches.
From wooden to metal, from single level enclosures to double tier houses, simple design to little houses, we've got your rabbit hutches covered with a great range. As well as focus on predator protection and hutch cleaning. Because there's nothing more important than housing your little rabbit right, whether it's for your first bunny or an upgrade for your beloved pet rabbit. The best rabbit hutches are in fact very similar and comparable to chicken coops. You might want to check this page too as there are often reviews and research that suggest they are very much the same and who knows, you may find a better price 🙂
Best rabbit hutch top picks:
For more information when it comes to buying your rabbit hutch, take a look at the Buyer's Guide To Rabbit Hutches at the bottom of this page.
Comparison table: Best Rabbit Hutch [UK]: Top Luxury, Indoor, and 6ft Rabbit hutches compared and reviewed

Product
What We Think
Price

The MidWest Homes for Pets 158 Wabbitat Deluxe Rabbit Home represents the best value for money and quality when compared to all other rabbit hutches in the UK. With two levels and a couple of access points it is pretty user friendly. Add to that a removable and rust proof tray to clean our your bunnies then you'll begin to feel this is a particularly good deal.

As usual, the FeelGoodUK Rabbit Hutch, 150 x 66 x 100 cm is right up to scratch as quality and luxury are concerned. It doesn't matter what they are making for pets at home. They've used decent timber that'll last well outside and you can buy a run (when you compare it's basically the same as a chicken coop but smaller). You'll keep a few rabbit no problem, all happy, fed and warm!

FeelGoodUK BUNNY ARK - Hybrid - Double Tier Rabbit Hutch Guinea Pig House Cage Pen Home

As the name suggests, the FeelGoodUK BUNNY ARK - Hybrid - Double Tier Rabbit Hutch Guinea Pig House Cage Pen Home combines well for use as multiple pet alternatives. We would obviously advocate the use as a rabbit hutch primarily but equally at home housing guinea pigs too. Well built and colourful it is a nice addition to any garden. You'll find cleaning pretty easy and you won't have too much bother keeping this hutch outside.
The Bunny Business Rabbit/ Guinea Pig Hide House/ Run Hutch made it on our list of top picks primarily at price point but what you don't realise is although it's only got one access point it is very secure as a result of the simplistic design. Whilst it may be a little dark, if you have predators such as foxes, apart from a fox repellant this is the next best thing to keep your bunny safe and well insulated.
1. MidWest Homes for Pets 158 Wabbitat Deluxe Rabbit Home
Specification: Size: 100.3 x 60.3 x 50.2 cm, Material: Wood, Weather-resistant: No,
Here we've got your classic metal wire rabbit cage with the MidWest Homes for Pets 158 Wabbitat Deluxe Rabbit Home. At low end money, this rabbit hutch comes out at mid range out of the selection price wise. And you can get a hutch extension for an extra £70 or so if you wanted to go all out with your next rabbit hutch.
On first impressions, the cage is really big, measuring at 100.3 x 60.3 x 50.2 centimetres. Bigger than I expected and plenty of space for your rabbit to move around in! This being said, be aware about how much space you can fill so do check the measurements before! Also, it's worth saying, you can also buy an extra wire extension if you want to make your hutch even bigger. I especially love the little hideaway section as it provides a cosy element plus an elevated feeding area.
Assembly was really easy. Just a tip with the panels – you need to keep sliding them until you hear the click (I say this because this does require a little effort so it's not entirely obvious at first). But there's a video on Amazon in case you get a bit stuck at any point.
The accessories feel like a great quality and I love that there are two ways of opening the hutch. One of the sides for your rabbit to come out and one at the top for when you want to refill food or clean the hutch without letting your rabbit out.
Very impressed with this one – great value for money and I think probably my pick for the best rabbit hutch overall!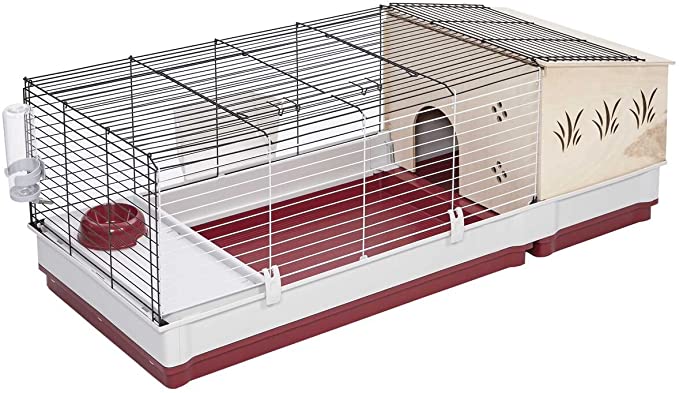 2. FeelGoodUK Rabbit Hutch, 150 x 66 x 100 cm
Specification: Size: 150 x 66 x 100 cm, Material: Wood, Weather-resistant: Yes,
Up next, we've got a natural wooden hut with the Feel Good UK Rabbit Hutch. Built as a two tier wooden house and wire structure, this one is perfect for your gardens. At mid-high range money, this rabbit hutch is nearly the most expensive out of the selection. If you compare this to the FeelGoodUK chicken coop you'll notice there's practically no difference at all except the dimensions. So if you're looking for slightly larger that might be an option.
This one comes in a flat pack and was pretty easy to assemble – it probably took me around 30 minutes which is pretty quick when you're not DIY brilliant. It comes out as a nice size for the rabbits, with the measurements of 150 x 66 x 100 centimetres.
The material feels nice and robust and I like that the mesh arrangement is so that animals can't naw their way out and any predators can't make their way into the hutch. And the wire feels very strong.
There's lots of room for the rabbits to run around. And enough space to add some extra features like a tunnel. The overall look of this rabbit hutch is really nice as well, I really like the house style.
The only thing I'd say is with the design – there are just a couple of things that don't quite work. There's a cleaning tray you can pull out at the bottom of the house section. However, after you've put down bedding and straw etc. you can't really get it out without scraping the sides or it getting stuck. This isn't a big issue as there's other ways you can clean the hutch easily! Just something to keep in mind if this is something you need from your hutch.
3. SONGMICS Guinea Pig Playpen, Indoor Rabbit Run Hutch Cage
Specification: Size: 143 x 73 x 46 cm, Material: Metal Mesh Panels, ABS Plastic, Weather-resistant: No,
With the SONGMICS Guinea Pig Playpen Indoor Rabbit Run Hutch Cage, we've got another metal cage for indoor use with lots of space. Measuring at 143 x 73 x 46 centimetres, this rabbit hutch is priced at pence on the pound really, one of the cheapest out of this lot.
What's great about this one is that you can put it together and change it around however you want to suit the size you need for your rabbit and for your space. Just put the panels and connectors together to make the size and the design you want. This is a great touch if you're looking for something flexible, especially at the price.
The design and make is good and great quality as it comes with non stick stickers to put at the bottom and cable ties for extra support. The panels push together really easily. The only issue with this design is that the panels can pop out if you pick it up to move it but that's not really an issue as they pop back together very quickly – and that's to be expected with this kind of design and structure.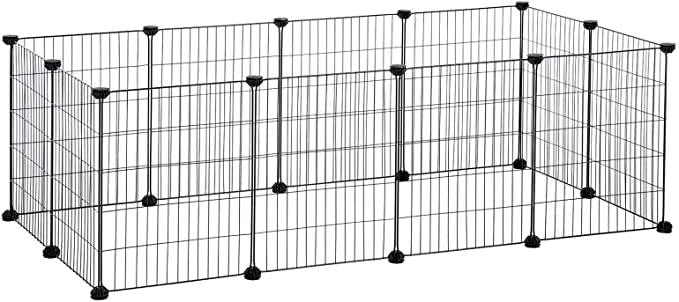 4. Chartwell Double Luxury Guinea Pig Rabbit Hutch - 6ft
Specification: Size: 18.04 x 6.5 x 13 metres, Material: Ply Wood, Weather-resistant: Yes,
At top money, the 6th Chartwell Double Luxury Guinea Pig Rabbit Hutch is the most expensive out of the selection. With this hutch, we've got another natural wooden double tier structure with multiple compartments and doors. Like the Feel Good UK hutch, this one also has predator proof wire on certain parts.
What's a bit different about this one is the height – according to the instructions, you get up to 2ft of headroom and 2ft of floor depth. The hutch measures 18.04 x 6.5 x 13 metres, making this one of the biggest out of the selection.
Putting it together was a bit tricky as it could've done with better instructions – the panels look quite similar to each other and they can be hard to figure out which one is which. After a bit of time though, assembly went pretty well in the end as the materials are well made.
Once up, the hutch is a great size and nice and roomy to house multiple bunnies. And the height benefit is great so they can hop around comfortably. The ramp looks a little steep but that's just preference and this is easy to get around.
The hutch is very easy to clean. I would just say if you're planning on keeping this one outside, maybe think about getting yourself a hutch cover as the hay and leaves can blow around a bit.
5. FeelGoodUK BUNNY ARK - Hybrid - Double Tier Rabbit Hutch Guinea Pig House Cage Pen Home
Specification: Size: 150 x 66 x 100 cm, Material: Plastic, Weather-resistant: Yes,
We've got another wooden double tier option with the Feel Good UK Bunny Ark Hybrid Double Tier Rabbit Hutch. Priced at middle range money, this one has two doors and a house like feature. The design of this one is really sweet with blue and white decoration.
Putting it together was very smooth and the instructions were nice and easy to follow. It feels very sturdy and well made – I'm impressed with the quality. Being a combination of wood and strong wire, it's designed to keep predators away which it definitely does.
It is a little smaller than I was expecting, measuring 150cm x 66cm x 100cm. I would say this one is good for a maximum of two bunnies – any more and you would need a bigger hutch. But this one is perfect if you have a small garden or a small space to fill as it doesn't take up as much room as some of the other hutches. Also still means you can house two rabbits, so your bunnies won't be lonely!
One thing I have noticed is that, like with the Chartwell hutch, the ramp is a little bit steep, especially if you're wanting the hutch for smaller animals like guinea pigs. Again, this can easily be solved and isn't in any way a deal breaker, just something to bear in mind.
Also, this rabbit hutch comes with a rain cover which is a great plus so that you can keep the hutch and your bunnies protected from the weather.
Just one more thing to bear in mind if you're thinking about this hutch is that it doesn't have a base. This is up to preference whether this is a good or bad thing but it does just mean you have to be slightly more aware of where you put the hutch – and if you do have a suitable spot to put the hutch where rain and dirt won't seep in through the bottom. A plus side of this though is that your pets get access to fresh grass and I've heard that any hard concrete surfaces are bunnies to walk on.
6. Bunny Business Rabbit Guinea Pig Hide House Run Hutch
Specification: Size: 42 × 43 × 51 cm, Material: Wood, Weather-resistant: Yes,
We're finishing off with a nice and simple small rabbit hutch. At a very generous price, very comparable in money to the bargain Songmics rabbit hutch actually, the Bunny Business Rabbit Hide House is the cheapest out of these products. But this has no reflection on quality.
Assembly was reasonably fine and it didn't take too long as most of the parts just bolted together. I'd just say that the roof was a little bit fiddling so an extra pair of hands would definitely not go a miss. Once up, the quality seems really good and everything is nice and sturdy. The roof has also proven to be waterproof which is great.
The hut measures 42 × 43 × 51 cm, making this the smallest out of the selection. Small enough to be portable if you need to move it around or want to take it indoors if the weather is bad. This one is a good one if you're looking for a hutch for just one rabbit as it's a great one if they need a cosy space to rest on their own.
I've also heard of lots of customers using this one for all sorts of animals, not just bunnies. This hutch has multiple uses. From cats to guinea pigs to tortoises, this hutch seems to be multi functional so that's a great plus if you're looking for an extra space for your pets (although I'd hope not for all at once).
Buyer's Guide To Rabbit Hutches
Floor or no floor
Something to bear in mind when you're shopping for your rabbit hutch – think about whether you want it to come with a base or not and so we are sure yo understand, the Songmics is baseless.
There's advantages and disadvantages to either. The main thing is whether you plan to keep your hutch outside in which case the base issue comes more into play as you'll just have to think about if you have a suitable space to keep a baseless hutch without risks of dirt or water getting into the space.
Would you consider a chicken coop as a comparable?
Amazingly a chicken coop has almost all of the benefits of a rabbit hutch but with the additional feature of being off the floor. You'll often see reviews online that suggest a chicken coop can be used as a rabbit hutch so might well be worth looking at the prices and comparing more closely before making the dive into the investment.
Understanding 6ft rabbit hutches and what they are used for
When it comes to a 6ft rabbit hutch you're obviously looking for more space for your bunnies. An example of a 6ft rabbit hutch is linked so you're sure and can compare them. That, or you have many of them. With the cost of materials continually rising there are a couple of alternatives and comparable options. Firstly you could go for multiple smaller cheap hutches. The next best option is to go for a larger cheaper chicken coop which compares nicely. Make sure though, whatever you do, if you go for a 6 ft rabbit hutch, you go for a double height rabbit model. There would be absolutely no value at all in using up so much space (unless you happen to have a huge area). Go up rather than out!
Indoor vs outdoor rabbit hutches
The difference between the two types of rabbit hutch are literally the quality of the material. Most wooden or metal rabbit hutches have no problem outside with exception of the timber rabbit hutches that are made from a lesser quality timber that is not treated but these are rare. An example of an outdoor rabbit hutch is the MidWest Homes for Pets 158 Wabbitat Deluxe Rabbit Home whilst an indoor example of a rabbit hutch would be the SONGMICS Guinea Pig Playpen, Indoor Rabbit Run Hutch Cage. The most common and easy way to identify the two is actually with a cover. You'll find that the best rabbit hutches for indoor use will not have a cover. This is nice because the animal can get much more fresh air and if indoors then there is no worry about the cold.
---