Best Frost Protection for Plants UK
This article was last updated on August 7th, 2021 at 3:52 am
As we near the end of the year, the temperatures start to plummet down towards freezing and beyond, and this means possible frost damage to your favourite plants. Even the increase in wind strengths and heavier rains, matched with low temperatures can have adverse effects on your garden.
There are ways to protect your plants during the winter though, and most of them are simple and inexpensive. Today's article is all about the best frost protection for plants in the UK winter, and after reading you will have a better idea about how to take care of your own, and see them through until the friendlier conditions of Spring.
How to protect your plants from frost in the UK
Here are a few ideas that you can try to prevent not just frost, but other winter damage such as water logging and soil erosion, this winter.
Adding a layer of mulch to the base of your plants can help protect them in a number of ways, but one of the main benefits of mulching before winter is that it can protect the plants roots from frost damage.

Wrap plants in a protective fleece cover or something similar. These covers are relatively cheap, and work really well. We have reviewed products like this later in this article, so be sure to check them out.

Rehousing delicate plants in a greenhouse can really help them to see it through the next season. You might have to heat your greenhouse to help things along too, but it all depends on what plants are in there.
If you don't have a greenhouse, one alternative for plants in pots is to bury them in the ground, pot and all. It might sound strange, but the warmer soil below the surface can help provide enough warmth to save your plants from frost damage.
Be sure to sort any drainage problems you have with your soil before winter hits. Poorly draining soil is not great at the best of times, but in winter it can be a killer. For your plants anyway. This is due to the trapped water freezing in very cold temperatures, and thus causing damage to the plants.
Even if you have covered your plants with fleece, you should still think about moving them to a more sheltered area of the garden, away from the icy winds. You can even group your containers close together, as this will help them share heat, just like when penguins huddle together to stay warm.
Best frost protection for plants reviews
Like we said earlier, wrapping your plants in a cover made of fleece, hessian burlap, or something of that ilk, is one of the easiest and most effective ways to keep them safe in the winter.
Here we have had a look at the best ones available for lockdown delivery, and offered up our thoughts on them. Enjoy.
Comparison table: Best Frost Protection for Plants UK

Product
What We Think
Price

GardenMate Hessian Jute Burlap Ribbon for Plant Protection - 25m x 15cm 200gsm

Burlap wrapping ribbon - Length 25m width 15cm
Protects plants and trees from weather and pests
Jute Hessian is a 100% natural fibre
Can also be used for arts and crafts
Premium quality from GardenMate

Width 0.5m, weather-resistant, plant-safe.
Length: 1m (max. 20m in one piece)
Thickness: 0.7 cm, controlled heat balance
Weight: approx. 800g/m², several years of use.
Breathable, excellent heat storage.

Lightweight and strong.
For all year round protection.
Provides a natural barrier against birds and insects.
Porous material allows direct watering.
Warms the soil and retains moisture.

Haxnicks Fleece030101 Large Pack of 2 Easy Fleece Jacket, Transparent, 120x0.03x180 cm

Made from high-grade 35GSM polypropylene fleece
Simply pop the jacket over the plant and secure with the integral drawstring around the base...
Quality product of Haxnicks

✔【Anti-Frost While Keep Your Plant Grow Healthy】-①Made of 100GSM non-woven fleece which is Frost...
✔【Wind Resistant】-There is an Adjustable Hem Cord on plant cover
✔【Wide Compatibility】-This plant fleece frost protection has generous space for cover 180 x 120 cm (LxW)...
✔【Rip Resistant and UV Protection】- Made of amazing fleece material and bound edges give full protection for the cover...
1. Haxnicks Fleece030101 Large Pack of 2 Easy Fleece Jacket, Transparent, 120x0.03x180 cm
One of the most popular garden fleece covers is the Haxnicks easy fleece jacket, that can be bought in three different sizes: a pack of four small covers, three medium covers, or two large covers. The small and medium packs are priced the same at 5.99, but if you opt for the two large 'jackets', they will cost a little more at 7.69 per pack.
We got our hands on the large ones, and they measured 120cm x 180cm, a good size for small trees and larger plants. The Haxnicks jackets are called so because they are designed to slip over the plants and be secured by a drawstring at the bottom, rather than having to be wrapped around like some other types of plant fleece products. Of course, this has its pros and cons. On the plus side, it means there are no gas in the cover for icy winds and chills to get in, which can happen when you wrap pants yourself, but on the other hand, the design of these covers means that if your plants is considerably wider than the bag, you won't be able to use it.
The covers, no matter what size you buy, are made from 35GSm polypropylene, which is a strong and durable material. However, these have been made quite thin to let moisture and air through, so you will still have to be a little careful with them to make sure you don't tear them.
I do like the design of these fleece covers though, I have to say. It just makes things quicker and easier to remove and replace them when you get a sunny spell and want to treat your plants to a bit of sunlight.  These fleece bags have a slightly green tint to them. And this makes them less likely to stand out in your garden, which I personally thought was a good thing, and this is another tick in the ''pros' column for the Haxnicks product.
In the end, these bags are well priced, of decent quality, and very quick and easy to use. Not too bad at all, and especially good for people 'wrapping' plants for the first time.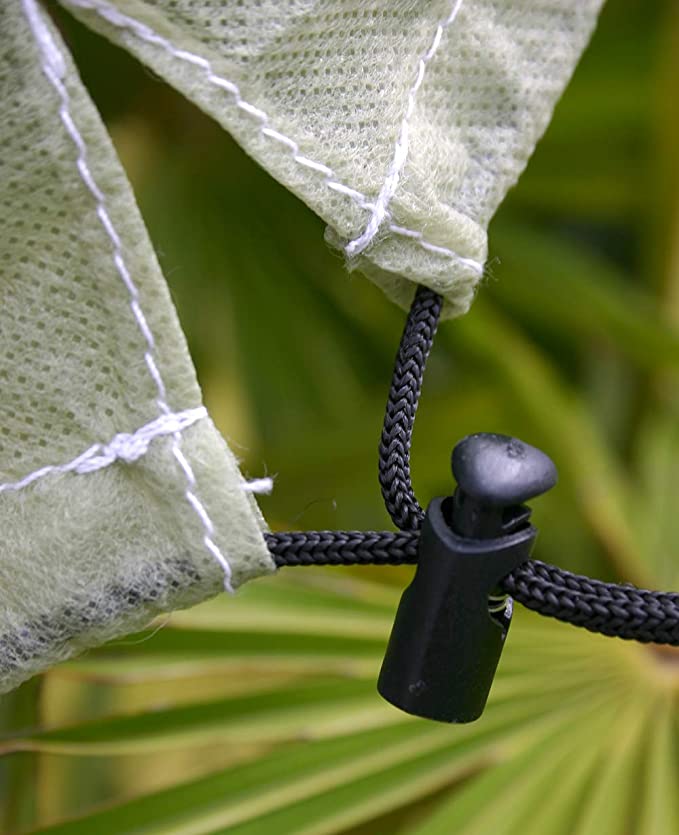 With the same drawstring sealed bag design as the Haxnicks product, the Tvird plant fleece frost protection covers offer you the same ease of use as their competitor too. Available in either small (100cm x 80cm) or large (180cm x 120cm), the Tvird fleece frost protection are a little bit more expensive at 8.49 for the small and 9,99 for the large version.
What do you get for the extra money? Well, the main thing that I noticed, is that the material of the Tvird fleece is thicker and feels a bit more durable. After looking up the specs, my suspicions were confirmed, with this product being made of 100GSM non-woven fleece, as opposed to the 35GSm of the Haxnicks. Obviously this thicker material means that these bags are going to be more durable, but I was worried that they might not let the plant breath well. However, I was wrong, and they have been well designed in order to allow air to penetrate the fleece.
They have also been made to be UV resistant, and this should stop them from falling apart after a single winter and let you use them again the following year, which is something that can't be said for all plant frost protection products.
If you're thinking that being UV resistant means that light won't get to your plants inside the cover, there's no need to worry. These transparent covers will still allow light to pass through them and keep your plants alive and healthy.
So, to sum up. These fleece frost protection covers for your plants are a good pick if you don't have time to spend wrapping your plants this winter. They have a beginner friendly design, and are made of thicker than usual material when compared to their rivals, and I think that makes them worth the extra few pounds you have to spend on them.
3. Ambassador Frost Protection Plant Fleece 16M x 1M 17 G/M2
While the two above products do provide convenience and speed, there are limits to how they can be used, such as plant dimensions. Some people still prefer to buy a large roll of material that they cut down to size themselves for the versatility it provides them. If you are more to this way of thinking, then the Ambassador frost protection plant fleece might be for you.
For 9.20 with free delivery, you get a 16 metres by 1 metre roll of their fleece material to do with as you please. Having the extra material means you can double wrap more delicate plants, or cut longer pieces to cover entire beds.
The material is quite thin at only 17 GSM, and very lightweight, but it is surprisingly strong, especially when you wrap with a double layer. The thinness of the fleece has its advantages, such as allowing a good amount of air and moisture to get through to the plants within, but I don't think it would last more than a couple of winters before needing replacing. Then again, that could be said for most of these kinds of products.
With the fleece being on a roll, it does make wrapping trees and plants easier than when the material arrives as a folded flatpack, but it still takes time and a little care to get things just right. You'll also have to find some way of securing the fleece as there is no zip or drawstring to fasten it in place.
Still, for the money, you get a decent amount of material, and the quality is about what you'd expect for the price, so no complaints from me.I would guess that because of the thinness of the fleece, this would probably only provide protection against a light frost, so for harsher conditions, you might want to buy something thicker. Apart from that, it's a good product.
4. GardenMate Hessian Jute Burlap Ribbon for Plant Protection - 25m x 15cm 200gsm
If you're looking for something thicker and stronger to wrap your most delicate plants, you might want to consider this hessian burlap frost protection ribbon from your gardenmate. For just over ten pounds you get a 25 metres x 15cm ribbon that can provide protection from more than just frost. Many people use hessian burlap ribbons like this to wrap around the trunks of their trees to stop damage to the bark by squirrels and other animals, and from what I've heard, it does a cracking job of it too.
That's not to say that you shouldn't consider using this product to protect your plants this winter. The 200 GSM material is very thick and will provide great insulation and frost protection, but is also a wide enough weave to make sure your plants can breathe too. In fact, I would say that the ventilation provided by this material is superior to plastic based materials that are more commonly used. Because this hessian material is a natural fibre, it is biodegradable, and as so can be laid down and used as a temporary mulch, perfect for protecting roots from frost.
This is a durable product, and I reckon you would get a few good winters out of it before you had to replace it, so the price tag is more than fair, in my opinion. In addition, the ribbon design makes it easier to wrap more unusually shaped plants and shrubs and the thickness of the material means it is great for things like palm trees and olive trees, that can often be under threat in colder climates come winter.
5. Coir insulating mat winter protection for plants
Looking for something extra thick to provide warmth and protection for your containers from the harshest of winters? Well, look no further. These insulating mats are made from natural fibres, and are very thick, just the thing to wrap around your plant pots to stop the root freezing, or lay on your beds to protect new plants.
This material is 100% biodegradable and is completely harmless to your plants. It is also very durable and will last you a long time, being able to be used again and again. I like the fact that you can order as much or as little as you like of this garden frost protection, and that it only costs 3.34 per 1 metre by 0.5 metre. That's not a bad price for something that is going to last you for a fair old while and offer you excellent protection.
Despite its thickness, this insulating mat is quite breathable, something I was surprised by, and its insulating properties are quite excellent. Now, I wouldn't wrap the entire plant in this stuff, but to wrap around the plant pot, and use a thinner, plastic cover for the actual plant would be an excellent combination, one that I think would be ideal for seeing your plants through the dark and cold months.
All being said, this is an excellent, albeit slightly limited product, that would be best used in conjunction with one of the lighter covers to provide complete protection.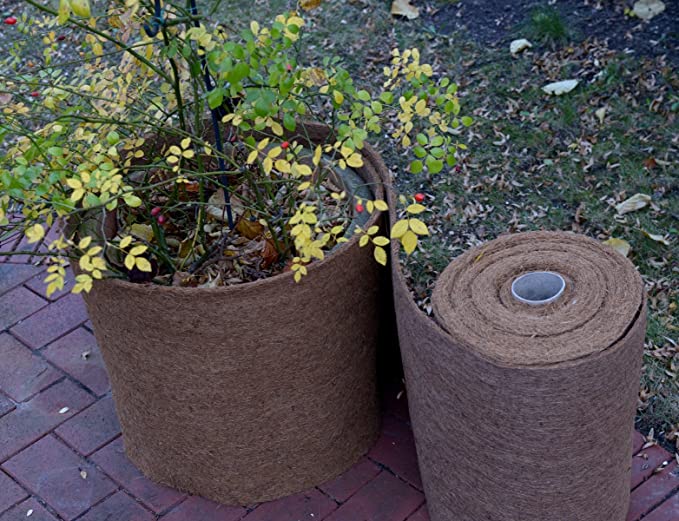 Best frost protection for plants buyers guide
Before you go and spend your money on frost protection for your plants, you might just want to quickly read this short guide to remind you of things to consider. How big are the plants you are going to protect? You might be tempted to go for the drawstring 'jacket' type of frost protection, but please be aware that the size of plant these can cover is limited. They are big enough for most plants and shrubs though, just make sure you read the dimensions of the product before you buy.
If you are covering smaller plants, it might be a good idea to go out and measure them as you could save money by using a single large fleece to protect multiple plants. For larger, or oddly shaped plants, you might be better off with a roll of material that you can wrap around it.
How delicate are the plants?
Some plants are better suited to the harsh conditions of the British winter than others, and so they will survive just fine with a thinner fleece to protect them. On the other hand, many trees and plants that are not native to these shores can really struggle in our winters, and these will need something much thicker to provide them with the warmth they need  to survive.
If you own a greenhouse, you can house many of your plants through the winter with no real need to cover the plants individually with fleece, saving you money. Depending on the plant, you might have to have the greenhouse insulated better, or fit a greenhouse heating system in the greenhouse to ensure that the plants survive.
Looking to protect your beds?
If you are looking for something to protect your garden beds, especially ones with new plantings, a natural material like coconut fibre or hessian can be a good choice, and can act as a temporary mulch. Natural fibres like these are biodegradable and will not harm your plants.
Durability and price
If you go out and buy the cheapest frost protection for your plants, I wouldn't expect it to last more than a single winter, if that. As a rule of thumb, the thicker the material, the longer it will last, but this isn't always so. Read customer feedback online to see what people say about the longevity of the fleece covers, and remember that it is better to pay a little more for something that you can use again and again than something cheap that falls apart in a few months.
Well folks, that's all we've got for now on the subject of frost protection for your plants. We hope that we've helped you out some way, and that you feel better prepared to tackle this winter head on.
---