Garden Tool Box » Best pressure washer detergent UK: Top pressure washer detergent for patio and cars
Best pressure washer detergent UK: Top pressure washer detergent for patio and cars
This article was last updated on July 31st, 2021 at 3:32 am
When it comes to cleaning, there's nothing more exciting than using a pressure washer, and there's nothing really more powerful than one either( especially petrol pressure washers as I demonstrate often :). They're perfect for getting the grub of many different types of surfaces, but they're particularly useful for cleaning two main things. The first is your patio, as a standard wash won't get the tough bits of dirt off of your patio alone and needs more power to really give it a deep clean. The second is your car, as although a car wash is a quick and easy way to get your car shining, it doesn't do a deep clean and can leave remaining marks that aren't visible straight away, so a pressure washer is perfect for a really good car clean.
If you want to know more about pressure washers however, feel free to check out our guide on the best pressure washers, as this will help you know what to look for in a pressure washer and will help you find out what pressure washer products suit you best.
Whilst it's important to get the right pressure washer, however, it's just as vital to get the right detergent, especially for lower powered cordless pressure washers which are much more reliant on detergent to clean. There's plenty available on the market, with different types and different chemicals being used, and it's important to buy the right one for your pressure washing needs. Don't worry though, we've got you covered!
What is pressure washer detergent and its best applications to get cleaning? 
Well, it's simply washing detergent designed specifically for high-power cleaning machinery, specifically your pressure washer. The chemicals used and the composition of pressure washer detergent is different to that of your standard soapy water, as the viscosity and chemical balance is more carefully altered, making it suitable for efficient use in a pressure washer.
That's fairly obvious though, and you might be wondering why we have a section explaining what pressure washer detergent is, and it's fairly simple. Whilst the chemical composition varies compared to standard detergents, pressure washer detergent is a premixed solution of a mixture of chemicals designed for the sole purpose of managing the pressure and velocity exerted by a high velocity, high power machine. That's the basic definition, and whilst it looks a bit science-y, you don't need to remember this as pressure washer detergents will say if they are pressure washer detergents…so you need not worry!
In addition to this, some pressure washer detergents are better than others when it comes to different jobs. For example, some are better for your car (lighter, more delicate surfaces) whereas others are better for heavy duty materials (your patio).
It is these differences that make buying the right pressure washer detergent a bit of a pain, so in order to clear up the best options that we've found on the market currently, we've composed this list of the best 6 pressure washer detergents and what we think they're best for. This list will cover the best car detergents and best patio detergents, as this is likely what you'll be using your pressure washer for!
So, in order to get the right and best pressure washer detergent for you, read on for more!
Comparison table: Best pressure washer detergent UK: Top pressure washer detergent for patio and cars

Product
What We Think
Price
Autoglym Polar Wash is specifically designed for cars, and compared to others in this list, is the most expensive. However, this is because its chemical formula is designed specifically for surface encapsulation of all types of grime and dirt, so you get a sufficient layer of foam which leaves both a shiny and clean car. It's easily the best for cars compared to others in this list, but it's not as universal compared to the products in spots such as 2 and 5. If you're not worried about the money side and need pressure detergent for cars, this is for you, and also check out the other products they offer to really complete your car wash.

Kärcher 5 L Canister Pressure Washer Detergent, Universal Cleaner

KARCHER Pressure Washer Cleaner Detergent is easily the best detergent on the market because not only is it synthesised by Kärcher, a reliable and cost-efficient brand, but it has everything you need for your pressure washing needs and even additional features for enhanced cleaning of stone and cars. It's cheap, easy to use and doesn't need mixing. It has oil-separating components that get extra grime on surfaces, and it's more than suitable for your car or patio. It gives probably the best clean out of the lot, and whilst designed for Kärcher pressure washers, it still gets the job done and we recommend it the most out of others on this list.

KARCHER Genuine Patio + Deck Pressure Washer Cleaner Detergent Fluid (Mixes up to 5L)

Of all the mixed options on the market KARCHER Pressure Washer Cleaner Detergent Fluid is easily the best, and you should get plenty of use out of it. It's easy to use and will give a good clean, but it's only suitable for patios and also light cleaning, nothing too heavy. Compared to more universal products such as those in spots 1 and 4, it can be quite restricted. Either way, it's the best mixed option there is and we still recommend it as much as the others. Just remember if you want a more heavy duty clean or a clean for cars, other options are more suitable.
Since Nilfisk Stone sealer detergent as a brand offers plenty of cleaning products of different varieties, we weren't surprised when compared to others in this list, this detergent was the best for patios. Its universal and easy to use features make it perfect for a patio wash, as well as any other stonework. It might not be the best for oil spots, so if that's what you're after then perhaps spots 1 and 2 are better, but if you're looking for a general detergent for stonework/patios, this one's for you. It's a bit more expensive than others in this list, but still cheaper than spot 3.

Compared to our first place option, Gunk Power Spray is more universal and is the best option overall, though it might not be the most ideal for car surfaces. It will give you a great clean of every other surface, but for your car, you might want to pair it with Autoglym polar wash in spot 3. It has oil-separating properties like spot 1, and it might be a better idea if you have pressure washers which are cheaper/older than Kärcher washers. If that's not an issue though, this is the best value, most effective universal detergent and we couldn't recommend it enough.

JCB - 2.5L Heavy Duty Patio Cleaner - Path Cleaner Concentrate - Mould Remover

If you have some really tough spots or stonework with lots of green growth on it, this heavy duty cleaner - JCB - 2.5L Heavy Duty Patio Cleaner is for you. Compared to others in this list, it has a specific formula to deal with biological growth which if not treated, can easily damage surfaces and any plants that grow around it. It can be diluted and is cheap, but it's not suitable for cars. It's not to be used on delicate stonework either, so if you have a patio made from expensive material, we wouldn't recommend it. Either way, we couldn't recommend it enough.
1. Kärcher 5 L Canister Pressure Washer Detergent, Universal Cleaner
In our top spot, and the one which is easily the best option on the market, is the Kärcher universal cleaner (5L). This product costs £12.99, is amazon's best choice for pressure washer detergent, and has almost 6000 ratings averaging at four and a half stars. Pretty much everything about this product is spot on and when it comes to pressure washer detergent, as  it has everything you need.
So, what's so good about this product that puts it at the top of our list? And why are we so excited about pressure washer detergent? Well, even though it's only cleaning fluid (not the most exciting thing you can think of, and certainly not as exciting as pressure washers themselves!), it really makes a difference when you're cleaning and it's actually very noticeable. Compared to your bog-standard, store-bought fluid that does a pretty standard job, you can see the difference in your cleaning.
This is probably because of the oil separator in the liquid itself which separates oil and water efficiently, and whilst you might not realise it, this is important because many surfaces have oil on and this means it can be cleaned off. You have the option to get specific car shampoo or just stick with the universal cleaner, which is ideal if you're only going to be using your pressure washer for cars. If not, you can also choose the version of this product that includes stone cleaner to be mixed with the detergent, which is particularly useful for patios.
These additional options, as well as the fact that this can be dispensed directly into your pressure watcher, makes it the ideal product. 5L is the standard size for most detergent products, and for 12.99, this is actually a good price. It leaves a good looking shine on your surfaces and is just really easy to use.
There are some negative reviews that you might see at first, but most of these just seem to complain about the instructions being in German, not the product itself. Yes this isn't ideal, but your pressure washer should have instructions on for detergent loading and since this product doesn't need mixing, instructions aren't that relevant. The only downside we'd say is that it's specifically designed for Kärcher washers, so it might not work as well in standard washers. That said, most available pressure washers are Kärcher anyway, and if not, we'd definitely recommend getting one.
All in all, this is easily the best option out there, and for its price, you get what you need. You have the additional options which really come in handy if you want to power wash your car or stone surfaces (patios, wall, etc), and for £12.99, this is a good price. It's easy to use, high quality, and sold by a brand that you can rely on, as Kärcher are well known for their good quality products. It might not be designed for washers other than Kärcher, but we tried it in our cheaper ones and it still did a good job, but it might be safer to stick with Kärcher anyway.
2. Gunk 855 5L Power Spray
Second in our list is the Gunk power spray, quite a fitting name for a detergent which is not only cheap and universal, but easily the best second option and the best overall for non- Kärcher pressure washers which aren't compatible with our first place option. It costs £9.89 currently (for 5L) and has an average four and a half star rating for over 150 reviews. We bought it because it fits the description of what we need and hasn't got many reviews, so we tried it for ourselves and it's safe to say it deserves this second place spot.
Its formula has been designed so that it fits all pressure washers, so whilst it wont use any specific chemicals for specific washers, it should still give you a clean that's just as good. It gets tough stains out well and is particularly good for stone or tarmac, but it works with car parts too. It has oil-separation properties to get more gunk (literally) out of the surface, and it's suitable for pretty much all surfaces according to the description.
Whilst it's great for car parts, giving your car a power clean with it isn't stated in the description, so for safety reasons it might be good to just use this one for all surfaces apart from cars. This isn't ideal, but our next option in spot 3 covers that nicely, so this might be a suitable cheap option to get alongside number 3's best car option. As well as this it can be irritable on the skin, but many detergents do this and so it's never a bad idea to stick some gloves on. Apart from this, it's a great detergent and is good value for money too, which is also the main benefit spoken about in reviews…we couldn't recommend it enough!
3. Autoglym PWS002.5 Polar Wash 2.5L
Next up is the best option for cars, and straight away it is more expensive than others in this list as you only get 2.5L, so it's not ideal if you're doing plenty of washing on large or long surfaces. This is why we're confident that it's ideal for cars, as you shouldn't go through it as quickly as you would on other surfaces. Overall it has over 9500 reviews averaging at four and a half stars, so you can feel reassured that it's worth the money.
It's a foam wash specifically designed for surface attachment on cars and to encapsulate dirt and grime, which is mostly because of its chemical properties designed specifically for increased molecule polarity to help it stick better. It creates a foam layer which really leaves a shine and leaves your car free of dirt. There's plenty of other products available, such as pre and post wash foam, but this is the main one for washing. It's safe, effective and does a better job on cars than any others in this list or even on the market in our opinion.
It has a couple of downsides though. Firstly, it's expensive. Secondly, it comes with an adaptor so that you can load it into your washer, but they only include adaptors which mostly suit Kärcher washers, so unless you have the right attachments, you'll need to buy a new one from the site (increasing cost more). We can't lie though, this is definitely worth the money and is in a league of its own when it comes to car washing. Make sure to check out the additional Autoglym products on offer too so you can really make the most of your car wash.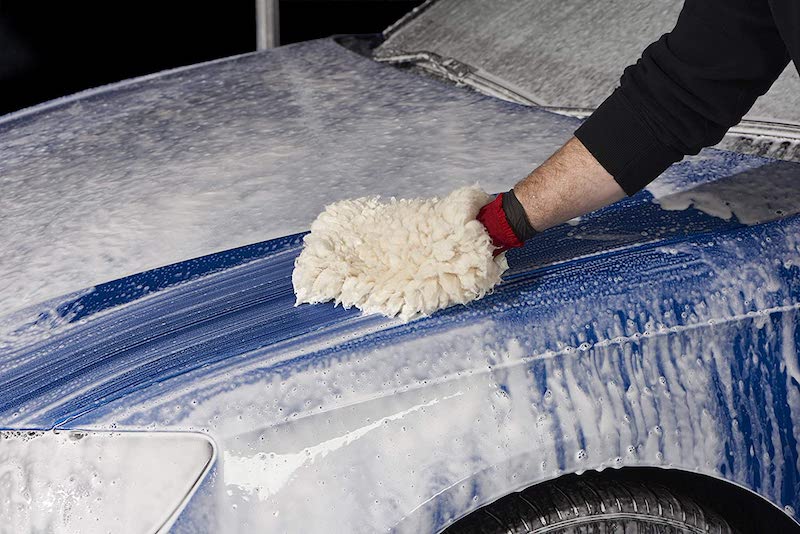 4. Nilfisk 125300388 Stone sealer detergent, universal cleaner for pressure washer
Since we've included our pest car option, it's only fair to include our best option for patios, and the Nilfisk detergent doesn't disappoint. There are a few options by this brand and even car specific ones, but from what we see on the market, this is easily the best option for patios. It has an average of four stars for only 70 reviews but we wanted to try it ourselves, and we think it's great.
It costs £11 and is only 2.5L, so it's quite expensive, and that's the only real reason it's in fourth spot and not higher. However, if you want a really good clean of your patio and you're not worried about the cost, this is ideal for you. It's universal, high quality and will give you a lasting clean, so what else do you need?
It is also specifically designed for efficient stone cleaning too, meaning it makes the most of the pressure aspect of pressure washers, as this is the main property that matters when it comes to stone (unlike cars, where it needs to be more delicate) and it needs to be compatible with powerful washers. Some reviews have complained about oil spots leftover, so it's not as good when it comes to really tough stains involving oil, but it's still known to do a relatively good job on them. Apart from that, reviews have noted that it gives a great clean of patios in general and other stonework, and it's clearly a high quality product when used right. We tried it ourselves and it barely left any spots behind, so overall we think it deserves the top place for patio-specific detergents.
Realistically, since it's specific to patios (just like number 3 was for cars), it's going to be more expensive, but you get the quality you need and it will give you a great clean…it might just not be best for tough oil spots.
5. JCB - 2.5L Heavy Duty Patio Cleaner - Path Cleaner Concentrate - Mould Remover
Now this product may state that it is path cleaner (not much said about cars), but it's easily the best option for some real heavy duty cleaning to get out some tough stains or mould, especially on older surfaces in need of renovation. Since it's by JCB this is no surprise, and it certainly does the best job on these tough stains than any other products in this list, so we can't recommend it enough. 5L costs £13.99, but it dilutes too, so you actually get a lot of use out of it.
With only 97 ratings at an average of four stars, we wanted to try it ourselves, and it doesn't disappoint once again. It's multifunctional in terms of not only cleaning dirt from your patio, it has a designed formula specific to beating any lichen, grime, algae or other biological agents which need to be rid of. This might not mean much at first, but agents such as algae and lichen thrive on stone, and this is what the nasty green stuff is that you see. It's toxic to any plants and induces weed growth, so you really don't want them. Therefore, having a formula to deal with this is excellent. It has what you need in a patio cleaner and should leave you with a lasting clean, especially in tough spots.
It's a good price, deep cleaning and easy to use, so why in spot 5? Well, it's not for cars and shouldn't be used at all, and it's only really multifunctional in terms of getting to the tough spots caused by biological agents. Whilst it doesn't account for cars, you realistically won't be using a pressure washer for really deep stain cleaning on your car as this is likely to damage it, so it doesn't matter too much anyway. With this in mind, it really is only suitable for heavy surfaces too, not delicate stone. Either way, it's perfect for heavy duty cleaning.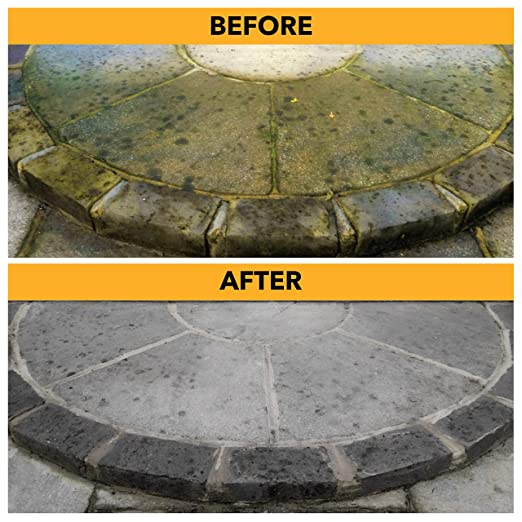 6. KARCHER Genuine Patio + Deck Pressure Washer Cleaner Detergent Fluid (Mixes up to 5L)
In our final place spot is another Karcher detergent, but this time it's what we recommend for the best mixed option. Since it's going to be diluted, it doesn't really matter too much if you don't have a Kärcher washer, even though we would still recommend it. It says it's designed for Kärcher  washers, but it really isn't a make or break scenario. Overall, this mix solution has an average of four and a half stars but for over 50 reviews, so we needed to test it.
Compared to most mixed options (which in honesty dilute far too much), this product does a good job. You get your money's worth and you don't have to use too much of it at a time, but it still provides a good enough clean for a mixed option. It's a Kärcher product too, so it's more reliable than other brands and specifically designed for cleaning purposes. They come in small bottles and are nice and compact, so it's ideal for storage and for easy use. Reviews note that it does what it says, is a good wash and easy to use, so what else do you want?
It's a tad expensive, but as we said, you'll get your use. Also, mixed options just don't give a clean that is as strong as non mixed options, even if you don't dilute it as much. It's ideal for light cleaning and for getting new stains off your surfaces, but nothing heavier. It's also not ideal for cars, so you have restricted use. This is why it's in our sixth spot, but we would still recommend it just as much as the others in our list, it's just not our go to option (based on personal preference).
Pressure Washer Detergent Buyers guide
Whilst buying pressure washer detergent isn't the most exciting, there are some important points which you should know before buying. Many of these points are down to cost efficiency and personal preference, so it's important you know them and it can really make a difference. Don't worry though, we've outlined the main things you need to know below.
Cost 
Seems like a very obvious one as it's important in whatever product you buy, but when it comes to pressure washer detergent, it's even more important. This is because as you can imagine, pressure washers use up detergent quickly due to the sheer power they exert, so you go through detergent in no time. Therefore, whilst most products are 5L (or mix up to 5l), you'll still go through it even if it sounds like a lot.
Now, if it's just for cars then it's not as important, mostly because the surface area of a car is smaller than your patio or stonework you intend to clean (most of the time) and so you won't use as much. However, it's still important and to really get a good wash, you need to have enough.
Look for detergent which is around £10-12 if not less, as the more expensive detergents are only necessary for either cars or heavy patio cleaning. Any universal washer more than this price is really too expensive.
Size
Again, seems logical and is similar to price, but the smaller the size of your detergent, the more you will need for a proper clean. As well as this, non-mixed detergent is a lot less compact and difficult to store, so you might prefer mixers if you don't have enough space. Most of the products online are 5L (non mixed) which is a suitable size, but some are 2.5L and tend to be a similar price, meaning 5L gets more expensive. Make sure to watch out for this as most products don't make it obvious.
One other thing is to remember that mixed detergents also have specific dilution factors, in which if you need to mix a higher amount of water, you'll get more use out of your detergent. If it's a lot less, or equal to the amount of water you need (so 1:1), then it's not very cost effective. Look for detergents which are 5L in size for non-mixed and 1 or 2 L with a high dilution factor for mixed.
Type of clean 
Whilst the products in this list focus on patios and cars, some detergent products have specific formulas designed for specific types of cleans. For example, spot 3 is our best car option, and this is because its formula is designed specifically for getting a shiny, clean finish on cars via a foam layer to prevent damage. Other detergents, for example the JCB in spot 5, has a specific formula compared to others (such as the Nilfisk 125300388 Stone sealer detergent, universal cleaner for pressure washer in spot 4) because it's designed to get rid of biological growth such as algae and lichen, whereas others are focused on giving just a fresh and temporary clean.
Furthermore, the JCB is designed for heavy use which is suitable for older and unkept surfaces, which others wouldn't be able to achieve as well. In summary, think about what sort of clean you want to achieve with your detergent and check the description of each beforehand to make sure it's most suited for you.
Overall, detergents aren't overly exciting but it's important to get the right one, and there's much more to them than you'd think. Using this buying guide and the products we recommended above, get the right detergent for your pressure washer needs… It's important!
---