Written by Terry Smith
Our site is reader supported so when you click a link to Amazon we may earn an affiliate commission.
Best orbital sander[UK]: Top Dewalt, Makita, and Bosch palm sanders reviewed
This article was last updated on November 15th, 2021 at 3:48 am
The battle between power cord and cordless tools rages on. In this best orbital sander article I am pitting the Makita cordless five inch orbital sander against, in my opinion it's best competitor the corded DeWalt 5 inch orbital sander. We also take a look at other orbital sanders in the UK market and that makes for a rounded look at these super bits of kit, in particular the BOSCH PEX 220 A Random Orbit Sander which is astonishing value for money and my top budget pick.
With so many options it was hard to whittle down to my top picks but here they are:
Editors top picks for the best orbital sander
Best orbital sander: MAKITA CORDLESS RANDOM ORBITAL SANDER – must have if you want freedom when working
Best cordless orbital sander: MAKITA CORDLESS RANDOM ORBITAL SANDER
Alternative if Makita unavailable: DEWALT DWE6423-LX 125MM ELECTRIC RANDOM ORBIT SANDER – must have if you don't want additional battery costs
Most powerful orbital sander and best if budget no object: Dewalt DCW210N-XJ 18V XR BL Cordless Sander
Alternative cordless orbital sander: DEWALT 20V MAX Orbital Sander
Budget pick: BOSCH PEX 220 A Random Orbit Sander
The two top orbital sanders in this head to head are literally incredible. We use them for practically everything and anything you can think of. From sanding walls and ceilings (yes no joke, you can sand up rough plaster work in less than a morning between two of you). We use them all the way through to their more intended use, tidying up book shelves. Timber rails, skirtings, and external woodwork and if you want to avoid pitfalls and really buy the best orbital sander take a look at our help choosing the best orbital sander:
What to look for when buying the best orbital sander?
Just like buying any tool there's a few pitfalls and reasonable considerations. We cover these in the buyer guide for orbital sanders and if you do take a few minutes to read through I will probably save you time and money 🙂
Do they need batteries?
None of the top cordless sanders, like the MAKITA CORDLESS ORBITAL SANDER or the Dewalt Cordless Sander come with batteries. It doesn't matter what the advertising tells you, you look at the pictures with demos, what you'll read somewhere is that his is a 'bare unit' which means no batteries, and somewhere else on the listing you'll read that batteries and charger are sold separately.
The manufacturers are not trying to rip you off. Makita for example have over 250 tools running from their one type of battery now. You obviously only need a maximum of 6 batteries to tap into all of these cheap bare units. Once you have the batteries then cordless equipment becomes so tempting. I bought a cordless hoover for fifty quid the other day, I just can't help myself 😀 I suppose there are worse addictions than tools 🙂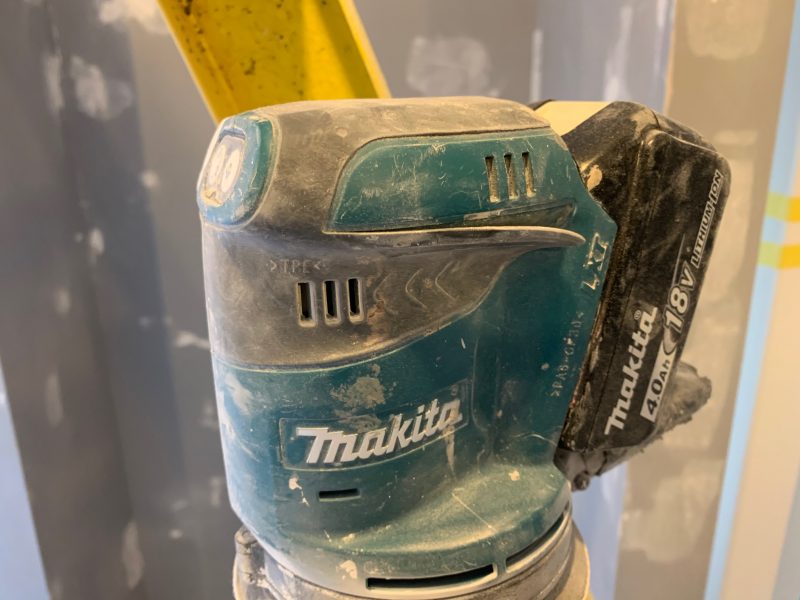 With DeWalt it's exactly the same story and if you look online for bad reviews of these tools you'll find that a large number of the lower ratings which aren't even about the tool themselves are in fact how people feel duped into buying a tool without the battery. The thing is, you have to say the info is there and it they bothered to read this few short sentences here or anywhere else online then they would not have spent their money…enough said about that type of buyer really.
Power
Don't be confused by power ratings. Corded orbital sanders like the Makita corded orbital sander kick out a lot of power, 300 Watts in fact. But don't think for one second cordless models are much less powerful at all. The MAKITA CORDLESS RANDOM ORBITAL SANDER isn't far behind at all with 190 Watts max output. Now considering the latter is free of a power lead it is a massive jump on the corded version. And if you factor the BOSCH PEX 220 is just 220 Watts it's nearly as powerful as corded versions!
Anything over 150 Watts with an orbital, the way it builds up power and oscillates will give you a smooth timber finish. I'm always using this sander for detail sanding, especially when I'm going to apply teak oil or similar after as the finish is perfectly smooth.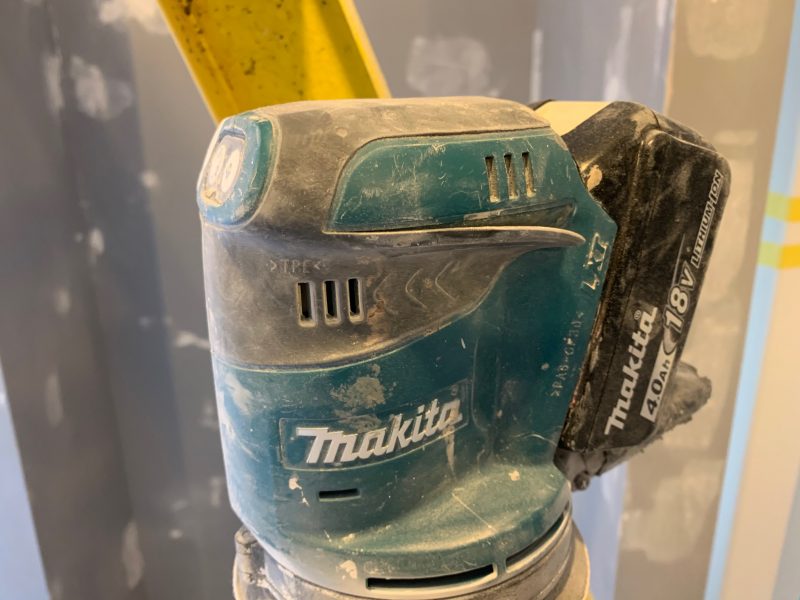 How long is the power lead on a corded orbital sander?
Most of the top models are very generous. I think my DEWALT power lead must be nearly three metres or more as I can move around the ceiling with a reasonable bit of freedom and the ceiling is 2.4m tall without the use of a cable extension reel. Always check how long the power cable is before buying – you don't want to struggle with a lack of manoeuvrability. This only ends up reducing the quality of the work you do.
How to use an orbital sander
There's loads of tricks and great ways to improve the use of your orbital sander. For example you can cheat and use your home hoover as the extractor when sanding. You can always use rough sand paper to remove excess rough timber, then change to a finer 'grit' for finishing. It's always important to keep the bases of your sander flat too or you'll sand your walls and woody with lumps. So here's a few useful pointers to get you going on how to use an orbital sander:
Dust extractor or use the supplied bag
I would always advocate the use of a dust extractor but if you don't have one, some duct tape firmly secures your home hoover. It doesn't matter if it's good old Henry or the New triton range at screwfix, both this type of hoover work great at reducing the amount of dust in the air.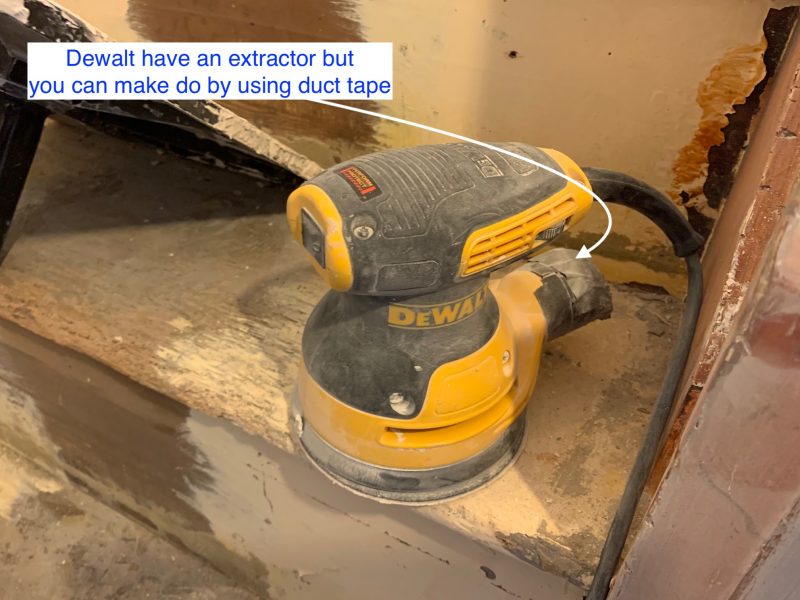 There's two things you should know about this method. Firstly it'l really clog your filter and secondly it's not as effective as an actual extractor but really does reduce the airborne dust considerably. You should still want to wear a mask when sanding as no extraction is ever 100% effective.
If you are going to use the bag that's supplied then make sure you keep your windows open and you should be wearing a mask and goggles if you're using this tool full stop. Having a window open will be much better for you in the long term especially if you've got a lot of sanding to get through.
What grit orbital sanding pads?
Sanding pads work on a downward scale. The lowest being the roughest grit. If you have really nasty plaster or thick filler then you probably want to be using a 60 or 80 grit sand paper to get the worst removed. After this, 120 and 160 grit paper will leave you a lovely finish on timber. If you are hand finishing paint you can get away with a higher grit finish. If you're using a sprayer then be prepared to sand down to 240 grit. Most workshops will go to this fine grit in order to achieve a superb look. On kitchen cupboards that are sprayed you will see 320 grit sand paper in play too but that's not needed n the home.
Hopefully this article has given you a pretty sensible rundown of the best orbital sanders in the UK and will aid you in making an informed decision.
Keep your orbital sander flat:
If you raise the sides in order to apply pressure in a smaller area it will definitely help to sand that specific spot faster. However there are a few drawbacks to this. Firstly you burn out the edge of your sanding disc faster and end up changing pads far more frequently, but more importantly: you will end up with timber that is smooth to touch, but lumpy if you run your hand all the way over. So keep your sander flat at all times where possible!
Best orbital sander
So what have we compared to bring the best orbital sander to the top? You need an orbital sander with enough power that it doesn't kick you off course (this is a huge problem if anywhere near glass), it needs to be comfortable to hold for prolonged periods, and it need to holding onto the Velcro sanding discs firm a seriously firm grip. Is there another worse than those pads slipping and falling off?
So I have to start with my top pick after throughly testing. I am going to go with the Makita orbital sander as the best. Take a look at the full review to find out why 🙂
---