Using a jigsaw in my mind is probably one of the easier tools to get you're head round but we will talk about the constraints and limitations of the tool based on which type of blade you use. Some jigsaw blades are designed for ripping wood fast, some for fine cuts and curves, others are designed for metal! We will cover those in this article and how to use a cordless jigsaw the right way to get a neat finish 😀 hopefully..
First things first, make sure your batteries are fully charged. You don't want to get caught out mid cut! This is important as you're more likely to tear or damage the timber face edge.
After that we need to decide what we want to cut. If you're thinking about cutting engineered flooring I would say cordless jigsaws handle anything up to 20mm with no problem at all. In fact here is a video of a cordless jigsaw making a 20mm engineered board cut:
In my opinion price and performance with this is the best cordless jigsaw money can buy in the UK at the moment. Makita really work on keeping their equipment good value!
How to change a jigsaw blade
Before you even dream of removing the blade make sure you disconnect the battery. If you're using the corded version then unplug it to be sure.
Changing the blade on a jigsaw is really easy these days. Assuming you have the Makita DJV180Z 18V Cordless Jigsaw or any Makita or cordless DeWalt for that matter you simply twist and release the front of the jigsaw blade holder. A picture will clear this up.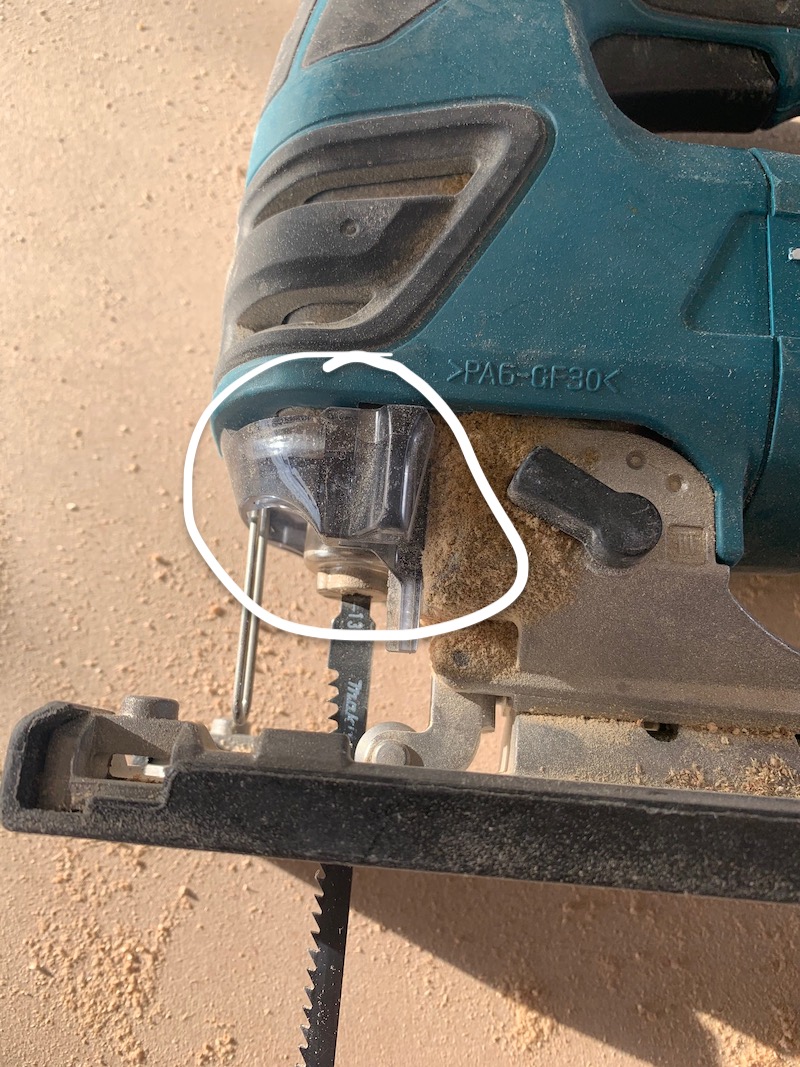 By default a spring is pulling the release arm closed so it can't go anywhere. This is strong so you need to apply a fair bit of pressure to open it up, but once you do the blade will just drop straight out and you need to hold it open to slide another in. Release the arm and it'll all be locked back into place. Make sure you have pushed the jigsaw blade in far enough as this is a common issue with a blade simply falling out.
how to use a jigsaw to cut a straight line
How straight do you needs the line? You can cut a pretty straight line by hand. If it's an exposed finish edge then I would do one of two things, either screw a guide in place and follow it to get a straight line or perhaps even consider a circular saw. Quite frankly though if you watch this video it's pretty easy to simply make your mark, and then follow the cut straight along. Keep blowing the dust out your way as you go. The hardest part of following the line is being able to see it. The Makita cordless jigsaw I am using doesn't have a blower but I know the DeWalt does. I don't think the DeWalt blower is strong enough though.
The LED lights could be brighter too, so make sure your room is well lit. I always stay a fraction of a mm outside the cuts if I want to, I can use a cordless planer to just tidy up that cut as well You could even setup to use.a cordless router to make a flush trim. You can see 18mm OSB cuts neat enough and that was using a rough blade. You could use a finer blade for a more refined cut. After I quickly shoot through some 6mm MDF. The cuts are pretty straight if you take a look.
How to use a jigsaw to cut curves
Cutting curves with a jigsaw is about as easy as it gets IF you use the right blade. So talking about the Makita jigsaw, you want the MAKITA A-85709 blades. If you look at these you'll see there's not that much depth. This lack of depth makes them far more flexible and they will cut a much tighter curve as a result. You can cut circles, profiles, almost anything with a jigsaw.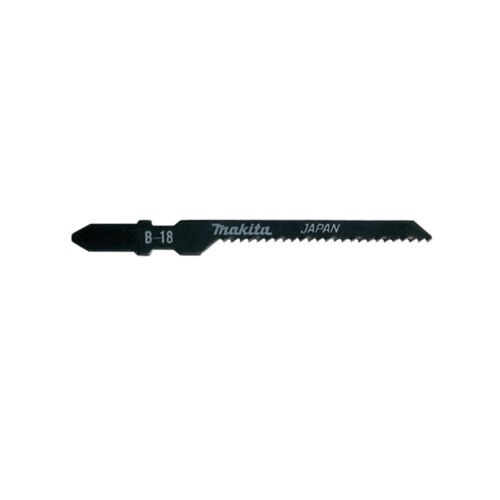 Just take your time and as you're cutting the curve don't push forward so much as lean around your angle. The blade will follow. You can always slightly stay out of your cut line and then carefully finish up with a belt sander if you don't have the confidence to go for it direct!
How to use a jigsaw to cut a hole
Cutting a whole or circle in sheet material is exactly the same as cutting a curve but inverse. Simply get yourself a drill and make a whole to get your jigsaw blade in. You could much about with plunge cuts but why bother then you can pilot a whole, drop your jigsaw in and begin the process of steadily cutting around your circular mark.
Jigsaw are absolutely designed for this and there is literally no better tool for larger circles. If it's a smaller hole you might consider a bore set that fits into a cordless drill but anything larger warrants the use of a jigsaw.
Hopefully this has cleared up how to use a cordless jigsaw. If I've missed anything them send me over a message and I'll look at it for you. Thanks again and hopefully you now have a good base for using a cordless jigsaw!