Garden Tool Box » Best arbour seats UK: Top corner, plastic, and unusual arbour seats reviewed and compared
Best arbour seats UK: Top corner, plastic, and unusual arbour seats reviewed and compared
This article was last updated on October 16th, 2021 at 7:42 am
After months of waiting for just a glimmer of sunshine, it's finally the start of summer. This means that more and more people are spending time in their gardens – and why not?! I love the way that summer tends to open up a whole new room to your house, in the form of the back garden. It's as if as soon as the sun comes out, everyone collectively decides to add a leafy extension to our houses. With this in mind, many people like to invest in garden furniture, to really add that sense of home and comfort to their outdoor space. Today we will be looking at the mighty arbour seat, a piece of garden furniture which can't help but be the focal piece of any garden – not to mention the centre of attention at garden parties!
What are the best arbour seats in the UK?
Relaxdays Arbour with Bench – Best arbour for value for money in the UK
Rowlinson Balmoral Corner Arbour Best corner shaped arbour
Winchester Wooden Garden Arbour Seat Best designed and stylish arbour in the UK
Dunster House Wooden Pergola Arbour Best arbour for practical use and large enough for families
But what is an arbour seat?
Good question. Like with most things in the gardening world, there is a lot of variety when it comes to arbour seats. However, they are essentially seated areas which tend to have a roof or a trellis attached to them. Typically made from either wood or cast iron, arbour seats are designed to stay outside all year round and make for the perfect patch of tranquillity in a garden. It's some of the best garden furniture you can leave outside.
Some arbour seats have solid roofs, making them weatherproof and a good spot for a sundowner drink when the weather is bad (negating the need for pop up gazebos or other temporary cover like shade sails). These arbour seats can be transformed into mini rooms, as you can decorate the inside with cushions, blankets, and other comforting keepsakes to make the space unique. They roll the benefits of gazebos, pergolas,
Other arbour seats have slats for a roof, so are better suited for fine weather use alone. Many arbour seats have sections of trellis built in, making them ideal for growing climbing plants on them. This option really does make for a gorgeous garden display and will transform your outdoor space into a fairy tale scene.
They tend to be fairly large structures, suited to a spacious garden, however corner arbour seats work hard to fix this problem, as their right-angle design helps them to fit into the corners of your garden, optimizing space. Moreover, some arbour seats come with clever added features, such as under seat storage, arm rests, built in tables and much more.
So, we have established that arbour seats are great, but there are some drawbacks to investing in one. The first drawback is just how much of an investment an arbour seat is. You can expect one arbour seat to set you back anywhere in between £200 and £2000 and, as with most things in life, you get what you pay for, so if you want a long-lasting, high quality arbour seat then be willing to pay a hefty price for the luxury. In addition to this, as they are permanent garden features, which spend their whole lives outside, they often require treatment, whether made from wood or metal. Wooden arbour seats require regular oiling to keep the wood from drying out and snapping, as well as rot protection and occasionally insect protection.
Metal arbour seats are much easier to care for and tend to only require cleaning with soapy water and occasionally a fresh lick of metal paint. However, it is recommended that for both wooden and metal arbours, you cover them in the winter months to maintain their life span.
Don't let these factors put you off buying an arbour seat, though. They are wonderful additions to any garden and will likely last you a lifetime. It is simply important to go into the process of purchasing an arbour seat with a strong expectation of exactly what you are getting yourself into.
Comparison table: Best arbour seats UK: Top corner, plastic, and unusual arbour seats reviewed and compared

Product
What We Think
Price
Pros:

Extremely affordable
Easy to assemble

Cons:

Lightweight – could blow over in windy weather
Metal is more of a grey than black colour

Rowlinson Balmoral Corner Arbour

Pros:

Good price, considering the size
Fits easily into a right-angle shape

Cons:

Heavy, so difficult to assemble
Lacks any interesting added features

Winchester Wooden Garden Arbour Seat Pressure Treated Timber

Winchester Wooden Garden Arbour Seat

Pros:

Interesting and unique design
Under seat storage

Cons:

Super heavy, so hard to assemble
No trellises

Dunster House Wooden Pergola Arbour

Pros:

Great added features, like the corner table and armrests
Huge arbour seat

Cons:

Difficult to assemble
So big that you may even need planning permission!
1. Relaxdays Arbour with Bench, HxWxD: 205 x 115 x 50 cm
Specification: Material: Iron, Weather-Resistant: Yes, Dimensions L x W x H: 50 x 115 x 205 cm, Seating surface: approx 110 x 37.5 cm, Seating for: 2 people,
First up on the arbour seat review is the Relaxdays Arbour with Bench, a simple but sleek arbour chair which sets itself apart from its competition with a unique design and tantalisingly low price. Out of all of the arbours reviewed on this list, the Relaxdays arbour is the only product made from metal, a design feature which will appeal to some and not to others. Whether you like the look of a metal arbour seat or not, you have to admit that purchasing a metal arbour seat will save you an awful lot of time, money, and effort in the long run when it comes to maintenance. Furthermore, the Relaxdays metal is powder coated iron, so it is super strong and designed to be weather resistant from the get-go.
The seat has a romantic design, with heart detailing and a simple trellis structure to support climbing plants and roses, for a truly divine looking seating area. To add to this romantic design, with a seat measuring 110cm (length) by 37.5cm (width), this seat fits a maximum of two people, making for a cosy and personal sitting experience. However, this point is both an advantage and disadvantage, as many buyers would be looking for an arbour seat which can seat more than two people, so bear this in mind if you are one of those buyers.
The rest of the arbour seat is modest in size; not too big and not too small. It has a height of 205cm, with a base width of 115cm, weighing just 13.8kg. This makes it a good companion for a small-sized garden, as it won't take up too much space, however you may find that it is too small for a large garden, as it lacks the grandiosity that so many arbour seats boast. Its lightweight nature also makes constructing the seat a whole host easier and putting this arbour seat together could easily be a one-person job.
Another nice feature about the Relaxdays arbour seat is the fact that you can dig the metal feet into grass areas to increase the seats stability. Of course, if you wish to place the seat on a non-grass, hard base, you could buy attachments to drill the feet into the ground, but having the option of simply sticking the legs into grass is a cheap and easy position to be in.
Speaking of cheap, this arbour seat is by far the cheapest in this review and is in fact most probably one of the cheapest arbour seats on the market. Its low cost, simple design and easy-to-assemble nature make it a great contender for those looking for a humble but effective arbour seat.
However, there are some issues with this product. Firstly, the colour of the metal is advertised as being black, but on purchasing you will see that it is more of a greyish colour. This was not a dealbreaker for me, but it could be for you. Secondly, whilst the lightweight nature of this seat is great for assisting assembly, it does limit the sturdiness of the product, and it would be recommended to weigh the seat down with something in high wind.
2. Dunster House Wooden Pergola Arbour Garden with Armrests
Specification: Material: Wood, Weather-Resistant: Yes, External Width/Depth: 2.30m (7′ 6″) / 2.30m (7′ 6″), Internal Width/Depth: 1.93m (6′ 3″) / 1.93m (6′ 3″), Seating for: 4 people,
Next on our list is the Dunster House Wooden Pergola Arbour, a drastic step up in size when compared to the Relaxdays arbour. This huge arbour seat has the word 'house' in the name, because it truly does look more like a house than a seat! With a whopping height of 2.3 metres, this arbour is essentially made up of two separate benches, which join on one side. Above the benches are two slate roofs, with a set of four vertical trellises reaching from the ground up – just imagine how many growing plants you could support with all this trellis!
The mammoth size means that you could fit at least four people on this arbour seat, but I suspect that, with a little squeezing and squishing together, you could definitely fit more. Aside from the impressive size and the addition of four separate trellises, my favourite feature of this arbour seat is the inclusion of four handy armrests and even a corner table, connecting the two benches together. This feature really takes comfort and usability to the next level. To me, the armrests and corner table make this a social piece of garden furniture, designed to be used for hosting and entertaining guests, so if that is what you had in mind for your arbour seat, then perhaps this is the product for you.
The next best thing about this product is the quality of the wood. Unlike many arbour seats, this product boasts thick, chunky wood which is sturdy and built to last. All of their timber is pressure treated to boost longevity and protect it against rot and damage from insects. Dunster have even gone as far as to provide a 10-year guarantee on their arbour seats, specifically against rot and insect infestation. I don't know about you, but this fills me with confidence that their wood treatment actually works, which is a really important factor to consider when investing in a wooden arbour seat.
However, one issue with their high-quality wood is that whilst it's super sturdy and thick, it is also extremely heavy. This is a good thing in many ways, as it ensures that the wood will last for longer, in addition to improving the stability of the arbour seat in bad weather, however the heavy wood makes assembling this arbour seat nothing short of a nightmare. There are an awful lot of parts to put together, and it won't be a lightweight job, so Dunster recommended enlisting the help of a friend or family member and setting aside a day to construct.
It is also worth bearing in mind the sheer magnitude of this product. It is so big that it certainly will not fit in a small garden which is pressed for space, and in some cases you may even require planning permission to put this arbour seat up (Dunster's words not mine). With this in mind, this is a great product for those who are lucky enough to have a large outdoor space, however not so much for those with small gardens. It also sits on the mid to high end of the price scale, so make sure you save your pennies if you want to invest in the Dunster arbour seat.
3. Winchester Wooden Garden Arbour Seat Pressure Treated Timber
Specification: Material: Wood / Metal, Weather-Resistant: Yes, Size: 70.5 x 139 x 142.43 cm, Seating for: 2 people,
The Winchester Wooden Arbour Seat is a strong contender in the race for the best UK arbour seat. This is predominantly due to its interesting design, reasonable price, great added features, and strong functionality. So, let's jump in.
In terms of design, the Winchester arbour seat is reminiscent of the helm of a boat, making it the perfect arbour for those with a maritime/seaside theme running in their garden. It's all in the eye of the beholder, but the Winchester seat could also easily be the arch of a church door, opening up another thematic opportunity for your outdoor space. Either way, it looks great and is totally unique.
Unlike the other arbour seats listed in this review, the Winchester arbour has been designed to be weatherproof. This means that there are no gaps in between the planks of wood, and the roof is lined with a sheet of metal to protect the arbour from the rain, in addition to controlling the temperature underneath the roof – a pretty neat feature. With this in mind, this arbour is the perfect choice for those looking to have a rain-proof spot in the garden, perhaps to read a book or just immerse yourself in nature for a little while. It also works well for those trying to escape the sun and protect their skin from sun damage this summer.
However, the weatherproof design does mean that this arbour lacks trellises, so you certainly won't get far trying to grow climbing plants on this arbour seat.
I think the Winchester makes up for the lack of trellis with the super handy under seat storage it provides. Simply lift up the top of the seat and you will find a large area to store whatever your heart desires. We love a clever added feature.
When it comes to size and weight, this arbour seat measures 70.5cm x 139cm x 142.43cm, weighing a hefty 142.43kg. Whilst the size is fairly average, the weight is extreme. This impacts the assembly of the arbour seat, making it quite the challenge to attempt to assemble alone. Definitely enlist the assistance of a little helper with the assembly of this product!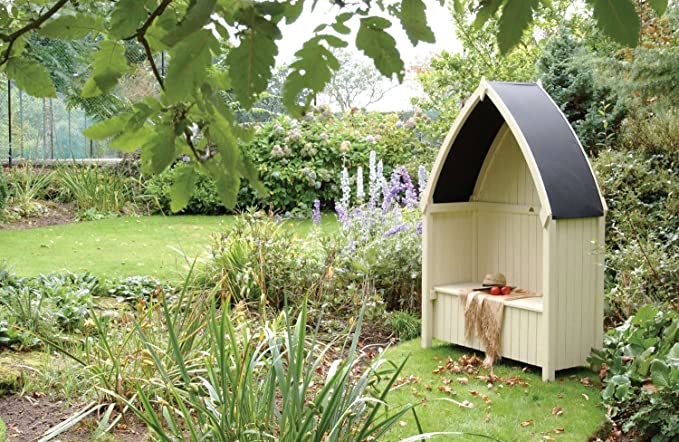 4. Rowlinson Balmoral Corner Arbour
Specification: Material: Softwood, Weather-Resistant: Yes, Size: 158 x 158 x 210 cm, Seating for: 4 people,
Finally, it's the turn of the Rowlinson Balmoral Corner Arbour, another corner arbour chair, but slightly smaller and more affordable than the Dunster corner arbour. This product, like Dunster fits around four people and is made up of two bench areas which meet to make a 90-degree angle. Measuring 158cm x 158 cm x 210cm, the Rowlinson arbour is a good size for a moderately sized garden, and its right-angle design makes it the perfect arbour seat if you are trying to conserve space.
In terms of aesthetics, it has everything that a good arbour seat should have; a solid pine seat, a thick slatted roof and four sheets of trellis which give the arbour a nice finish; even nicer if you added your own climbing plants.
The wood is FSC (Forest Stewardship Council) certified, meaning it has been sourced and harvested sustainably, and has been pressure treated to protect against rot, so the longevity of this product looks good so far. Furthermore, it weighs approximately 95 kg, making it sturdy and stable in bad weather, but naturally making assembly that little bit more difficult. Speaking of which, assembling this product is notoriously tricky, as the multiple parts and lack of pre-drilled holes make this one a project best suited to those already accustomed to DIY.
In terms of price, the Rowlinson arbour sits nicely in the mid-range and, for my money, I would say that it's a pretty good deal considering the quality of the product. It does exactly what it says on the tin and is a robust and reliable arbour, however it lacks the unique added touches that the previous two arbours have, so it blends somewhat into the crowd of its competition.
In addition to this, whilst the roof looks like it would protect you from the elements, on closer inspection you will find that there are large gaps in between the slats, so be aware of this on a rainy day, or you may end up feeling soggy and sulky.
---