Garden Tool Box » Best surveyors tape [UK]: Top 30m, 50m, and 100m surveyor tapes reviewed
Best surveyors tape [UK]: Top 30m, 50m, and 100m surveyor tapes reviewed
This article was last updated on July 31st, 2021 at 3:35 am
For those of you who need accurate measurements, whether it be in the garden or for construction purposes, sometimes a basic tape measure isn't enough. They can be a bit flimsy to use and easily bend/move when moved, so they can actually end up being a real pain. If this sounds like a relatable issue, or if your tape measure just won't cover a certain job you need to get done, then surveyors tape is for you and this review covers all you need to know about them.
This review focuses on the 6 best options for surveyors tape currently on the market, focusing on 30m, 50m and 100m tapes, as these are the most commonly used tapes for most jobs requiring surveyors tape. Realistically, you won't be needing lengths any longer than that (apart from the rare event you measure something bigger than 100m!), so products with these lengths are most appropriate. Before we get into it, it's worth knowing more about surveyors tape as although you're likely reading this to find out which product is best for you, you might be wondering why they're useful or what they're for, so we want to make sure we have you covered for this.
What is surveyors tape and what's it used for? 
You could say that surveyors tape is just an advanced tape measure, but it's a lot more than that. Surveyors tape is a robust, handheld unit which operates in the same way as a tape measure in that long tape can stretch over a certain distance (30m, 50m or 100m) and be secured into the ground. They typically have a rewind handle to pull the stretching tape back and use tape that is typically made from fibreglass or from any stretch-resistant material, so the main difference to tape measures is that surveyors tape is not only designed for long distance measurements, but also for measurements in harsher conditions/outdoor use where standard tape won't quite cut it.
You can use surveyors tape for a variety of purposes, ranging from field measurements to planting distances in the garden. You can use it for short measurements outdoors, so it really is useful if you're going to be building some garden units or even just for general gardening measurements. If you're doing some long distance measurements, such as field measuring or for large scale construction, they provide accurate and easy measurement taking. They're suitable for most outdoor jobs and are a must have if you spend lots of time doing jobs outside, which is why they're so commonly sold.
They're also used a lot in ecology/biology experiments too, as surveyors tape is a great way of taking variable/length measurements in a quick and easy manner. If not used casually, they're also used a lot in professional environments such as construction sites or on roads (you might have seen the hardhat and bright orange jacket workers with surveyors tape before!).
Whatever the use, they're ideal for common use and suitable for long distance/outdoor measurements compared to a standard tape measure. That said, there's some important things to look for and consider when buying online but don't worry, we have you covered with a buyers guide below. To help you with choosing the best surveyors tape for you, we've reviewed the best 6 on the market right now.
These are the key things to look for in tape but there is quite a variety in the marketplace, so just consider these things when you go to buy and were confident you'll be the right tape for you.
Best surveyors tapes UK
Comparison table: Best surveyors tape [UK]: Top 30m, 50m, and 100m surveyor tapes reviewed

Product
What We Think
Price
Stanley Open Reel F/GLass Tape is a Stanley product and will last you longer (most likely) than any other product in this list, but at £17.99, it's pushing it in terms of price. That said, it's sturdy, robust and does everything you need it to. It has no flaws apart from the price and is a really handy tool, and is in fact probably the best designed surveyors tape in this list. If you need 30m tape for cheap then option 5 is better for you, but if you're not worried about price, this is the best 30m surveying tape on the market currently.

Draper 51091 Fibreglass Surveyors Tape, 100m/330

Draper Fibreglass Surveyors Tape is easily the best surveyors tape out there, especially 100m tapes, and is perfect for casual use and professional use. It's made from all the right materials and is easy to use, good value for money and is very robust. Its ergonomics are great and are strong enough for any outdoor job. Compared to others in this list, it's a little expensive but as it is 100m tape, you will be paying more anyway. If you're not worried about price though, or even measurement length for that matter, then this is the one for you.
Am-Tech P1800 Surveyor Tape is the cheapest tape that will get the job done, so if you need something that barely costs anything and that will get quick jobs done, this tape is for you. It doesn't have a handle like others in this list and only goes 30m, so of course it has its limitations, but you won't be using this product for anything long distance or regular anyway. It has fibreglass tape and is easy on the hands, so it still has everything you need. If you want longer tape or tape that will last longer, this product is not for you, it's for simple and quick jobs and mostly casual.

S&R Surveyors Tape Measure Fiberglass 100m / 330 feet Double Marked Tape Reel

Compared S&R Surveyors Tape Measure to other products in this list this is the most expensive, but it's the product we suggest if you're really not bothered about price or length. 100m is always a good length to stick to if you're not sure what future projects may be, as the more length you have the better. This costs £25.50 and has everything you need, as well as being really high quality and quite frankly, we cannot fault it apart from the use of a hook on the tape. Compared to other products on this list it uses similar high quality materials, but it's high for its price, which is why it's the best option for the most expensive (but great value) surveyors tape.

HKB ® 1 piece measuring tape, 100 m tape measure with fibreglass tape

Whilst being a 100m surveyors tape, HKB ® 1 piece measuring tape is the cheapest one on our list for its size and utility. It has all you need just like the other products (fibreglass, smooth handle, right units, etc.) and isn't lacking anything. It's comfortable enough but is made from cheap material, so whilst it might not last you as long as other products in this list that were suggesting, it's definitely suitable if you're either not wanting to spend too much or if you're not going to be using your surveying tape regularly.

To Compared Surveyors Tape Measure with others in this list there aren't as many reviews, but it's a simple yet effective surveyors tape which is perfect for both casual use (garden and DIY) and distances up to 50m. Unlike other products in this list it has a hook, which can be problematic, but apart from that its design is spot on. It's a pretty good price and is made from fibreglass and robust plastic, so it should last you too. This is easily the best on the market for 50m surveying tape, and whilst others are available, they are either more expensive or have pretty much the same features for not as good value for money.
1. Draper 51091 Fibreglass Surveyors Tape, 100m/330
First up in our list is the best option for 100m surveyors tape, which is most suitable for longer measurements or larger jobs, but it can also be used for shorter jobs too. We would personally recommend buying a 100m tape as it is, but even if you don't agree, this is easily the best 100m surveyors tape we've found. It has an average four and a half star rating for over 500 reviews and is also amazon's choice for surveyors tape, so it doesn't get more ideal than that.
Firstly, this tape feels not only robust, but also lightweight enough to be carried around on the job. It has a sturdy handle which doesn't feel at all flimsy or cheap, and it's dead easy to use. Its ergonomics are great and the handle is comfortable, mostly because the plastic casing is made from ABS (popular thermoplastic polymer in plastic engineering) which is pretty comfortable on the hands. The winding handle is the same and feels sturdy too, so overall, the ergonomics and design of this product is perfect for surveyors tape.
The tape itself has a stainless steel holding claw on the end, and it's long enough to easily fix into the ground and for keeping the tape secure as you move with it. The tape is fibreglass, so its high quality. It rolls smoothly and retracts smoothly too, so it functions really well. It has cm/mm and 1/8" on reverse, so its measurements are all you really need in surveyors tape too. It's accurate, easy to read and easy to use and this has been noted in the reviews/comments.
It's expensive if you're only going to be doing smaller jobs/smaller measurements, so only get this if you really need longer measurements taken. That said, it's really suited to any job and if you're not worried about price, we recommend just buying it for use in all jobs no matter how big. For 100m tape, the price is pretty good too, so it's definitely good value for money.
In terms of negative reviews, there aren't that many, and even then it's for the 50m version and discusses how the 50m version is only ideal for casual use and not heavy work (which is expected). The only thing we would say is if you're measuring 100m and it's not great weather, there is always the chance that the 1-2inch metal hook might come out as it depends on the ground it's put in, but this is the same with all surveyors tape no matter what product you get.
Overall, there aren't many drawbacks at all and it's easily one of the best tapes out there. It's perfect for casual use and professional use, but might be too expensive if you only need shorter measurements. Either way, it's great value for money and really easy to use, so we couldn't recommend it enough. It's made from the right materials and has everything you need as explained above, so if you're going to buy any surveyors tape and you're not worried about price or length, this is the one for you. It's also easily the best option for 100m surveyors tape hands down.
2. Surveyors Tape Measure - 50m
Next up is our best 50m option, which is just standard surveyors tape sold on amazon and whilst only having a four star rating amongst 18 reviews, it's the most ideal tape measure there is and it does what is said on the tin. Reviews are really positive and this product is subtle, so it deserves our credit.
Similar to the surveyors tape in the first place, this product is made from an ergonomic plastic that is perfect for surveyors tape and is lightweight and robust. It doesn't feel cheap and only costs middle money, so if you're wanting surveyors tape for more casual use, especially around the garden or in building jobs, this is ideal for you. Its tape is made from fibreglass and has a hook on the end, which can be a pain if you're only measuring flat ground but is typically useful in the garden. It retracts easily and is simple to use, so it has all that you need.
We can't find too many negatives with it, aside from the hook on the end (in some situations), as this is a genuinely good and reliable product. It's the sort of product you would find in a DIY shop and so we think it's the perfect, most basic option for a 50m surveyors tape. Some have reported the tape jamming, but no one else (or us) seem to have that issue, but if this happens contact the seller, as this is down to a faulty product and not the product features itself. Overall, this is a great product and it's so simple that it's great!
3. Stanley Open Reel F/GLass Tape 30M/100Ft
In our spot for the best 30m surveyors tape is, unsurprisingly, a Stanley product. Stanley are known for their competence and reliability and so this product definitely does not disappoint. It's well made, robust and quite frankly all you need for short (30m) surveyors tape. It has over 100 ratings on amazon averaging out at 4 and a half stars, with reviews talking highly of both its compactness and usefulness. It's designed for easy readability and is made to last, and it's well rated across many different sites and not just us, so you can be reassured that it fits the bill nicely.
The design is a bit different to other products in this list, as it has a smaller rotary handle and is smaller in general, as well as being compact to make it foldable for storage purposes. It's got a sleek design and feels highly ergonomic too. The tape itself is fibreglass material and is washable too, so it's ideal for outdoor use. Winding and rewinding is simple and smooth and really, it doesn't have any negatives when considering structural or functional features at all.
The only negative thing is the pricing which is expensive for 30m surveying tape to say the least. That said, it is the only negative and realistically it's a Stanley product, so you know it will last you and with this brand, it's worth spending the money. If you need 30m surveying tape for cheap then this isn't for you, but if you're not too worried about price and want it to last, this is easily the best 30m tape out there.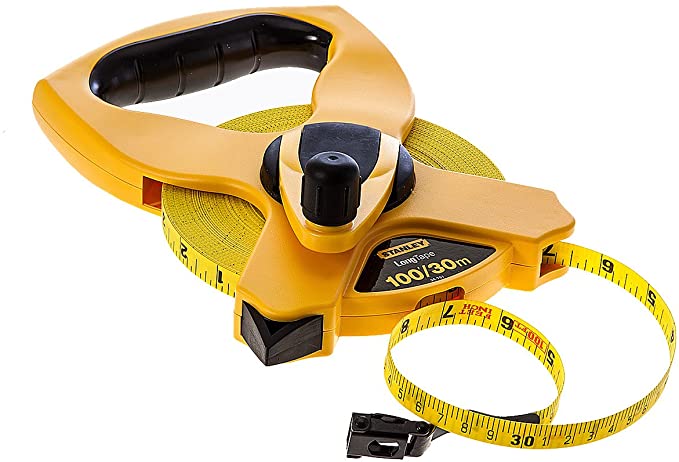 4. S&R Surveyors Tape Measure Fiberglass 100m / 330 feet Double Marked Tape Reel
In our fourth place spot is another fantastic surveyors tape, but this time we are noting it for being the most expensive (yet worth the money) product in this list. It's priced at similar money when compare to the Draper, and measures 100m, so it definitely could be worse, but it's still expensive. In other words, this is the tape we suggest you buy if you're not worried about price or even length, as having more available length to measure with is better than having too little.
This product has an average four and a half star rating across over 300 reviews, with many comments noting its durability and ergonomics, which is no surprise as this product is made from ABS plastic. The tape itself is fibreglass and abrasion-resistant, so it's perfectly suitable for heavy use outdoors. It's also impact resistant and stable, so it's clearly high quality.
The tape has a stainless steel hook on the end, which as we said isn't always ideal, but it could definitely be worse. Whilst this might be a bit much for casual projects or short measurement taking, the reason we suggest it as the product to go to If you're not worried about price is simply because of its high quality. Whether you'll use it a lot or not, this product will last you a long time and you can feel reassured that it has everything you need. Its high quality, lightweight and a genuinely good product, but it's only drawback would be the hook (again, this is preference) and apart from that, we can't fault it.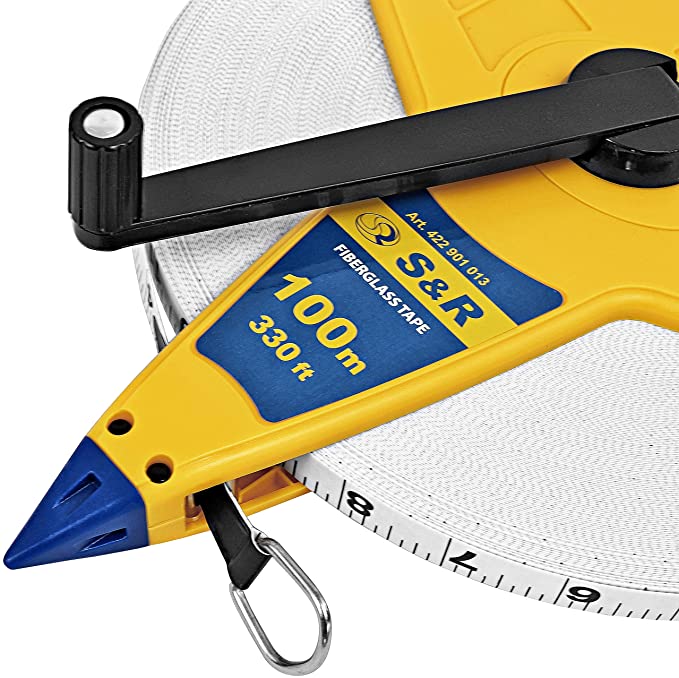 5. HKB ® 1 piece measuring tape, 100 m tape measure with fibreglass tape
Next up isn't the very best 100m option there is, but it is the cheapest option for long-distance surveying tape. Priced at bottom range money, we're really happy with how it performs and it has an average four star rating too, and whilst only across 33 reviews, comments note its good value for money and gets the job done.
The tape itself is made from fibreglass and has a hook on the end, which isn't ideal but it's a pretty big hook, so this reduces the chances of it coming out of the ground. The handle is durable and water resistant, so it's perfect for the outdoors. The details state the handle is designed for maximum ergonomic performance but we are not quite sure, it's comfortable enough but nothing special. One side of the tape is inches/feet and the other is metric, so you have all the ideal units for taking your measurements. The handle is easy to turn and the tape retracts back easily and smoothly, so for its price, we were really impressed here.
The only downside would be it does feel cheap, but this is because, well, it is. It's only a standard plastic and it's okay ergonomically, as in it will be fine on the hands but you wont notice it for being comfortable. Many reviews are in German but for the English ones we can read, it's clear that this product is good value for money. We can't guarantee you'll get plenty of use out of it since it's quite cheap, but if you don't need surveying tape regularly or it's only a one time thing, this should do the trick nicely.
6. Am-Tech P1800 Surveyor Tape, 30 m
The final spot in our list is taken by what we consider the cheapest yet best option for short-distance surveying tape, and this is a real bargain. For only £5.98, you get a 30m tape which is not only made from fiberglass with a large hook, but which is really durable and should last you a long time. It went down great with other customers, as seen by the 552 ratings averaging at four and a half stars.
The tape itself is compact which makes it pretty handy, and it doesn't come with a plastic handle which whilst this could be a pain, it's not the end of the world for short distance tape. It's got a hook to stick in the ground and is made from fiberglass, so it's perfectly suitable for your surveying needs. It might not have a plastic handle, but it has a rubber casing which is easy on the hands, so it feels comfortable enough to use.
Overall, cheap yet simple, and it still does the job. Downsides which people note would be the lack of handle and maybe distance, but we don't need to tell you that in this instance, these aren't problems and reviewers are just looking for the wrong things! This tape is what you need if you want something cheap, quick and easy and that will get a quick job done, just not for long distance/regular use.
Surveyors Tape Buying guide 
Now you know which of the 6 best options there are on the market for surveyors tape, it's important you know about which key things to look for before you go off buying some. It might only be some tape but it's really important you pick the right product. That said, you don't need to worry, because our handy buyers guide will tell you all you need to know.
Size 
This is the first thing you're going to consider (30m, 50m, 100m, etc.) when you buy surveying tape and we know you're going to look for a size suitable for you. However, when picking a size you need to consider a few things.
Firstly, consider what job you'll be doing where you need the tape, will you be in the garden? Or a construction site? This is really important as it effectively determines your length. For the garden or DIY jobs, we suggest some 30m tape, as you don't need much more than this. For larger gardens or areas, 50m should do, but have a quick look beforehand and if you think it might be over 50m, go for the 100m tape to be safe. 100m tape is most suitable for construction sites like the Draper 51091 Fibreglass Surveyors tape, long distance measurements in fields or in the outdoors, and other wider applications such as ecology or road measuring.
As well as this, if you're really not fussed or you're not sure what you're going to be using your tape for, a 50m is always a good compromise. If you don't need to worry about money though, then perhaps it's worth investing in a 100m tape because, well, why not? It might come in handy.
Ergonomics 
Since you're going to be outdoors using this item, most likely in the rain and cold if in England, you want it to be comfortable. Most surveying tapes are made from basic plastics such as ABS which are perfectly comfortable, so consider the material. Rubber casing is always ideal too which the HKB ® 1 piece measuring tape has.
It's not the end of the world, but a harsh feeling plastic which isn't very smooth will eventually take its toll on the hands, so just keep it in mind. Since you're going to be using it outdoors too, a waterproof material (which is mostly plastic but just check yours) is ideal, especially since you should probably clean it every now and then to get rid of any stuff you've collected off the ground (especially the tape, it gets quite dirty!).
Tape end
Most surveying tapes have hooks/rings which are fine, but make sure it's stainless steel, otherwise it will just damage over time and not last. It's also better if you can get some tape with a clip/heavy bit on the end as this will stay in the soil better. The bigger the tape ends the better too, as it will stay in the ground better. The end of your tape isn't the be all and end all, but consider it when you're looking, as it can be a pain at times when the tape comes out of the ground.
---