Garden Tool Box » UK's best fly zappers are electric fly killers that'll kill mosquitos in your home too
Written by Terry Smith
Our site is reader supported so when you click a link to Amazon we may earn an affiliate commission.
UK's best fly zappers are electric fly killers that'll kill mosquitos in your home too
This article was last updated on August 10th, 2022 at 4:50 am
I once saw a documentary about what happens when a fly lands on your food and is allowed to stay there. I'll spare you the gruesome details, but let's just say that it's something you definitely don't want to be happening to anything that you will put in your mouth, so much so I wrote an article about how to get rid of flies in your garden!. With this in mind, you need to find something that will get rid of these unhygienic, fly nuisances, and the good old rolled up newspaper might be a classic, but it's definitely not the most efficient and when a static electric fly killer (or those nasty sticky looking things) isn't proactive enough, maybe you look to the very best fly zapper, and did you know there's racquet to run around the home batting flies and mosquitos!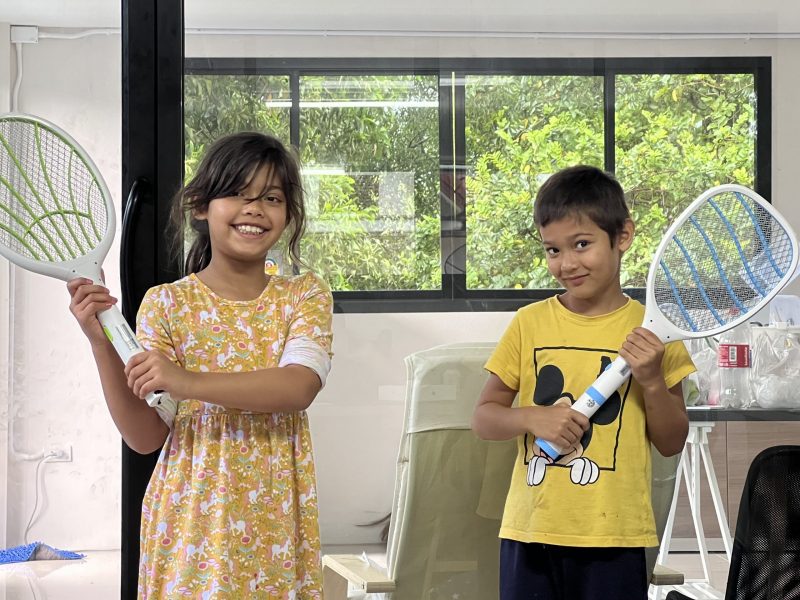 Before I go any further I just want to put out a warning: do not touch the mesh of fly zappers, and especially the mains electric versions – these are dangerous units and electrical safety must be taken seriously. And never clean these with electric turned on! They are dangerous and must be respected.
After extensively testing both static electric fly killers and racquets (you know those fly zappers) I can tell you both 'serve' a completely different purpose 😀 Alright, give me credit that was a great pun 🙂 But yeah, my thorough testing has showed me that the static electric fly killer such as the ASPECTEK Fly and Insect Killer is supremely effective against everything EXCEPT flies – mosquitos and random fire flies don't stand a chance. This is a proven fact from my testing over the past two years.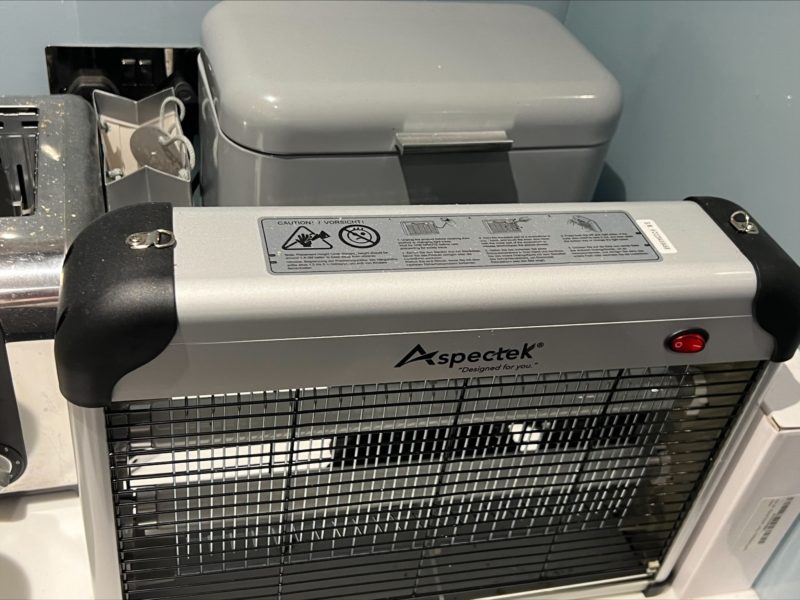 Whereas, the Faicuk Electric Fly Swatter Bug Zapper USB Rechargeable Mosquito Racket is considerably more effort but far far more effective against flies.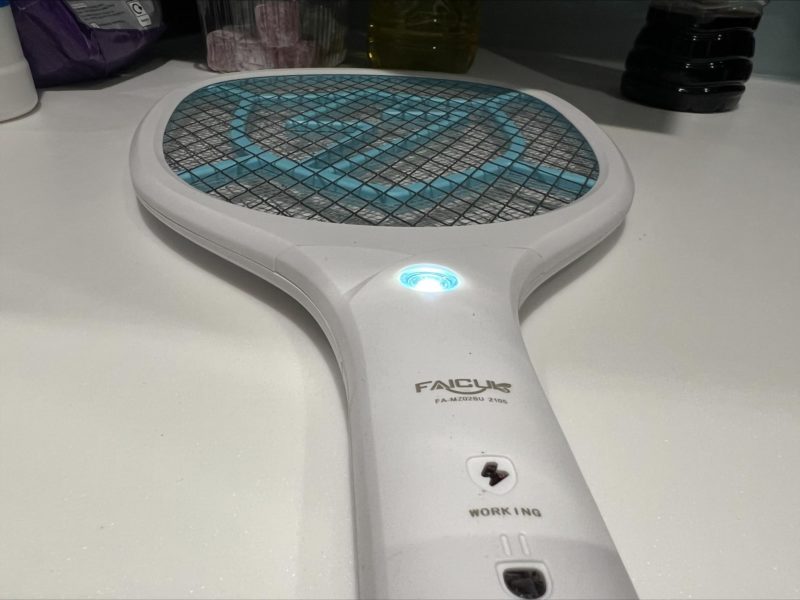 On a side note, the kids absolutely love them – the littler ones run about swatting all day and I bought them what I believe to be the best fly zapper after EXTENSIVE testing 🙂 Won't believe the fun the kids have with these.
There's been an amazing and unexpected bi-product – the kids have a new found respect for electric. These fly zappers are only powered with AA batteries or a rechargeable USB battery so harmless to us, but I've still explained to them electric shocks and is dangerous. The kids seeing a fly fall straight out of the sky after that scary electric sound has also taught them a new respect for electric sockets too! I've included a few static fly zappers too incase you're not so agile for a round look at the products available. And it's worth understanding the differences as these are mains plugged in and not to be confused with the racquets – check my best fly zappers buyers guide. Here's a look at the static unit I've just tested too: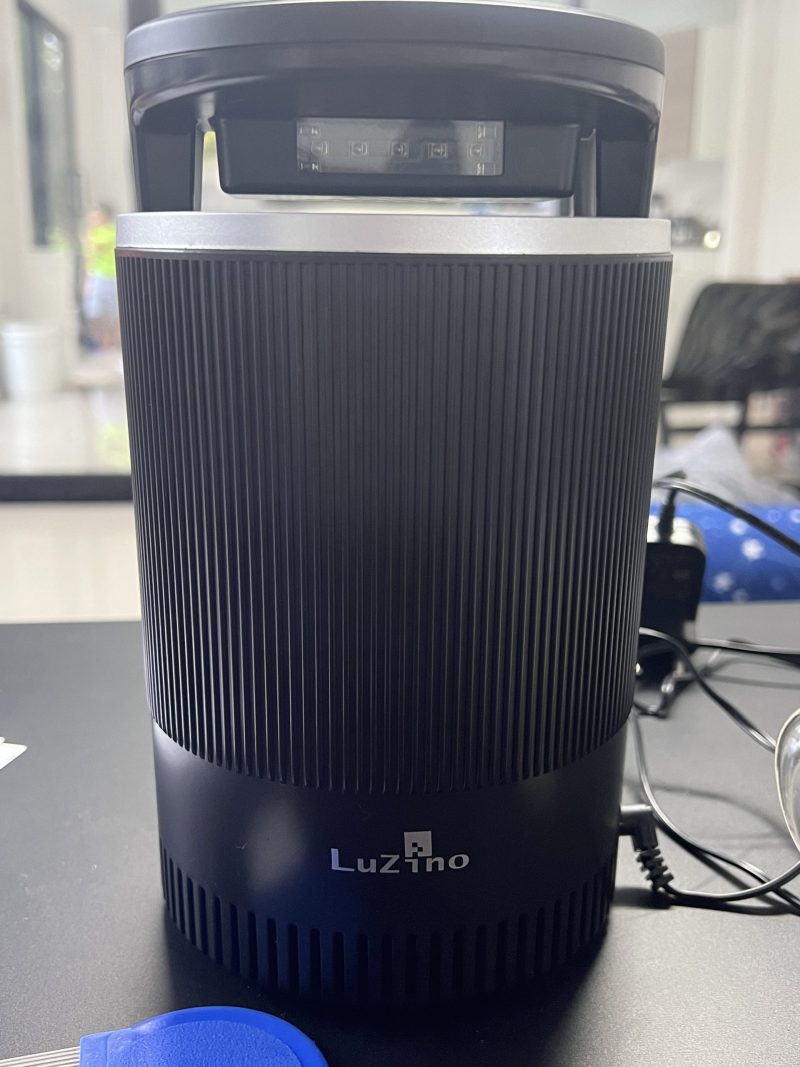 PROTIP: Extensive testing has shown me that UV light does not pull in flies. I left my ASPECTEK Fly and Insect Killer running for 4 days straight, and whilst mosquitos and other random bugs literally used it as a homing beacon, flies were not interested at all. In the space of 3 days I only took down 2 flies. I also tested at night in the dark turning the UV on. Whilst this was even more effective against mosquitos, and other flying bugs, flies themselves would just not take the bait! So I realised the best way to deal with them was an electric fly killing racquet. However, the combination of the two was by far the most effective electric fly killer setup!
With that said, I have rated the best fly zappers based on safety for the user, effectiveness at killing flies and mosquitos, price, reliability, sturdiness of the racket, and how long the battery lasts.
Best fly zappers that are electric fly killers – editor picks:
Best fly zapper: Faicuk Electric Fly Swatter Bug Zapper USB Rechargeable Mosquito Racket [personally tested and proven] Easily the best fly killer
Now rated 2nd behind the Faicuk: ZAP IT! Bug Zapper [personally tested and proven] – great unit but Faicuk can't be ignored on price!
Alternative if the ZAP IT! Bug Zapper or Faicuk is unavailable: The Executioner Fly Zapper Mosquito Swatter Racket or the  ZOMAKE Detachable Electric Mosquito Fly Swatter
Best electric fly killer (mains electric): ASPECTEK Fly and Insect Killer or if you want a bit cheaper try the Exatfina [personally tested and proven – I have used the ASPECTEK for two years]
Best heavy duty commercial fly killer: Concise Home Insect Killer – follow the link and you can select a far heavier duty model or the ASPECTEK
Best budget: Faicuk – rarely is the best pick also the budget! A right result 
Best fly zappers buyers guide
If you're still not sure which product deserves your money, take a quick look at our fly zappers buyer's guide. We have briefly covered a few of the things that you might want to consider. The problem with electric fly killers are they are packing some serious volts, this means serious danger in some cases – particularly the mains electric versions, much less of a concern is the fly swatters.
Serious volts on the mains fly killers so be careful
One thing I have to say about the static electric fly killers is the need for a real sense of care. I'm not kidding – the fact that the units all come with over the top warnings – massive dangerous looking thunderbolts is no game:
You'll seriously get a shock if you start trying to fish out a dead fly with a metal instrument and the unit is turned on – I am sure you won't be that crazy 😀 but if you are, don't say I didn't warn you in advance – the fly zappers I've given the kids I've turned on and put my hands in – nothing happens – that's not advice, that's an observation of my units 🙂
What type of fly zapper?
The two main types that you are going to see are the tennis racquet style swatters, and the stationary fly zappers come electric fly killers that are most commonly boxed or cylindrical shape, but there are some models that try to get away from this – though not many. Both types have their pros and cons. The swatter types are smaller and lighter, and can be hidden out of sight easily until you need them. You can specifically target insects that you see and chase them down to kill them too. The downsides are that they run on batteries so you will either have to keep the internal battery charged, or keep plenty of spare batteries at hand. You also have to physically swing the zapper around, and while it is fun for some, others prefer to sit back and do nothing. That's the fun of it for the kids though: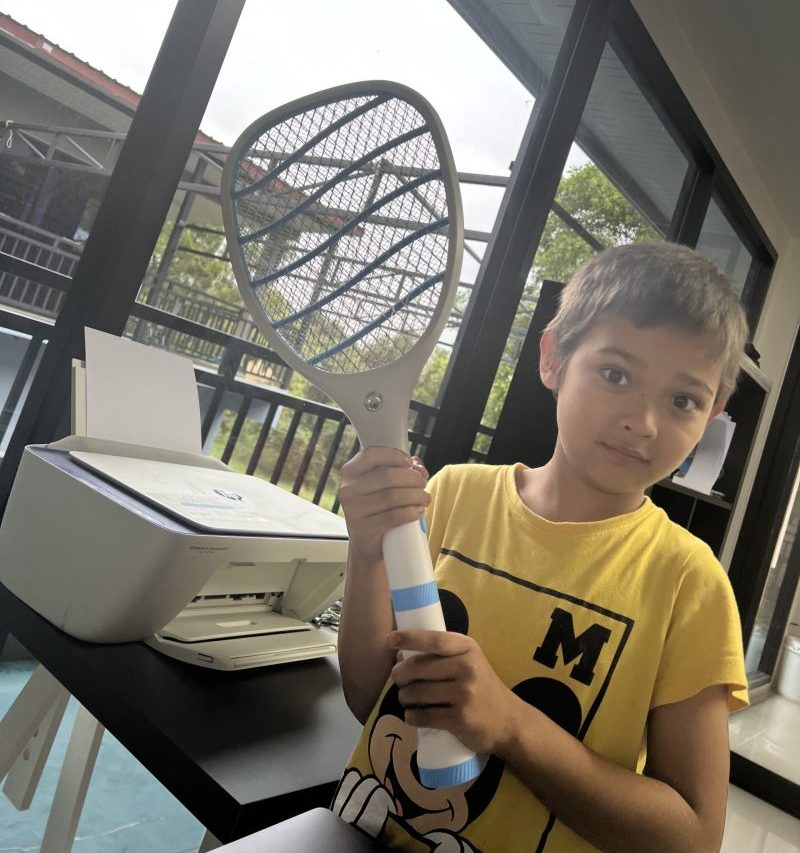 I just sit back and wait for the inevitable ZAP 😀 or crackle if you prefer. It really does sound quite aggressive when you snag one – you can see why they are so effective.
How to use a fly zapper?
The bat em up versions are really easy – you've normally got two settings for power on mode – on1 and on2 – setting two almost always turns on a light as well: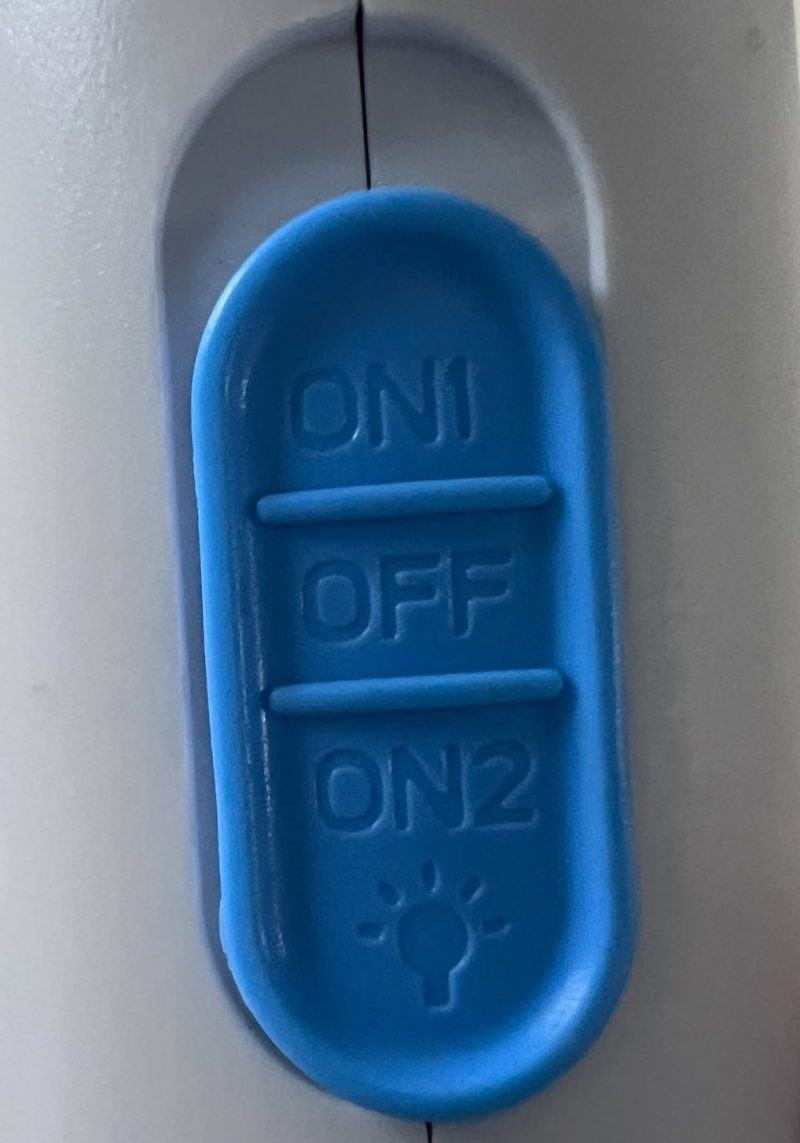 Then it's a simple case of holding in the button that winds up the power on the electric mesh – you may hear a small whine as the power builds up – I did on one of the models I tested but not the other so often: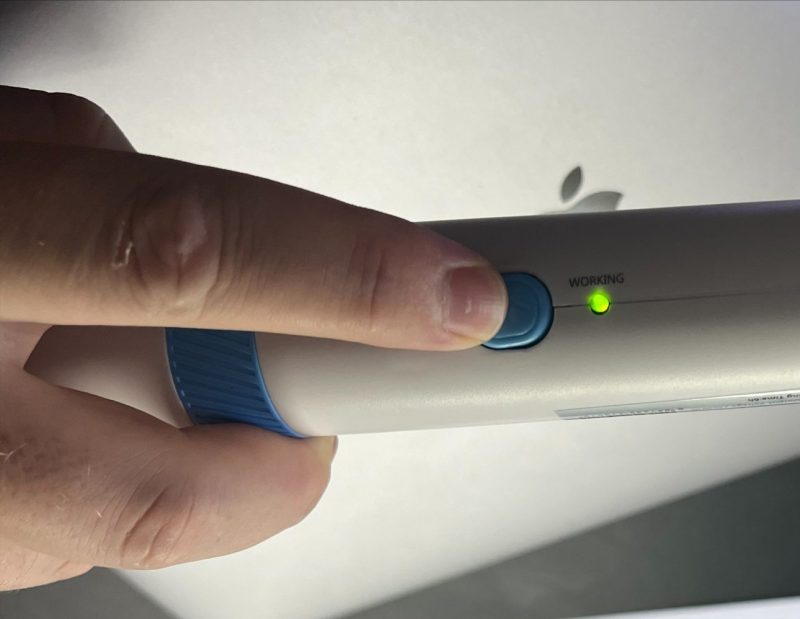 Then after that you need to get your little ones to bat 'em – make sure they realise not to touch the electric mesh – once they hear a mosquito get sizzled they soon realise just how powerful these are and to treat them with respect!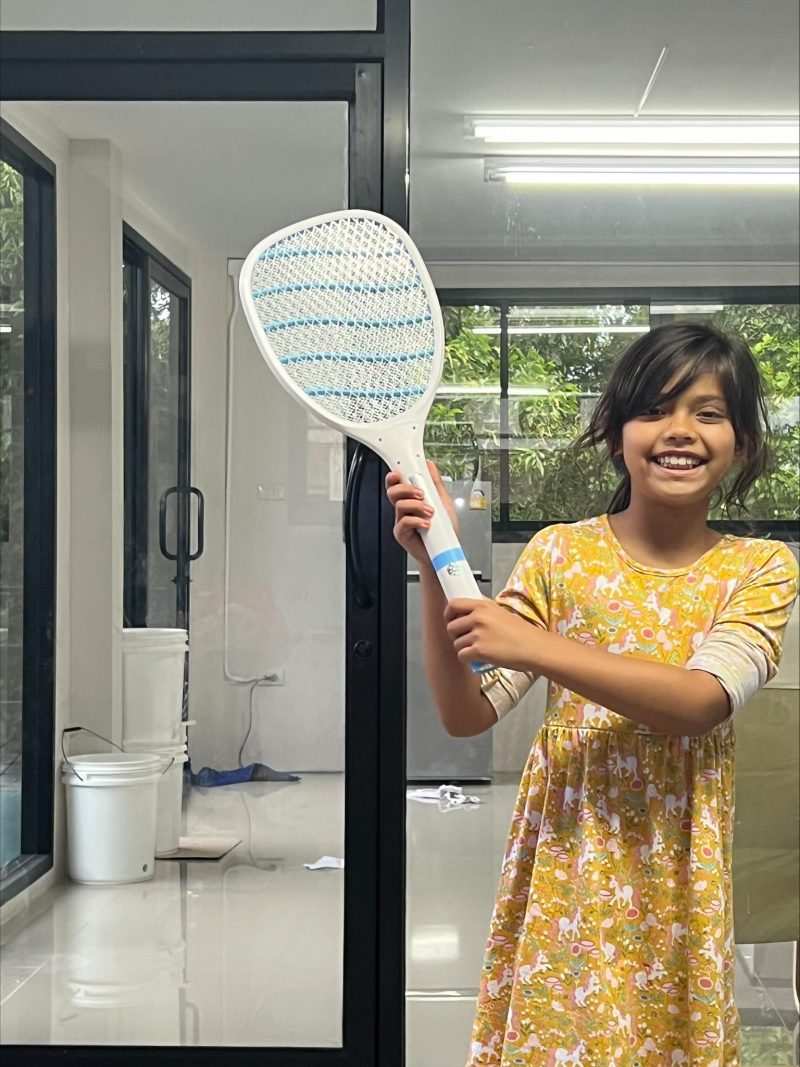 Electric fly killers
Stationary zappers (or electric fly killers) don't require you to do any of the running around, but then you are only going to kill the insects that fly into the device by themselves. These machines are larger and can be a bit of an eyesore too, although modern ones tend to be a bit more stylish – they have a blue light and that's ok for us at night but some won't appreciate it! It's pretty easy to put up with in the day though:
The best thing about these zappers is you just plug them into the mains and let them work – then empty the tray of flies and mosquitos in the morning! They always are simple to unclip and reset – here's a look at the model I used, just a matter of twisting it free, throwing the bugs away and starting again: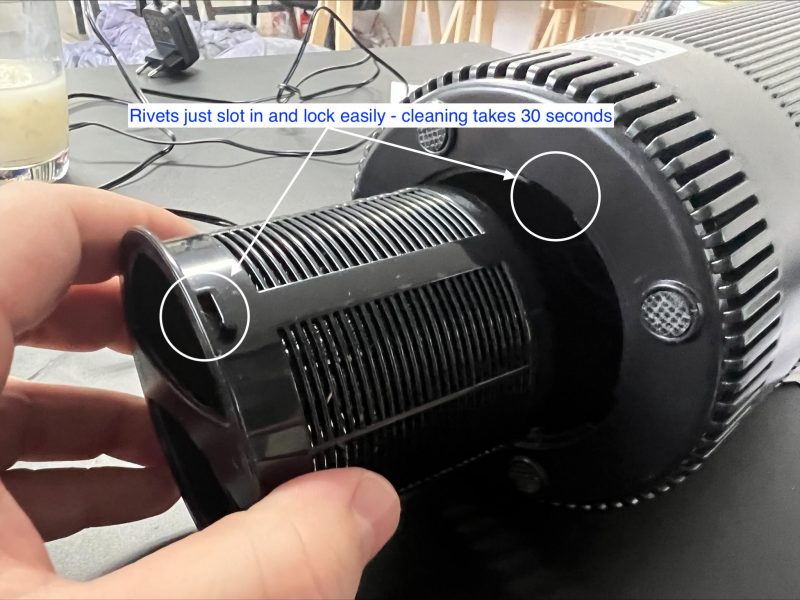 I'd recommend doing it outside though, when I took this picture a plume of wings came out that were practically vaporised – not nice 😀 get that dust outside is my tested and proven advice 😀
Price
There is quite a difference in price between the swatter zappers and the electric fly killers, so that is your first decision to make. How much of a problem do you have with flies, mosquitos, etc. and is it worth spending a lot of money on? The electric fly killer of mine really works – no question on that, from personal experience I can tell you at the worst of times I can wake up with a few dozens critters in the cooked box.
Even after you have decided which type of fly zapper you want, there are a lot of different models, again with varying prices. I always recommend not going for the absolute lowest priced model of anything as the chances are it won't last long. Something mid-range is about right as there's no need to spend a fortune on these products as they are quite similar to each other.
Design
Although looks are more important if you are going to buy a stationary fly zapper than a swatter one, there are still some design features to look out for on them. Some swatter zappers will have built in lithium ion batteries that you can charge via micro USB cables, and this is always a plus. Having to buy new batteries can be such an annoyance. Then there are models that have LED lights in the handle so that you can use them in dark places. Personally, I only see the advantage of this if you are using it in bed, or if you are going camping, but it can be useful – edit that – after two years of testing you see the silhouette of flies and mosquitos too in the dark!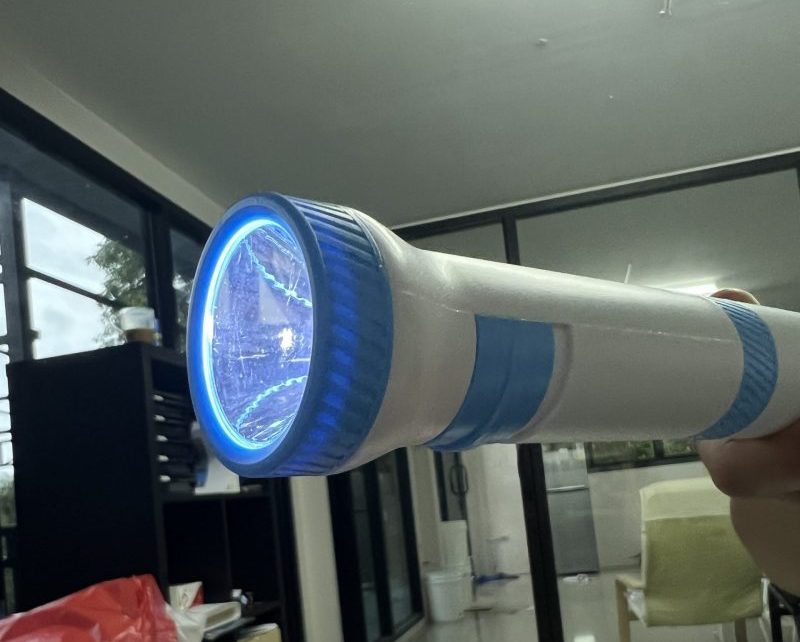 The electric 'killing mesh' in these products can also differ. Some products like The Executioner have only a single layer, while others have outer safety layers on top. While the idea of safety is great, and necessary if you have kids, it does often limit the performance of the swatter zapper. Of course, the opposite is true of the single layer type; they tend to kill insects, especially larger ones such as flies better, but can also give you a painful shock if you are not careful.
Below you find a selection of the best fly zappers you can buy, complete with a full review about the pros and cons of each. Enjoy.
---