It's that time of the year – Spring and it's the best time to consider looking after your lawn and I am not talking about artificial grass – we are talking the real deal lush green grass. I get so many questions about the order – should I weed and feed? What grass seed should I use? When should I use lawn fertiliser? So I thought the best thing to do is put together a complete lawn care guide so I can just reference people straight here to look after their lawns.
How to water, seed, feed, and weed your lawn and when we should do it
It's important to know what order to do things as well as crucially when, and that pretty much starts with something as simple as the ground temperature – we want to be carefully keeping an eye on when the temperature changes to about 10 degrees. This is probably the optimal time to start laying some grass seed. Forget what time of the year we are but have a look at the actual temperature. Before we go into how to look after our lawns, a list of materials and tools will help us be organised for this how to:
Get these items lined up now ready for constant temperatures.
Since the temperatures are starting to show a sensible 10 degrees plus frequently now it's time to go go 🙂
You can put a scarifier through your lawn
A great place to start is a lawn raker. You can really tear up your lawn at this point – don't be scared to make things look worse. You'll be shocked how much thatch can be pulled out of a lawn even in half decent nick, so one in a badd way will fill up many baskets and that's fine.
A top tip when using a scarifier is to run in a series of lines over your garden. This will do you a real favour as you won't want to walk overt the lawn after you're scarified tears it up. It'll be pretty messy to say the least.
Now is a good time to physically pull any weeds you see that didn't get got by the scarifier too. For a more in depth look at how to revive a lawn after scarifying please take a look at the link provided.
Time to spread grass seed – over seed your lawn
I would like to think we are past a freeze so please don't hold me responsible if you start laying your seed right now. If it's any consolation I will also feel the pinch if that does happen 😀 So by the same note, I won't take the credit if it works out 🙂 The plan is we lay the seed do a little watering and hopefully get a bit of germination going – it would be nice to get some roots going in our empty and bare patches of soil. With regards to what grass to use, I would probably use some miracle grow patch magic, you can find plenty of good grass seed choices here.
I would be using a lawn spreader all day long here. The best lawn spreader will give an even lawn over seed. The last thing you want is to wait a few weeks to realise it's still patchy. Hitting the entire lawn and then throwing a few handfuls over proper bare spots is going to give you the best shot of something sensible.
You can water but it doesn't need to be crazy as things haven't warmed up too much yet and evaporation isn't a real problem just yet.
Fertiliser for the lawn
You want a fertiliser high in Nitrogen and phosphate to give the lawn a bit of a boost. As the grass is coming back this is a super time to level the lawn. You can basically infill low sports with a bit of sand but the full article is on that page. A good lawn fertilise is going to make a nice difference, not just to the new seed but the entire lawn in general and will give you the best shot at a stunning luscious lawn
Use the lawn spreader to spread your fertiliser evenly as well. Might as well take advantage since you bought one for the grass seed.
Watering the lawn
Keep your lawn well watered as it'll be thirsty growing up dent don't flood it! I use the garden sprinkler to keep things sensible for twenty minutes in any given area on a really hot day where the soil dries out on the surface. Here's a useful picture from the other how to level a lawn article I did a couple of months ago: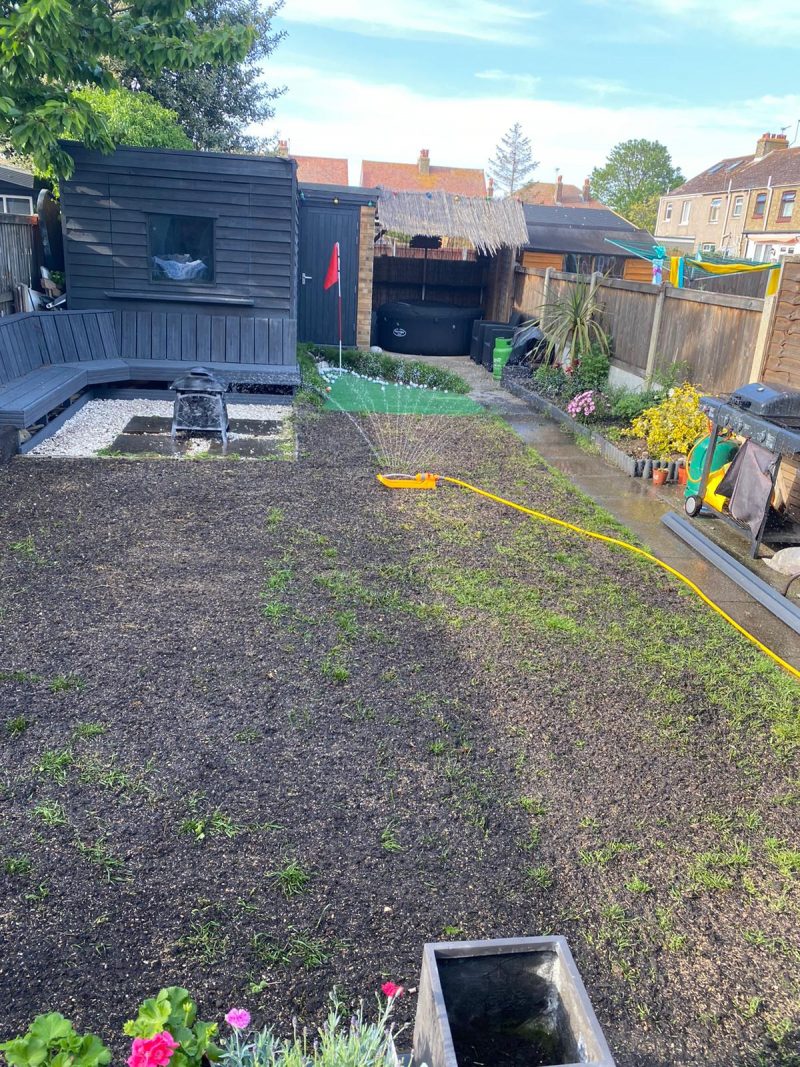 Weeding and feeding your lawn down the line
You could go with a full on beast weed killer and kill patches on tough weeds at this point. I personally wouldn't after all the hard work it's probably better to persevere. Ideally you caught all the evil weeds long ago but it happens and very easy to miss a few.
Wait for a bit. You might choke the weeds out with the over seeding process and there's a reasonable chance you'll mow them out after waiting a couple of months for this grass to germinate. If the weeds don't come out then we can start thinking about a lawn weed killer or a lawn weed and feed. There area few products you can use if you want to weed but you still want to wait a few months or so until the lawn fully takes hold.