Patios invariably get dirty, especially slabs and pressed concrete that haven't seen sealed in a long while, in fact sometimes you just can't get that last bit of dirt out – that's where using some of the tricks in this how to will help you make the best possible job of cleaning your patio for the upcoming Summer and hopefully keep it that way in the time to come!
To get this how to clean your patio and maintaining it article right you'll need a few things. There's no shortcut on these if you're looking to get excellent results:
Patio cleaner
Pressure washer detergent
Petrol pressure washer
Patio sealer
Brush down and remove any debris with a broom first
The easiest way to reduce the amount of debris you'll remove in total is use a stiff broom to get as much dirt and dust up as you possibly can – I always bag up my mess as I go to keep things as tidy as possible. You'll be shocked at what's on a drive – mine only parks a few cars but after the leaves and the mess from the Late Autumn and Winter I always end up filling a good few bags. You can whack this straight on your compost pile if you want.
Don't cut corners here, I promise this will really cut down the total effort. Blast much about the patio as silt is a million times more difficult. When I did some gutter cleaning I got into a right mess 😀 In fact, I just stopped, let it all dry, and then literally got a shovel to remove the worst of it. A pressure washer has it's limits and it doesn't matter how powerful it is, mines a petrol pressure washer as we will get to in the next section with serious oomph!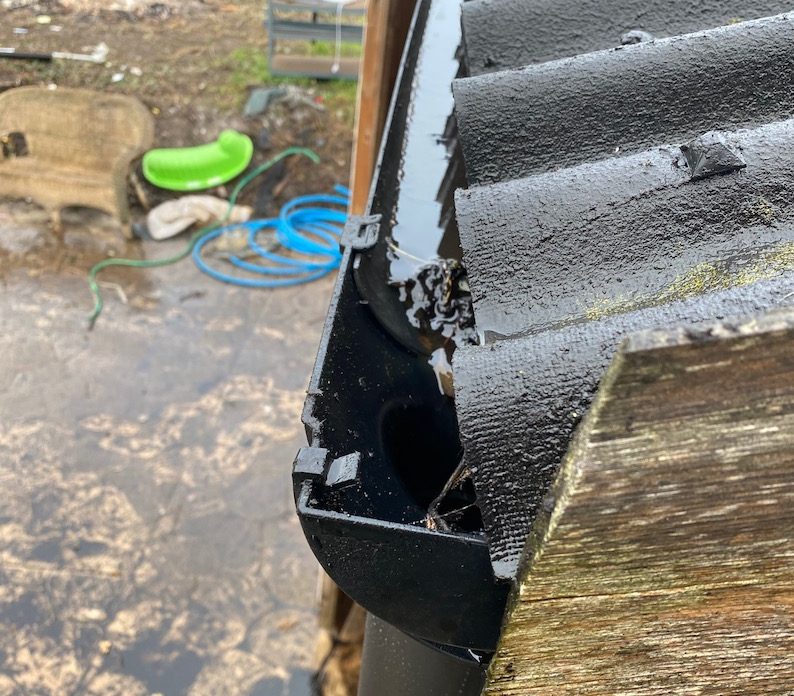 Blast down your drive without any cleaner first using the petrol pressure washer
My petrol pressure washer is the Wilks 750. I always bang on about how good its been to me but the Hyundai petrol pressure washer with a similar engine doesn't claim the same horses but I can tell you delivers the same cleaning is a pretty good shout too. Make sure you have a full jerry can of petrol – you're going to use one today if you see this through 🙂
Systematically work your way from one end to the other, or in my case from high to low. Where I have a slight slope it lends itself to helping me wash away the muck.
What you'll find is a fair bit of dirt comes out of your stone, concrete, or slab patio.
It takes a while so just go with it and persevere – just keep going nice and steady. If you have any oil stains you'll notice a bit of a colour slick from where you're able to pull some of that oil out. You won't get it all though – the pressure washer detergent or patio cleaner will help with that in the next step, and if not, then a stain remover specially designed for the il marks is the way forward.
Apply patio cleaner or pressure washer detergent paying special attention to oil marks
Without question the hardest mess to pull out of your patio is engine oil marks. Those nasty black marks are really in there. What I like to do is hammer down some pressure washer detergent and patio cleaner on those patches first. I give that twenty minutes to soak in while I have a cup of tea then I liberally blast the entire area with cleaner. I like to try to let the detergents do as much of the work as possible – and why not? You've paid for them and want to take advantage. So don't be one of the those guys or girls who fires down detergent then cleans straight up it won't be max efficiency in terms of how much dirt you can get out.
Use a super stiff broom to brush and clean the patio
Now that you've given the whole drive some detergent and left it for twenty minutes its time to give the toughest patches of dirt a really good scrub. A stiff broom is super and if that doesn't work then you can move onto a wire brush. What I'll say is almost all of an oil patch will come out but if you look close enough you'll still see remnants. An oil stain remover will get a bit more if you want to try to get up as much as is physically possible.
Blast down your patio with a powerful petrol pressure washer
Once you're confident you've done as much and got as much as you can out of your detergent it's time to clean up. Again working systematically from one side to the other blast down your patio. I work my way to the bottom of the slop and the drain, you want to be aware of where your drain is and make this the finish point so that all the mess can get washed away with minimal fuss.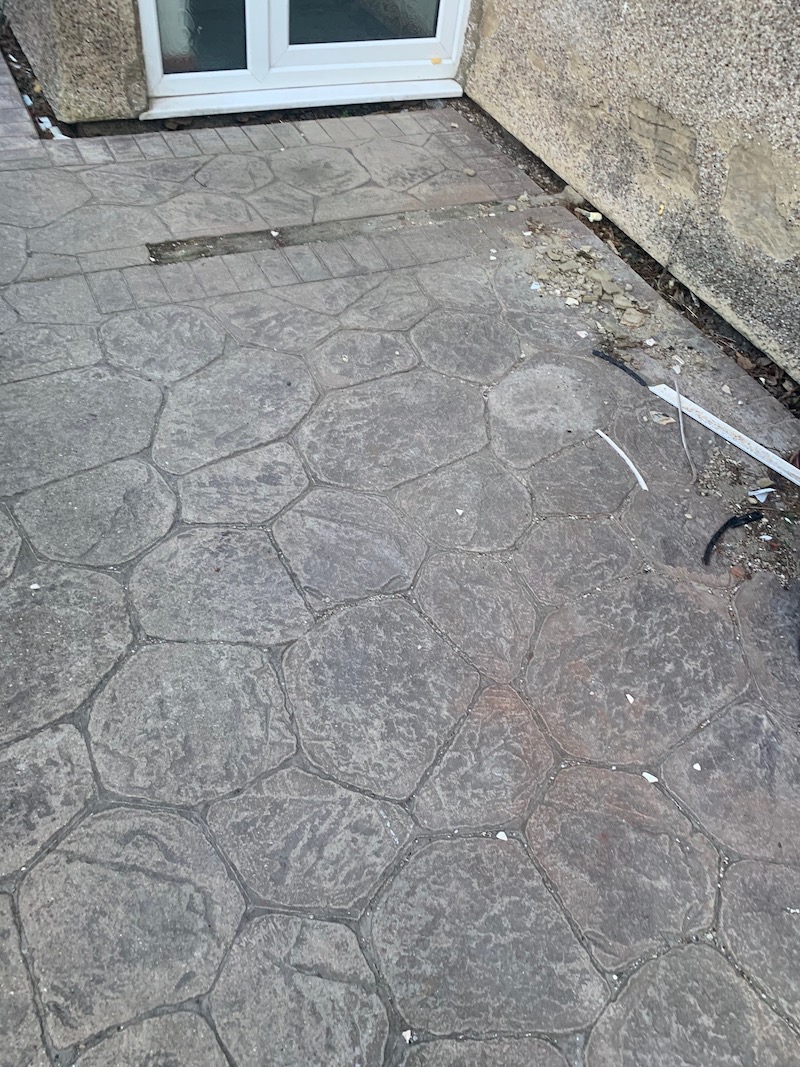 Give yourself a pat on the back – you've probably done a pretty decent job if you followed this how to clean a patio and it'll be looking a lot better. Here's an after!
Consider a patio sealer to slow down the amount of dirt that gets into your patio
Get yourself a decent patio sealer. I'd probably recommend smart seal or everbuild depending on the budget. I've made plenty of articles on how to seal a patio so no point repeating myself but it was certainly worth mentioning here. Just make sure everything is completely clean and dry when you go to seal up you patio. This is going to make maintenance considerably easier going forward.