I thought it was right about now, that is the time that you will go out and start painting your fence panels. I know I did! Well I didn't paint I sprayed and used a garden sprayer but that's because I used creocote. If you're using something thicker then chances are a garden sprayer won't work but don't worry, I have you covered wether you want to use an electric fence prayer, roller, or good old fashioned paint brush.
Best way to paint a fence tips:
How to paint a fence without it going through?
What is the best time of year to paint fence UK?
How to prepare fence for painting?
Can I paint over green algae on fence?
How to paint a fence with a roller?
What type of fence sprayer is good?
How to paint fence panels with concrete posts?
What is the best brush for painting fence panels?
Also before we get going, there's one absolute key element to fence painting. That is that you do not upset your neighbours. Amazingly, it is so easy to do if you're not careful. I know, you're thinking unbelievable but really, the paint can bleed through and ruin their colour, the mist can go over their side and coat their car, or patio in a nasty fine brown or green colour 😀 but don't worry, I am going to cover the pitfalls and reasonable etiquette too as we go through this article working out the best way to paint a fence together 😀 – and yes I am kind of bouncing ideas off you here as I write, after I shot a load of creocote up my nose spraying the outside of my shed and then spraying my garden gates too, I am thinking of a slightly different approach on the fence. The fine mist issue with the neighbours is really bothering me!
How to paint a fence without it going through?
Ok first things first, whenever we do DIY, we really don't want to annoy the neighbours. Let's be honest with ourselves, we don't want to be bothered, so you know the old saying, do unto thy neighbour and all that. We don't want to be bothered so our priority is not bothering the neighbours.
So with that said the biggest pitfall is how to paint a fence without it going through it with our paint. This is pretty simple actually. Don't lay too much fence paint on at any one time and better yet pick a one coat (no one wants to be at it all day). The best fence paints will be reasonably thick and not shoot straight through. However if you use something nasty like crecote (the creosote replacement) then you do run the risk of this becoming a problem. If you want happy neighbours I would go with something like the Ronseal one coat or I used the Curprinol 5 year fence paint: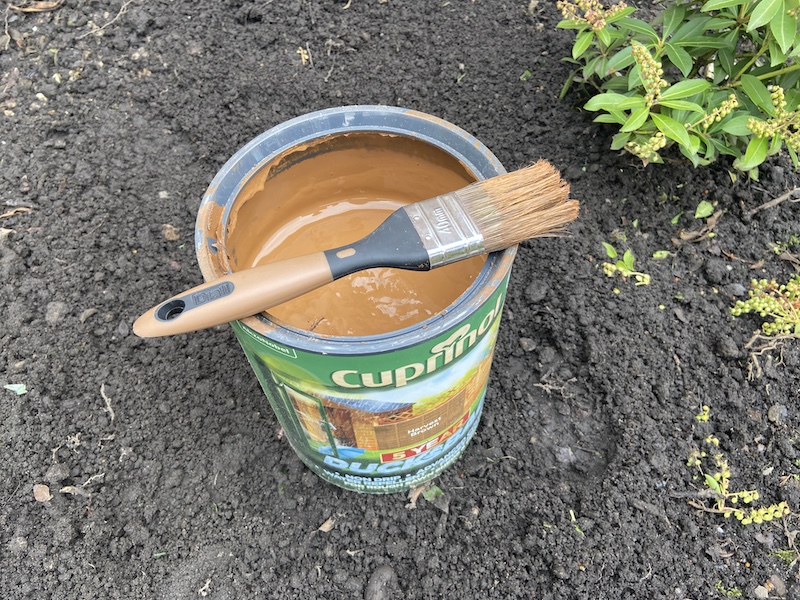 You'll probably already know how I go on about Cuprinol 5 Star, I am not affiliated to them at all, they just make incredible products to keep wood in one piece. The amount of maintenance they've saved me over the years warrants my enthusiasm for them trust me!
If you go for a shed/fence stain then this its normally thinner so applies easier but this is where the bleeding through happens most. More on this in the electric sprayers section.
What is the best time of year to paint fence UK?
About right now end of March start of April on until it gets wet again. With the weather starting to dry up in April and a few hot days will have the fence nice and dry. Basically, we want our wood to be below 18% moisture content (sorry to be a lab noddy) but the point is we want our timber as dry as possible for two reasons. Firstly, if you do plan on using a fence or shed preserver first then you really want the fence dry to absorb as much of the wood treatment as possible. Secondly, if you apply fence paint in any kind of wet, it can run easily and leaves a nasty looking finish.
The key here is you avoid wet at any point in this process which is kind of contradictory when I tell you how I prepare and clean down my fence panels in prep for painting 😀
How to prepare fence for painting?
I get out my cordless pressure washer and give the thing a blast. Yes, this is putting moisture into the wood, yes this runs the risk of bleeding through to the neighbours and yes this contradicts a fair few things I've said to this point. That said, water dries up and I have no intention of spraying down the fence and painting the same day.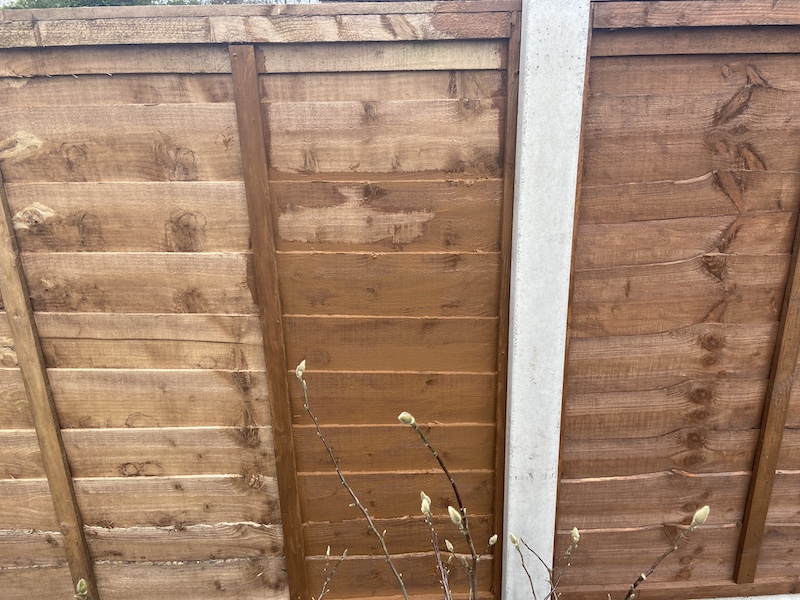 So, I give the fence a good blast, it takes literally seconds to strip the old paint off as well as algae and dirt, as I showed you with my shed in the petrol pressure washer article. Also, I am spraying again a closed board panel. If it was featheredge and lightweight I might reconsider this method to tell you the truth. But there is a huge advantage here. If you have algae growth you may well find yourself using some kind of algae and moss killer. There's two points to make here, firstly that costs money if you already have a pressure washer and secondly, the residue may have an effect on your shed paint and that goes for both sides of the panel 🙂
To sum up: you need your fence clear of any debris and dirt, especially algae and any growth. So when I get asked:
Can I paint over green algae on fence?
The answer is a resounding NO. Make sure you get that algae washed off, be it the hard way with an algae killer and elbow grease or blasted off with the pressure washer.
Then leave your fence to dry right out. No matter how long it takes to get a nice run of weather thereafter and you will be good to go!
How to paint a fence with a roller?
Don't get clever with this, just use your normal fluffy roller designed for emulsion that you get in any roller and tray set for a fiver. Obviously you do not want to spend out as the chances of cleaning said roller after using a thick gloopy fence paint is almost zero. I would also have a throw away brush at hand to get into the little joints that you miss with the roller. Also, if you have a dirt flower be then fine you'll probably be alright, if you have a patio or similar then make sure you put down some cardboard or a dust sheet to stop the stain. Sounds obvious but the number of times I get emails asking how to remove fence paint from sandstone 😀
What type of fence sprayer is good?
If I am using something pretty thin I will go with an electric fence sprayer all day long. A cheapish sprayer can push out mid viscosity paint. If you go with something thick and gloopy then be warned, it will jamb if you go with the cheapest sprayer. A good combo if you want a thick and gloopy paint that works pretty well is the Ronseal one coat or the Cuprinol fence paint and that should be used in conjunction with the best fence sprayer the Wagner fence and decking sprayer purposefully designed to handle this type of paint.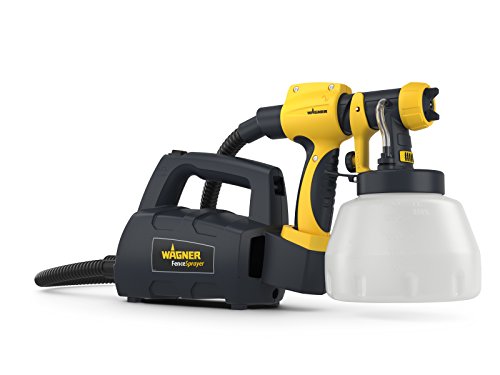 Don't do it to yourself. You know what I've just said about the gun clogging! What's going to happen is you'll hit Amazon after clicking the link, (and I am grateful for that small commission it keeps me funded to keep handing out advice for free by the way), but do not go and buy the cheaper Wagner. Everything will make you want to go and buy that cheaper sprayer 😀 I know because I did, and that's how I know it'll clog so don't make my mistake!
How to paint fence panels with concrete posts?
In my mind you don't – I alway tape up my panels when I paint but if you want to then you'll need a masonry paint as this sticks much better to concrete surfaces. This is basically the paint you use around your window reveals or stone sills. It's the paint used on pebble dashed and painted brick houses. You've seen the stuff and almost certainly got a bit in the bottom of your shed somewhere! I wouldn't recommend painting them though, a good blast off brightens them up and like a painted brick house, once you start painting you have to keep on going!
What is the best brush for painting fence panels?
The best brush for painting fence panels is literally the cheapest one you can find. Without question you will not be able to salvage them from this nasty paint so buy cheap. If however you're looking for a quick job and want to use a brush to push the paint right in (hats off to you for such a thorough job) then you'll want a 4 inch masonry brush. These do clean up ok and you'll certainly be able to use it for painting the fence again!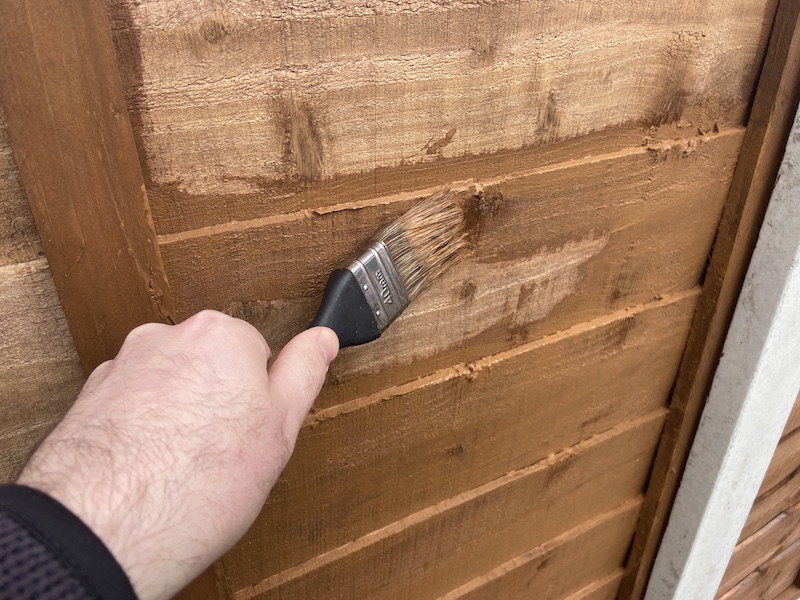 So there you have it. Absolutely everything you could need to know about how to about the best way to paint a fence. If you think I've missed anything then pop me in a message but otherwise…Happy fence painting!