Serious question: have you ever pushed a heavy mower up steep slopes? I have, and I don't fancy making that mistake again. Worse still, I didn't even ask the other half of the question: Have you ever held onto a heavy mower running away from you downhill? Obviously, I have, and I don't want YOU to make that mistake. I wouldn't wish that on my worst enemy so picking the best lawn mower for steep slopes or big hills (which there are plenty in the UK) is an absolute must.
The best tools for the job largely relies on a few important factors. How steep is the slope, how big are your hills, and how strong are you?
The last question left you a little puzzled? Isn't that the problem we are trying to solve you ask? It's not the weight of operation, in some cases it's literally the weight of the machine itself – some beasts weigh 20 or 30kg and need to be held upright due to petrol flooding etc… Something you might not have factored…read on, let's workout what lawn mower fits your personal requirement with a guy that's made all the mistakes so you don't have to.
Lawn mower for a steep slope in a small garden
If I had a little garden with steep slopes there would be a couple of choices that spring to mind. A mid range flymo that's not too heavy or something self propelled. Given a self propelled battery powered lawn mower costs more than a beastly petrol, that's a no go for me. I like value too. So that really leaves you with a flymo.
I would probably pick from one of the two Flymo hover mowers that fit well here. I would go with the Flymo 330VX with grass collection box as that's probably the best with exception of maybe the Flymo 280 Hover VAC, but that would be purely down to budget . You've probably noticed both models have the grass collection box. Given slopes are a pain anyway, the extra few quid is a must in making life just that little bit easier. Both these mowers are light weight and pack plenty of power for a steep slope in a small garden.
What lawn mower for a medium to large sized slope or hill that's steep
For a medium sized garden with a bank or significant gradient I would look no further than XL500 Flymo petrol hover mower. It's literally a one of a kind and there's no question. It is a seriously powerful piece of kit. If you look at the picture it's hard to tell the size, power, and torque of this monster. You have been warned. It's noisy, though not that horrible 2 stroke tin pinging noisy. It's a quality 4 stroke. There's a couple of pitfalls to watch out for. You need to lift the thing upright or you risk flooding. You also probably want to lift it with two people off the back of a truck or if stuck in a shed. That said, one strong man will have no problems at all. I just get caught in the mindset of wanting my gardening to be easier as I've gotten older…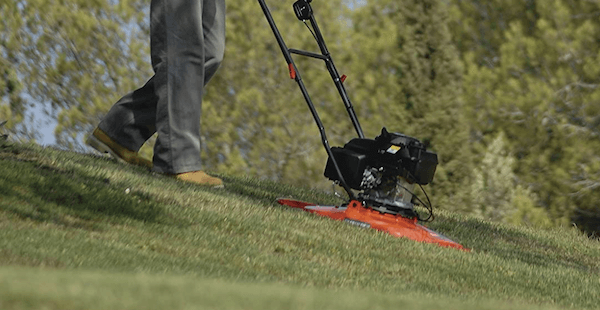 Talking of easy, the start is faultless partially due to the decompression lever which is a real bonus on petrol. Cranking for hours before having to do the hard work of cutting a steep slope doesn't work for me…
There is another way to attack a steep slope and that's with a self propelled lawn mower. Personally, if it was a significant gradient, I would stick with the XL500, you just can't go wrong really.
Cutting grass on large hills
Depending on the gradient (if it's really steep) you will probably want to look at the XL500 Flymo again. If the hills are a little more shallow and you have a big area to cover I would then go for a big self propelled petrol lawn mower because that's going to make life easiest. Being self propelled doesn't mean it'll start running away from you. The gearing on this model works great and you can maintain a decent consistent speed downhill. Having 4 variable speeds to choose from is a real bonus, especially when you don't want to march uphill at a rapid rate…and in this picture you would be golden with the Hyundai I've linked to.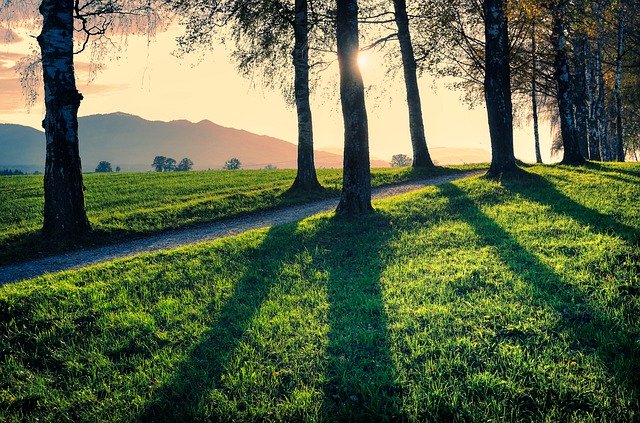 If your surface area is bigger yet, you might go for a ride-on lawn mower. I would personally rather walk into a showroom and see what I am buying with one of those. It's a significant investment and you need to be sure it can handle the gradient you need safely and that's pretty much got you covered for any eventuality. If not, pop us an email and we could perhaps recommend something else if your scenario hasn't been covered in this post.
What if my bank is just too steep to cut the grass with a lawn mower?
Firstly, too steep means a gradient beyond your mower can handle . Most quality petrol mowers cannot do anymore than 45 degrees, that includes the XL500. So if it's super steep you may well need to go for a serious petrol strimmer. Specifically I would draw your attention to a cracking value model, the Parker brand petrol strimmer on this page. For £75 quid you can buy and replace three higher quality models but all the reports so far suggests that this lovely bit of kit lasts really well and doesn't fail all that much. A silver lining then if your slope really is too steep!
If you do go down the strimmer route, be sure to invest in a quality rake. Anything that can save time and make life easier whilst standing on a steep bank is going to make a big difference to your comfort.
Don't cut corners when it comes to cutting grass on steep slopes
One thing I would go back to is the start of my post. Do not try to mow a steep slope with the wrong equipment. Doing the job the hard way is painful, it'll make you want to do it all the less, and it can even be dangerous. When I used to mow a slope with a petrol powered cylinder mower it would slip and tear up the lawn on damp days. This is really the kind of crazy that I hope we all grow up and now avoid. I even remember landing on my backside a couple of times! 🙂 Also it's worth remembering the old Flymo and rope trick is now against the law so make sure you follow direction carefully.
It would also mean that I was essentially only able to mow well downward which is a huge waste of time. Picking one of the quality mentions above is going to save you that trouble going forward. If you have a particularly big area then you'll need to spend more so getting it right as you will with this guide will serve you well for years to come.