We've all been there at some point, it doesn't matter if you're buying your first lawn mower or replacing an old one. I am the first to admit I have been guilty of buying an underpowered lawn mower only to regret each arduous thrust back and forth over the grass spending hours on a chore that may have taken a fraction. Caught in limbo between buying another lawn mower fit for purpose and soldiering on. The pain of knowing I threw away good money on a little Flymo when my garden needed bigger pushes me on through the mental pain. That in itself stresses me out quite frankly for the rest of the day. I am going to help you avoid that unnecessary headache, unless you like burning arms and solid cardio. But then again, I burnt the thing out in 18 months and completely my fault working it too hard. Don't make my mistakes. A ten minute read or less can save you hours…
Indeed, I didn't even want to use my mower anymore. The lawn day is a day I now look at wishing it'll never arrive. Amazingly it didn't have to be that way. Some people enjoy following their self propelled mowers around the garden, occasionally emptying the grass box doing a light paced walk. I'll never buy a lawn mower again without first fully understanding it's capability as well as what the mower is designed for and we are going to look closely at the right mower for all gardens.
My lawn mower hell that made me write this post: 30 ft garden with Flymo 280 VAC
Against my better judgement, I had a garden between small and medium so I thought I would save £50 or so on the Flymo 280 VAC rather than going for a bigger model. Now don't get me wrong, this is a lovely little mower and given my grass is uneven and on a slope a Flymo makes a lot of sense. On a side note, if you have vast areas on a slope or incline then the only choice is the Flymo xl500 petrol powered, but we can talk about that later.
So, I bought this little 280 Flymo knowing full well I was living life dangerously and thought, 'it'll be fine'. That was until a year later whereby cutting my 30ft garden took a couple of hours rather than 15-20 minutes. I could have bought a cordless lawn mower like the Makita DLM380 which, despite being battery powered, I could sway through a small garden like Genghis Kahn in the 13th century. Instead, I picked an underpowered mower for the job and hated it since. So let's look at viable options based on the size of your garden so that cutting the lawn no longer feels like Chinese water torture.
Cutting the lawn on a small garden up to 20ft in length
This is what the Flymo 280 VAC was really designed for. In most cases you'll be able to get round the garden entirely without the need for an extension lead too which is a plus. My hatred of unreeling the power extension cable each time is brutal.
What I would say is, if you're on a budget, probably the best option is the Flymo turbo lite 250. This thing was tailor made for a small garden. I would however, with no hesitation, look at the Flymo Easi Glide 330 if cost wasn't an issue. It doesn't weigh that much more. It simply has a bigger cut and more power to get the job done faster. It's possibly overkill but you'll thank yourself in two years when the thing is still good as new because it's been vastly under worked and you cut the little patch of grass in no time…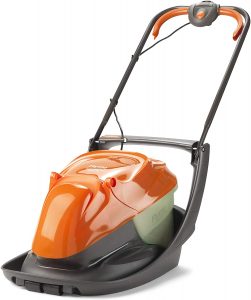 Cutting a lawn for a small garden up to 30ft
Despite an uneven surface I would now start to look away from the Flymo range for options. If I had a flat lawn it would be a no brainer. The ease of use a cordless lawn mower provides on this size garden makes all the sense in the world. My feelings on the Makita battery range are well known. You're basically getting professional grade equipment at home use prices – a no brainer then. It's worth considering though, a battery powered mower is considerably more expensive than a corded version.
If I was looking to save the pennies on a garden up to 30ft I might again go for Flymo Easi Glide 330 but I would probably lean more toward a vastly higher powered electric push mower like the Flymo Speedi-Mo 360C. Pound for pound the thing is practically unbeatable and has great cutting performance. Had I personally chose this over the 280 hover mower, I would not have the headaches I did back then. At £90 or so quid it's a steal for the performance. It isn't heavy or difficult to manoeuvre either.
Cutting the lawn on a medium garden between 40ft to 50 ft
When you're at this size of garden I wouldn't mess around and maybe up even to 60ft with this category, I would go for a little petrol lawn mower like the Mountfield petrol lawn mower or if a preference to avoid storing fuel (and the hassle of getting a petrol mower going in time) then I would head to the Bosch Universal Rotak 550.
Consider though, if you go electric, you better have no problem with an extension lead as it's a definite requirement. In case you need one, please take a look at the extension cable reels for a bargain and decent review of them in terms of price and safety. When a power cable runs over a moist or damp floor shock is always a factor so make sure you don't cut corners with safety!
Cutting a large garden lawn: 60ft or over
I wouldn't mess about when it comes to a large garden lawn. You don't have to struggle with a 60ft lawn. You also don't want a power cable so that limits you to battery or petrol. Simply put, 60ft is asking too much for cordless unless you're prepared to keep four batteries which pushes the price so close to petrol you might as well just go with the more expensive option…but…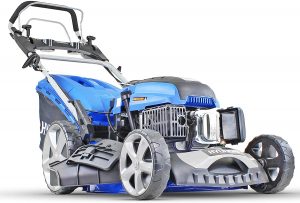 Not to forget either, a cordless lawn mower is considerably less powerful than a petrol lawn mower. A cordless lawn mower makes no sense at all here. I would instead be looking to the Webb 18in/46cm Push Petrol Lawnmower or potentially the Hyundai HYM510SPE Petrol Lawn Mower if I wanted to make ultra light work and my garden was say 100ft plus. This hyundai is probably the best petrol lawn mower full stop and ideal for larger garden lawns. Petrol has the drawback of fuel storage so make sure you buy a decent jerry can well designed for pouring fuel and legal to fill at petrol stations. Apart from a little noise and smell you'll be glad you bought the right tool for the job which leads me onto the conclusion really.
A healthy lawn: buying the right tool (lawn mower) for the job
A bad workman always blames his tools. If you buy the wrong tool like I did, your first instinct is to blame the tool. The truth is I cut corners and didn't research or spend the right money on a lawn mower. With the information above, following the simple outline, you'll have the right tool for the job and avoid the costly mistakes I made which haunted me for the lifetime it felt like that I used that little hover mower. The irony is, there were products equally or cheaper that would have saved me hours and kept the stress levels down. I hope this helps you avoid costly mistakes and you can buy the right lawn mower for your garden. To further the lawn care I would now look at lawn feed and grass seed as part of a healthy lawn.