Are inflatable hot tubs worth it?
Inflatable hot tubs allow you to have that little bit of luxury for a fraction of the price it costs to buy a plastic or resin moulded version which are normally in the thousands and with a bit of good placement you can replicate the look and feel of an expensive setup for practically no money at all with a bit of light weight material and some lighting 🙂 They almost always come with a message (bubbles) too which is OK, I just like being sat in warm water with a nice cold beer 🙂
Are inflatable hot tubs worth it?
Can I use my hot tub in the Winter?
Are inflatable hot tubs expensive?
Not only that, the best inflatable hot tubs only take ten minutes to actually get going. Just make sure you have a soft base for them. One of my mates came up with the idea of kids puzzle foam squares and it kept his hotter going all of last Summer. Heres a look at that: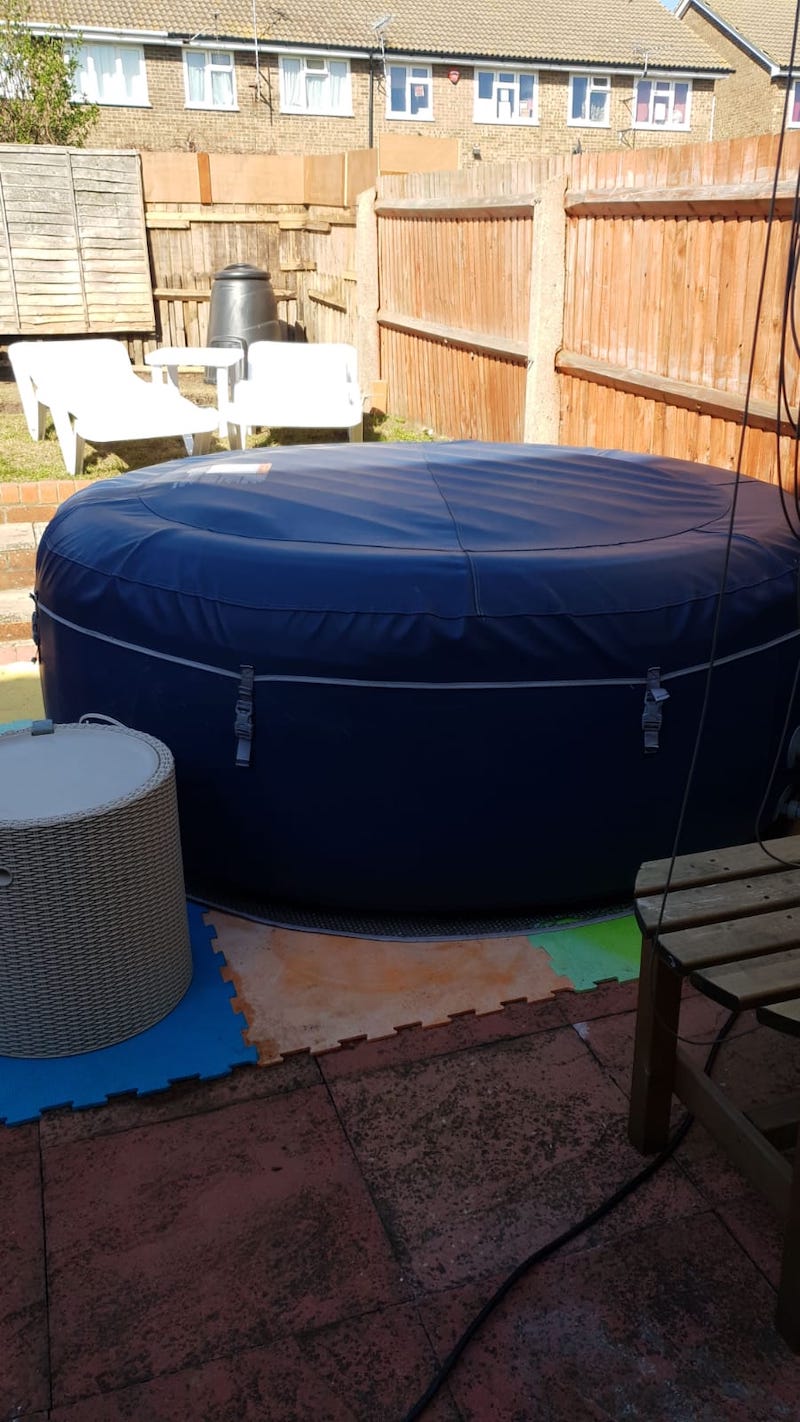 Can I use my hot tub in the Winter?
There's absolutely nothing stopping you use a hot tub in the Winter either, most of these beauties will go at 40 degrees so "let it snow, let it snow" to coin a phrase. The only trouble is when you have to jump out and run to the house, which I admit delays me sometimes by literally half an hour sitting there thinking, ok just two more minutes and I am going to get up 😀 It's not like a typical garden swimming pool whereby heating is an issue. Quite the contrary, you are not dictated to by the temperature at all.
Actually I would even go as far as saying they are a right asset in the Winter. I would say I use mine nearly as much as when it's warm. Why? There's nothing to do when it's freezing but watch TV. When it's warm there's plenty of bits to be getting on with in the garden when the evening is long and warm.
They are great if you want a beer too. Often it's too cold so you aren't in the beer mood. Half an hour in the bubble machine can get you relaxed and ready for a beer. Unsurprising really up to your neck in 40 degree water!
It has some kind of tech they claim which stops water freezing so you can use it all year round. I will have to say, even with the beast from the East mine has stood up to it's claims so I can't imagine waking up to frozen water anytime soon!
Are inflatable hot tubs expensive?
Without question it's been a real asset to me having a hot tub. Hours and hours I've had out of mine and it cost be about £350. I don't notice it on the electric bill, but then I've got three kids, you don't notice so you 😀
I think inflatable hot tubs are an absolute steal. They are literally pence on the pound when compared to fixed foundation options. Before I go into my setup it's also worth pointing out that they are easy to clean and require no maintenance really beyond that, but if you do puncture them with something sharp, it's pretty hard to come back from that 😀 They almost all come with a cover too as you saw with my mates one, this further makes the maintenance easy to handle.
If you're thinking there's no way you can get the same enjoyment and you need to blow a serious chunk of change don't first give a 6 person inflatable hot tub a go, put it under a pop up gazebo or pergola and see how you get on. This advice might literally save you a remortgage.
My hot tub setup
Ok well pictures are worth a thousand words. We aren't rich and I was toying with the idea of a full blown setup but thought I would give an inflatable hot tub a go first. To workout if I could make a setup that felt luxurious enough for the wife without a remortgage. Needless to say I am over the moon because she is.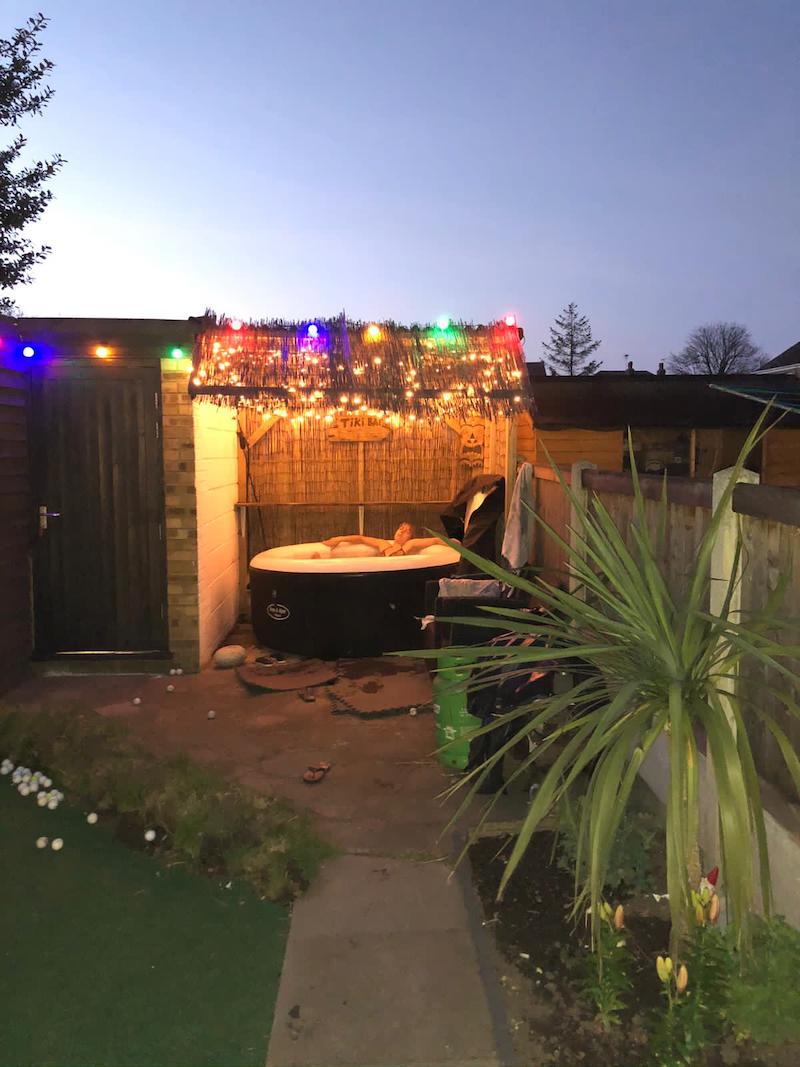 The secret to my success was the enclosure. I first started off looking at pop up gazebos as I mentioned previously but then I started thinking about what if I left it up and it ended up ten doors down in the neighbours carp pond? 😀
So What I did was I noticed off the side of my shed and the fence was a super spot. I ran a shed like roof over to the neighbours boundary and then stuck some reed screening on that to give it a bit of a warm feel. I ran some reed screening up the walls to make it look a bit exotic, nothing fancy, literally screwed and glued it to the wall. I put a wooden plank across the back so that I had somewhere handy to put my beer and phone.
Then I ran some power out there and got a far bit of lighting going. Fair warning, it looks like it's just hanging there but quite the contrary. I was super serious about the electric cables being well fixed. You know what happens when you mix water and electric with humans in it right? You've seen the films I am sure 😀
Learning from my mate I used some rubber mats under the hot tub, his lasted well and I see no reason not to follow a winning formula. I ran mine a little further out so I had somewhere comfortable to stand on my way out.
By day it looks a bit boring but it's certainly neat and tidy. I have no problem at all with it being there as it is in my garden and this certainly beats having something less permanent. In all honesty I don't want to blow my own trumpet too much but for someone that lacks the imagination, I got out of a remortgage pretty well here 😀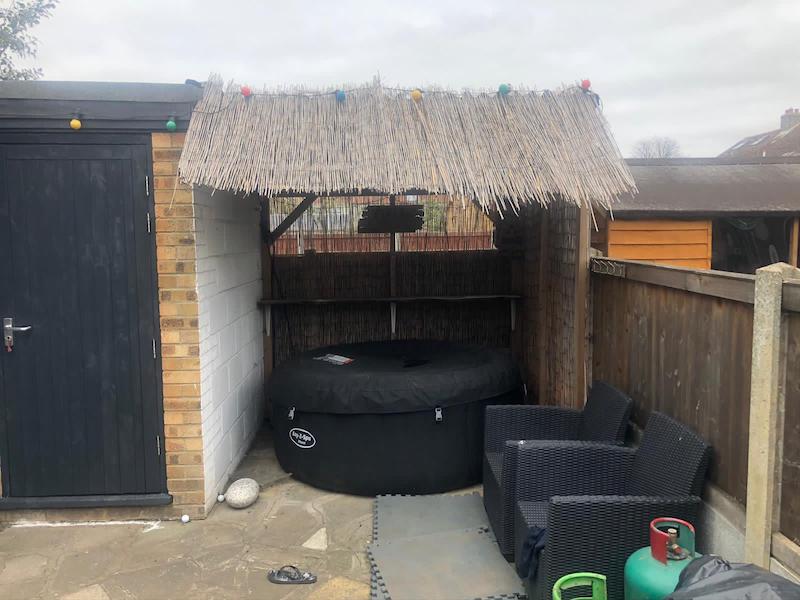 What is the best inflatable hot tub?
I wanted a 6 man job but it just would not fit so I ended up with a Lay-Z-Spa Miami Hot Tub. I will honestly say I think this is the best inflatable hot tub if you want a small 2-4 person job.
Now I know what you're thinking, I just recommended a 6 man 😀 All I am saying is when the misses and I get in there's no room for kids 😉
If I had the room I'd have a larger one. But as you can see it was a damn good use of the space and not to mention nice and secluded so no noses neighbours could randomly start peering over and into our hot tub area. My gardens a good 60ft or so, the only view point is from the back windows so overall I am pleased with my setup