We all know that British winters are generally dark and fairly dreary. The reduction in daylight hours, added to the darker skies caused by the weather can sometimes make you feel a little less than enthusiastic about getting out of bed in the morning.
As a gardener, you are in a position to do something about that though. By planting winter vegetables or winter flowering plants at the right time, your garden can be a beacon of light and colour in the winter, and bring a smile back to your face when you look out of the window.
Most people are surprised when they learn just how many winter flowering plants there are to choose from; from pansies and snowdrops, to beautiful shrubs, there is plenty for you to work with so you can create an atmosphere of warmth to contrast against the bleak, coldness of those winter months. To set you off in the right direction, here are some fabulous winter flowering plants that are sure to bring back that summer feeling.
Related Articles: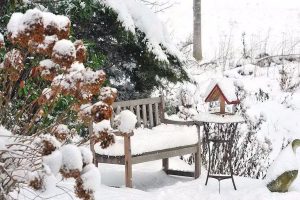 Christmas Rose
This large, white and yellow flower can sometimes be seen around Christmas time, hence the name, but it is more common to see them in abundance after the new year, in January. Surrounded by low lying, thick, green, leaves, this only helps to accentuate the epic brightness of the flowers due to the contrast. These plants flower until the start of spring, so you can use them to see you through most of the winter.
Winter Aconite
Although sunshine is a bit of a rarity in British wintertime, you can always brighten up your garden with winter aconite. With their bright yellow petals surrounded by a 'mane' of small green leaves, these plants wouldn't look out of place in any summer garden, and will certainly lift the mood of outside room winters.
Japanese Quince
Not only does this winter shrub fill your garden with wonderful pink flowers, it also adds a touch of the exotic at the same time. This thorny shrub will grow quite happily in the shade, but if planted in a spot that gets enough sunlight you will see a higher yield of fruit from them.
Pansies
I don't know the word pansy has become synonymous with being weak, these winter flowering plants are anything but. The heart shaped leaves can be a wide variety of colours, although violet coloured flowers seem very popular these days, and there are even bi-coloured pansies you can buy. I have to note that not all plants will flower in winter, so make sure you do a little research first to make sure you plant the right ones.
Snowdrops
With a name like snowdrops you shouldn't be surprised that this flower is a winter lover. Planting bulbs in Autumn will see your garden awash with these stunning white flowers come January.  Some variants of snowdrops, like the 'G.Magnet' are perfect for winter, as the stronger winds can make them sway hypnotically. Snowdrops don't need a lot of sunlight to thrive, and you can plant them in the shade of trees without any problems.
Winter Heather
You can add texture along with more colour by planting winter heather. The pink, purple, and white flowers are not just a favourite of us humans, but are also very popular with pollinators too. On top of that, heather will help to repress weeds as it grows and spreads, making it a firm favourite for winter gardeners.
Winter Jasmine
Although you don't get the same fantastic scent from winter jasmine as you do with its better-known sibling, the bright yellow or white flowers and long, leafy, branches more than make up for it. Another plant that flowers around early January, they are a great way to make you feel positive about the new year.
Algerian Iris
The stunning lilac petals with a touch of yellow are sure to catch people's eyes and keep your garden looking alive and vibrant in the winter. Algerian iris start flowering from around the end of autumn/ start of winter and they produce a wonderful fragrance to go along with their looks. These plants grow best in a position that gets a lot of sunlight, but can handle being left exposed to winds and chills.
Winterberry
If you buy the pollinator type of this plant, you will be treated to a fine sight when the temperatures drop in winter. While usually this plant has plenty of leaves, in winter they fall but leave behind the bright red berries which stand out very clearly against the barren branches. The effect is even more profound if we are lucky enough to see a bit of snow.
Winter Clematis
Flowering from December to January, winter clematis is yet another stunning plant to add to your winter collection. Producing lightly coloured flowers that can often have 'splashes' of other colours on the long bell shaped petals, this winter flowering plant also has a slightly citrus-like scent that reminds you of warmer days and has you looking forward to spring and summer.
Winter Cherry
Prunus Subhirtella Autumnalis, better known as winter cherry, produces pale pink flowers from late Autumn until the early spring. Winter cherry is known to have a wide range of health benefits and has been used to treat everything from digestion problems to lowering blood sugar to help diabetes patients. It is even said to help prevent wrinkles and is used as an anti-aging ingredient. 
Cyclamen
Whether planted in the shade under your trees, or grown in containers, the white, red, and pink flowers of cyclamen burst with colour and bring life into winter gardens across the UK. This hardy perennial starts producing flowers from late Autumn, continuing until spring. But it's not just the flowers that look great, even the leaves of this wonderful plant are eye catching with their silvery lined outer edges and dark green centres.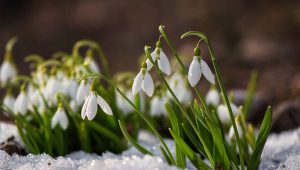 These are just a small selection of the winter flowering plants you can sow into your garden to add a splash of colour in future. Winter doesn't have to be bleak and dreary, you just need to plan ahead a little and you can have your very own winter wonderland.