Did you have a bbq planned today and the weather turned sour? I did too so what I decided was the best way to get through this rough weather is with an indoor bbq grill and a kebab maker. These are superb alternatives to a bbq and while they don't offer quite the superb flavour you'll get from a charcoal bbq, you will have absolutely no trouble getting that social aspect an enjoyment with the family, and as soon as the lockdown is over, you'll be able to invite the friends over too.
So the first step is to decide on the cut of lamb you're going to use. Personally I like to mix shoulder and leg, but the truth of the matter is my legs been in the fridge a few weeks now and I wanted to bbq it today, hence getting out the kebab machine with the bad weather today.
If you use a leg (which is healthier than the shoulder in terms of fat content) then you will just want to carve it off the bone. You don't nee to be neat with it, it's not like you're doing a butterfly leg of lamb in the bbq…this is just a case of cut chunks off and strip it right down wasting no meat at all. If you go with the shoulder as well which tastes better in my opinion due to the fat then make sure you have an extra b her to wash it down 😀 nothing like a fatty meat and a good beer is there? Well you could add some fresh salad which I'll get into soon 🙂
With the meat stripped off the bone you can now carve it up into big chunks for your kebab machine (if you have one) and smaller for the indoor bbq grill. Here's a look at the size of meat you want for the indoor grilling machine: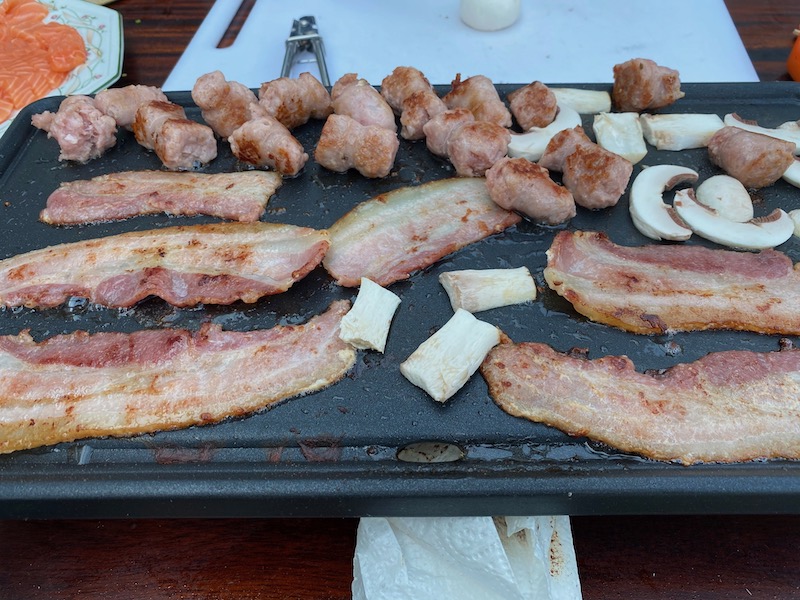 Now I won't try to pretend you're going to get the same amount of smokey flavour on your meat as a charcoal bbq but this is a bloody good compromise if you were thinking along the lines of a social beer and bbq meat today it'll easily match a gas bbq though. It's worth mentioning that many of the indoor bbq grills now are trying to go with the low or no smoke idea. This is a real bonus generally because we don't want the window open in these temperatures, certainly not for extended periods of time anyway.
A look at the home kebab machine:
Now my new toy is the indoor kebab machine. Yes it's on the small side but I picked the best one based on price and reviews I found online. It runs off electric as opposed to gad which is fine, I don't notice any loss in flavour – in fact, the dry cooking method seems to leave the meat full on flavour.
So the leg of lamb I cut into chunks and shoved up the skewer (honestly it was that rough and ready) took me about ten minutes and then I cheated a bit and added a load of kebab flavouring. Yes, the truth of the matter is your Donner kebab is rammed full of flavouring and to achieve something just as tasty requires that shortcut. I am certainly not suggesting that lamb cooked this way is bland and it most definitely is delicious but why not enhance the flavour as much as possible? 😀 Good for you if salt and pepper works out though…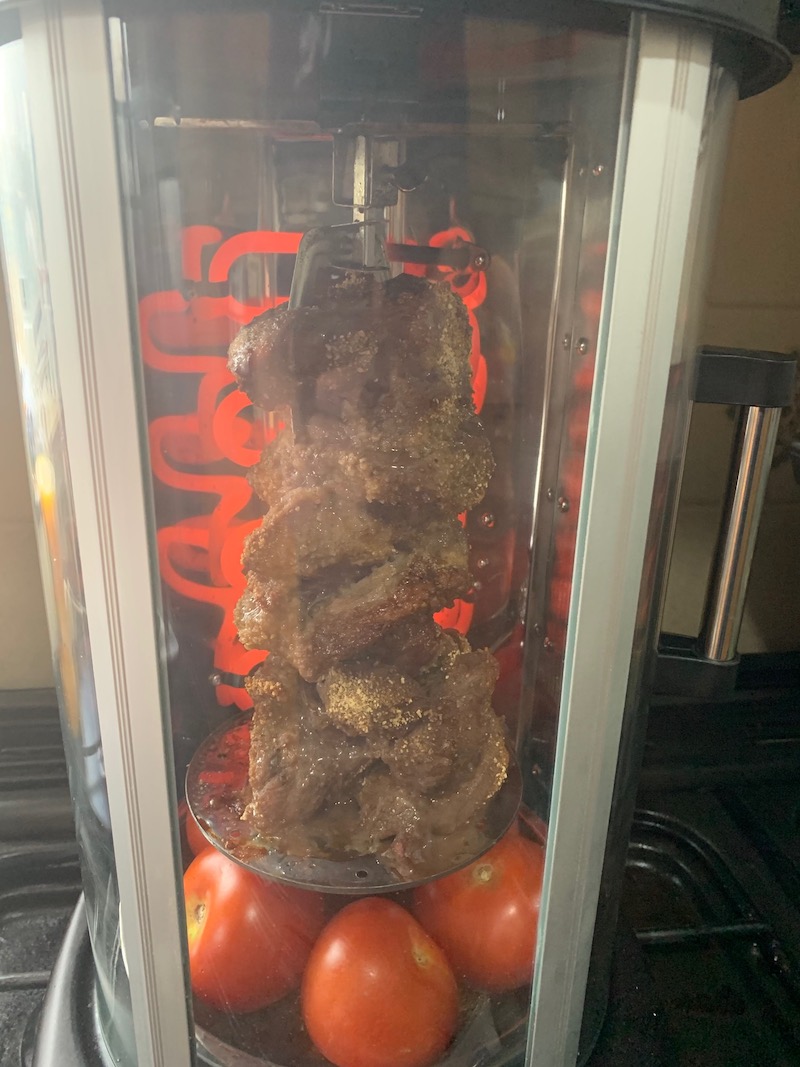 It needs to go on the spit for about half an hour before you start looking at the thing in a serious way in terms of eating. What you'll notice is if you're like me an ram the meat on uneven then you'll have a mixture of crispy meat meats with the softer moist sections – I have to tell you this is superb for the texture and flavour but was by no means on purpose – as I say I just cut the lamb up into random chunks not removing any fat as you want that for flavour. The best way of cooking meat )apart from on the bone which we removed) is in its own fat. It's no surprise that belly pork is the absolute king on a charcoal or gas bbq but I tell you what, this will give those a run for their money and that's no overestimation.
Get yourself a decent set of salad. If you're looking to keep the weight down avoid a pitta but otherwise toast yourself off a pitta and pop in some of your favourite salad – I'm my case tomato and onion with a bit of cabbage would be the best setup for my little taste buds 😀 and obviously a beer to wash it down, a lovely ale will do the trick. Hobgoblin gold and a lamb kebab works out a bloody treat 🙂 The waist line doesn't thank me for it though 😀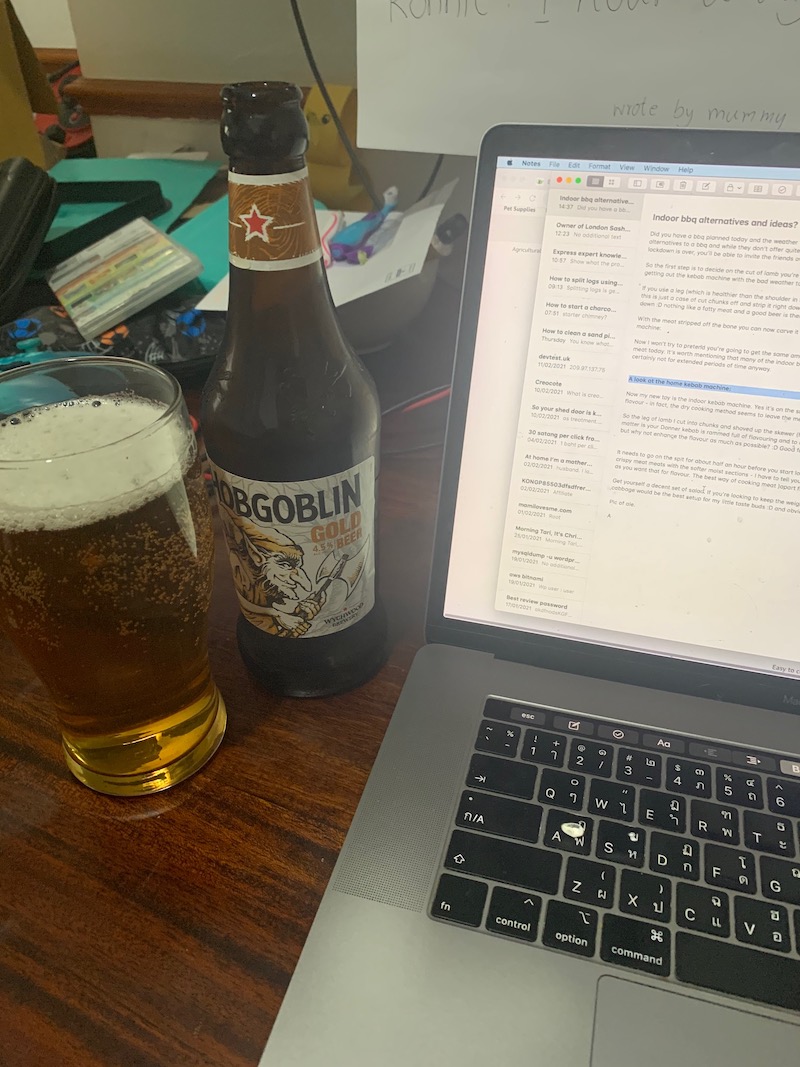 As you can see no kidding I am writing this on the fly as I prepare to eat my kebab 😀 I am literally waiting for the kebab to finish so I can get it out of the kebab machine – you'll notice I've shoved some tomatoes under the kebab machine to cook in the lamb fat – the next thing I'll throw in is some mushrooms. Don't be wasting that lamb fat it is absolutely superb.
I'm going to start off with some lamb and onion with a bit of burger sauce – don't know what made me go with that – mayo and garlic + chilli is my normal choice of weapon – I mean flavour :D. The truth of the matter is staying close to the old original kebab flavour will not hurt at all.
Here's a little look as I slice it off the reel, not only does it look good it tastes superb. The biggest tip of all though is to shove a plate in between the gap to catch the meat. Without doing this the meat ends up everywhere. The manufacturers have gotta learn a trick from me here and design an attachment to help us kebab makers with that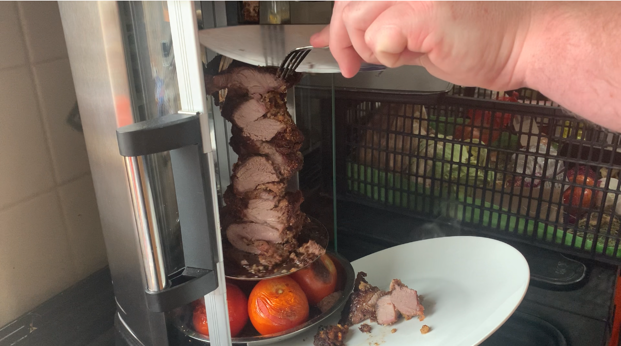 As you can see almost all the meat lands on the plate which would have otherwise ended up on the deck – this is a fun and caveman style way of having a bbq without having one. Not only that, enjoying it with a few beers as you go is without doubt one of the best weekend afternoon you'll have and makes for a superb indoor bbq alternative.