Yes, despite being sunny and touching 18 degrees on my outdoor thermometer and my weather station showing 17 and clear skies (which is was) yesterday, today, Easter Monday is now snowing. What a complete blow to my plans. My weather station is usually really accurate and it lined up with Google weather too. But here we are in snow and all my meat and fish is cut ready for the charcoal grill. So what I've decided to do is make sure that I can still get a good bit of bbq theatre using my indoor bbq grill.
Essentially it's an indoor grilling machine otherwise known as an indoor bbq, I get a good bit of smokey flavour on my food as it kind of chars the outside of food very nicely. The best thing about the indoor bbq I have is the setup. Being electric it is literally plug and play. There's very little in the way of smoke (something we will go into much more detail about soon), it heats up fast, fat can be collected and removed easily, and in general it is a very pleasant bbq experience. Here's a look at one of my indoor grills loaded up looking pretty appealing: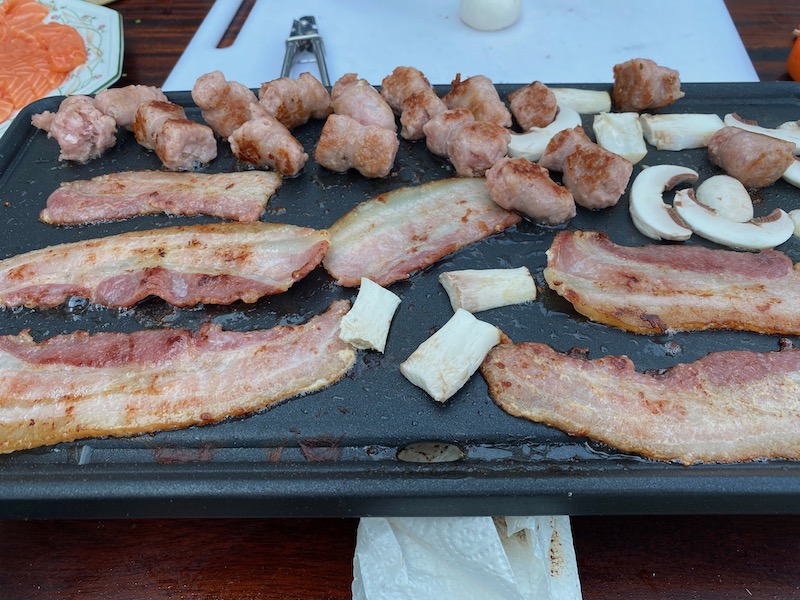 What are the best foods to cook on an indoor bbq?
So, what I am going to do as soon as I finish writing this is go and have myself a nice indoor bbq. Here's the list of what I have good to go:
King prawns – these are easy and cooked very nicely on a frilling machine, arguably better than a charcoal bbq. Since the heat is far more consistent you can control how well you want you prawn to be cooked. We always overcook them a touch because we want to eat the fat out the head of the prawn – something I highly recommend if you're into flavour!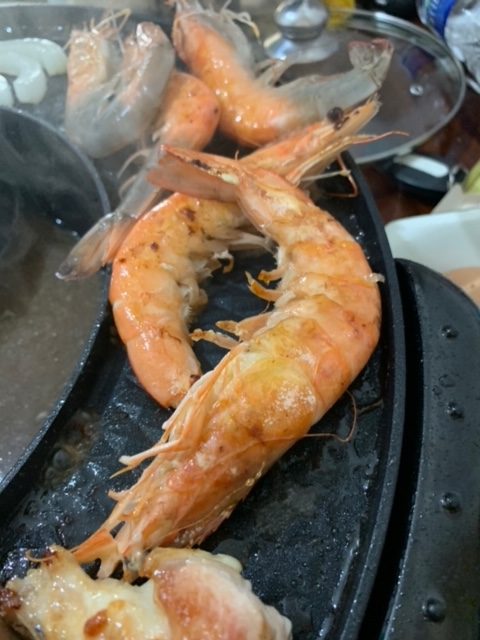 Thinly sliced belly pork or bacon – it literally does not get better than a bit of thinly sliced belly pork. Well actually maybe it does, but that is bacon 😀 soo very similar. The best bit about belly pork on the grill is the fat that runs off. You have two choices here. Be healthy and dispose or pop your mushrooms in that gat and watch them suck it up. The same applies to onion. Whilst I doubt this is much good for your health, I can assure you it does taste absolutely superb 😀
Thin sliced lamb – Lamb in my opinion is the weak link on a grill. I much prefer a leg of lamb or should roasted with a healthy dose of garlic. I think thinly sliced lamb tastes good and dI wouldn't miss it off an indoor bbq for the world (I love lamb), it just doesn't quite get to the top! You would be made to exclude it though!
Salmon – arguably the start of the indoor bbq show. While I recently wrote about how Salmon is good on a bbq but better pan fried, cooked in belly pork fat it will take on a super flavour. There's nothing magical here – just lay it on the grill skin side down for most of the cooking process to really try to crisp the skin and it'll be an absolute delight served with a little bit of soy sauce.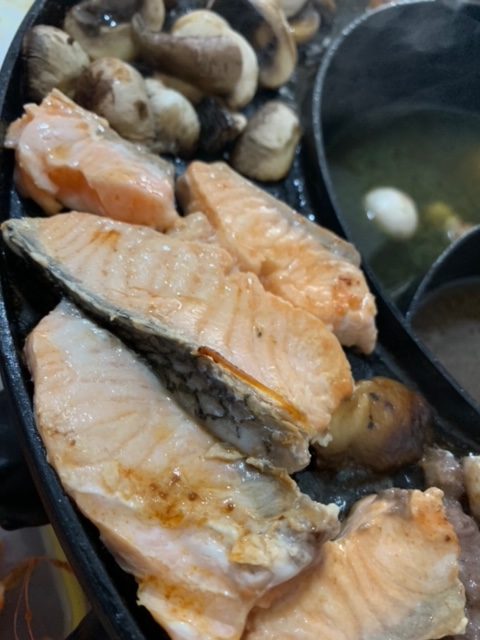 Mushrooms – I use mushrooms to soak up all the fat and meat juice. It's probably pretty likely this isn't the best thing to do in terms of health and probably contradicts the idea of a lean grilling machine but that was never my intention anyway 😀 My intention was a nice little bbq looking through the conservatory window into the garden!
Onions – these complete an indoor bbq in my mind. You can't go wrong with a nicely cooked down onion, it accompanies almost every ingredient bar the Salmon on my shortlist 🙂
Thinly sliced chicken or wings – believe it or not, aside from the miracle tasting belly pork, chicken thigh with a bit of skin on cooks amazingly on a grill. You can get a lovely char, almost a little bit sweet and caramelised in amongst the onions. This is without doubt the best tasting and healthiest meat combined on the grill. Definitely a meat you cannot afford to leave off an indoor bbq!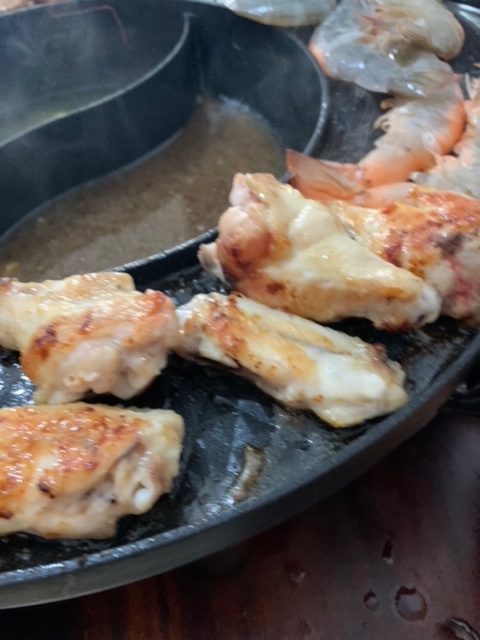 How to grill indoors without smoke
Before the invention of smokeless grills like the Food Party Grill, I would have said forget it, you need an extractor. The non stick, well designed new grills that are coming out now make indoor bbq's a really enjoyable experience. However, if you want an indoor charcoal bbq then you'll have to setup some serious extraction.
For the amount of effort, and the fact it's much nicer to bbq with charcoal outdoors anyway, I would say on fair balance it's better to go with an electric indoor bbq grill.
The one thing you won't be able to avoid is a little steam from your soup pot. The thing is, you want to bring the water to the boil so there's no getting away from that – albeit a short process, I just wanted to point out that your windows may steam up a little and it's not quite 'perfect' but it will be close 🙂
Top tips to make an indoor bbq really enjoyable and a complete success
I'm an absolute bbq maniac. That's fine when I spend my days in the warmer part of this planet. Whilst I am back in the UK I sit here thinking about how I am going to make the most of a bbq. That's what led me to testing all these indoor bbq setups.
As a result I've come up with some really cool little experiences that'll improve your turn on the indoor bbq:
Cut your meat smaller
Smaller meat cooks faster, as a result you have a constant flow of food coming from the grill. Larger meat tends to spit and so you feel uncomfortable adding it until all other food comes off the grill which can make food turnover slow. It's also not so nice to handle large chunks when you are predominately treating this as a bit of a hand picked buffet.
Food tends to take way too long to cook in the griddle whole. It's not the best experience waiting 45 minutes for a chicken thigh to cook through, in fact, anytime I've put meat cuts on whole I have ended up cutting them down before the end anyway so now we make sure we neatly package and cut our meat ready – it makes the process enjoyable rather than labour intensive whilst trying to enjoy a bottle of wine 🙂
Clean the grill well before use
I've sometimes noticed despite our best efforts to clean, a slightly rusty blackened plate when we've left it for a few weeks. Always give your grill a quick clean down to remove any char that will affect the flavour and enjoyment of the bbq.
Turn your grill down as soon as you can and get used to varying the temperature
Let me give you an example. When I put chicken on I fire the temperature right up to seal the meat in and stop raw chicken juice running over other food. Once sealed in I will reduce the temperature as it'll start to spit.
You need to be a little bit flexible with the temperature to get the most from your grill and the best tasting food!
Can you use a gas grill indoors?
The biggest problem is ventilation and how gas bbq manufacturers design them for outdoor use (understandably), whilst technically it shouldn't be a problem, I wouldn't risk it without fresh air. So for example, if you have huge folding doors in your kitchen and can get plenty of air, or a reasonably enclosed patio with free airflow then you won't have a problem. Bringing one indoors is a little over the top for me when there are plenty of electric options which are completely safe and can give a pretty authentic bbq flavour.
Following my tips you'll have a superb indoor bbq with an indoor grilling machine experience and that's a promise!