Garden Leaf Blower Accessories (November 2020 Updated Review)
This article was last updated on August 7th, 2021 at 9:44 am
Garden leaf blower accessories that can be of great use
Having reviewed an array of gardening tools and their accessories, it is only fair that the garden leaf blower is also given its due prominence. After the cutting activity is completed, there is a need to discard the accumulated debris such as grass, weed, and leaves. Further, with every autumn comes a scattered array of leaves that makes your garden look untidy. These need to be cleared up to restore your garden to its pristine beauty. To accomplish this cleanup task, a garden leaf blower vacuum is used. A typical garden leaf blower propels air out of a nozzle such that it generates enough force to move the debris. To generate the force, the power source would either be petrol or electric. While petrol was the most used source to power the garden leaf blowers, advancements in technology and focus on an environmentally healthier option have popularised the electric garden leaf blowers. These days, we even get cordless garden vacuums in the market. These give you greater flexibility to move around the garden without being restricted by the reach of the cord. More often, you get garden leaf blowers as individual equipments that just do the task they are built for. However, there are an array of accessories that will further accentuate their utility while helping you make the clearing up task less cumbersome. Now let us take a look at some of the garden leaf blower accessories that you can buy to make your clearing up experience all the easier.
Comparison table: Garden Leaf Blower Accessories (November 2020 Updated Review)

Product
What We Think
Price

PROGUTTER half round gutter cleaning scraper

SPEED - clean long lengths of gutter in each direction from obe ladder position...
SAFETY - cleaning hard to reach areas such as above conservatories and porches has never been easier...
VERSATILITY - can be fitted for left or right hand application
EASE OF USE - designed to miss gutter securing clips
HIGH QUALITY DESIGN - each of the tools is manufactured from high performance materials and contains a universal/acme thread...

Spartacus SP446 Blower Vacuum Bag Fits MacAllister MBV2800

High Quality Replacement Spare Part
Spartacus is a registered trademark of Power Tool Centre LTD (ptctools)
Spartacus spare parts are only available from Power Tool Centre LTD (ptctools)...
MacAllister MBV2800
Blower Vac Bag

28 * 21cm Double Shoulder Strap Padded Harness for Strimmer, Trimmer, Blowers

Padded Shoulders For Comfort.
Waist Band Can Be Adjusted To Suit With A Simple Easy To Use Buckle...
Fit for many model trimmers like for STIHL
Gives you safer and easier grass trimming.
Takes the strain away from your hands and wrists

Toro 51667 Gutter Cleaner Max Cordless Blower Accessory, 40 V, Red

Gutter cleaner - 40 V max
Adjustable shoulder strap, freeing hands to manoeuvre the extension tubes
Each extension tube is 52 cm long

Airjet Technologies AirJet Shovel
1. Spartacus SP446 blower vacuum bag fits MacAllister MBV2800
While you may have a very powerful garden leaf blower, even a vacuum one that sucks the debris, it only makes sense that you have an equally good bag to collect the debris sucked in by the vacuum blower. This is a must have accessory for your vacuum blower without which clearing up the debris is going to be a pretty cumbersome experience. We are going to review one such blower vacuum bag. Vacuum bags are not universally compatible and sometimes it becomes hard to get one from genuine manufacturers that fit well for your garden leaf blower. So, it is only fair that you look out for a compatible and cheaper alternative.
Don't go by the name mentioned, since the brand Spartacus is registered to Power Tools limited also known as "ptctools". Therefore, Spartacus replacement spare parts are only available from Power tool Centre limited. The vacuum bag listed here is just a compatible model and it is not manufactured by Power Tools limited. Also, bear in mind, the vacuum bags are model specific. As the name suggests this vacuum bag is compatible with MacAllister MBV2800. Before you decide to purchase any vacuum bag, be sure to check the compatibility first. Not all vacuum bags will suit the garden leaf blower that you have. So, you have to be careful while purchasing them.
2. Toro 51667 gutter cleaner max cordless blower accessory
When it comes to clean your lawn, there is more to it than just the flat surface of your lawn. The weed and debris can get into the most unreachable places such as gutters. With a normal garden leaf blower getting into a position where you can effectively blow them out would be a herculean task. Under such circumstances using a blower accessory that is suited for such a task is imperative. The Toro 51667 gutter cleaner max cordless blower accessory does exactly this task.This is one of the cord-free series of garden tools manufactured by Toro to make your clearing up job easy. It may be worthy to note that all of Toro's range of products that are battery operated works on the same type of battery. So the battery that you are going to get will work with any of the past or future Toro products that you own. This accessory is designed to ensure that you get all the work done within a short span of time. The target audience is folks who have less time but more work to do. What you get is an out and out gutter cleaner that operates at a maximum voltage of 40 V.
You also get an adjustable shoulder strap that is designed to take the burden off your hands and freeing them to manoeuvre the long extension tubes. Each extension tube is 52 cm in length. This ensures that you do not have to bring out your martial arts stunts to get the debris out of difficult places, be it in a gutter or the roof. Strictly for outside use, this product measures 58.4 x 21.3 x 21.3 cm and is about 1.59 kilos in weight. This gadget is strong and sturdy enough to dislodge wet leaves, twigs and entangled debris from gutters. You will find it easy to assemble, as the parts snap in with a click assuring a sturdy operation. You would notice no loss of airflow and as a consequence be prepared for some high pressure. You may want to dress for the occasion and wear an eye gear too, since all the debris may come falling down quickly!
The powerful air blow may need some time to get accustomed to especially if you are new to this trade. To sum up, this is an excellent and cost effective accessory that one must own if they have a garden leaf blower and intend to maximise its reach.
3. PROGUTTER half round gutter cleaning scraper
We have understood why a garden leaf blower is essential for any gardener who wishes to keep his lawn neat and tidy. We also related to the need of accessories to reach those tough spaces which a regular garden leaf blower may not be able to traverse without you getting on to a ladder. Clearing gutters is amongst the least favourite chores one would like to undertake. If you do not have the right equipment, you may have to get on to a ladder to reach the right spots. Now let us take a look at one of the best gutter cleaning scraper – the PROGUTTER half round gutter cleaning scraper.Speed of clearance: With the PROGUTTER half round gutter cleaning scraper, you can clean long lengths of gutter in either direction from a ladder position. All you have to do is just extend the pole and pull.
Safe and Versatile: By preventing the need to climb on a ladder this accessory when used along with the extension tubes saves you both the pain as well as the risk of getting injured due to a fall. It diligently cleans hard to reach areas such as above porches and roofs with minimal human effort. This gadget can be fitted for either right or left hand application.
Easy to use: Designed to miss gutter securing clips, it reaches almost all parts of the gutter with relative ease. The PROGUTTER half round gutter cleaning scraper will fit perfectly in the gutter, so it scores high in terms of efficiency. All you will have to do is screw it on the right way to scrape to either your left or your right. Screwing it the right way does half the job. Further, only takes a few seconds to unscrew it, turn it over and screw it again the other way.
Build quality and functional design: Each of the tools involved in the PROGUTTER half round gutter cleaning scraper is built from high performance materials. The kit also includes a universal/acme thread for fitting it to standard decorating extension poles by using the universal/acme style thread. Overall, the item measures 15 x 1 x 14 cm and weighs about 59 grams. This is to be used only on half round gutters.
If you are looking to clean a half round gutter, this is a must have accessory that when combined with other accessories (like the poles) gives you a painless cleaning experience.
4. Snow shovel attachment for leaf blowers – Airjet Technologies AirJet shovel
When it is snowing out there, it is indeed a spectacle to watch and sometimes experience. Not all parts of the world are blessed with this weather condition. However, when there is snow accumulation, there is quite a lot that has to be done to clear them out. This can be a back-breaking task that can cause some serious discomfort in the lumbar as well as the mid back region. The Airjet shovel attachment is designed to make you get rid of this menace. This simple yet very effective shovel attachment changes our humble garden leaf blower into an extremely high force snow blower, and worth having a
snow shovel
if that situation occurs.
The high pressure ensures that the snow and ice are pounded hard and crushed. There is no need to lift them as the wind does the job for you. This shovel attachment works well to clear the accumulation on sidewalks, driveway, decks and stairs. This gadget can be attached to most leaf blowers that have round or oval-shaped exhaust tubes. This Airjet shovel works the best with a blower that has an output of 350 CFM or higher. Some of the features that make shovel this attachment a preferred one include:
Easy to use and store: The Airjet shovel can be attached to your leaf blower within minutes. You do not need any additional tools to get them going. Further, the small and lightweight build makes them easy to store and transport.
Smooth operation: The edges of the shovel are designed such that it glides smoothly on skids. This action has a significant impact on eliminating scratches from the surfaces.
Ergonomically designed: Can be used with one hand – no lifting is needed. It does not cause any discomfort. Though this shovel is suited for hard to reach areas where regular snow blowers cannot go to, you would not feel any fatigue while using it.
5. Sharplace 28*21cm double shoulder strap padded harness for strimmer, trimmer, blowers
While we have been talking about accessories for a garden leaf blower, we were dealing with stuff that could be attached with the blower. Now, let us look at something that can be worn by the user. We need to feel comfortable while using any gardening tool and love to avoid being distracted by other aspects such as carrying the stuff around with us. To fulfil this requirement, we have the Sharplace 28*21cm double shoulder strap padded harness. This can be worn when you operate the blower or even trimmers. Let us take a look at its key features to understand why this is a good addition to your kit:Built to provide comfort: This harness is padded to provide that extra comfort to your shoulders. The double strap ensures balanced weight distribution while eliminating the strain away from your wrists and hands.
Easy to use: The waist band can be adjusted according to the requirement using a simple and easy to use buckle
Compatibility: The Sharplace shoulder strap is compatible with quite many gadgets manufactured by STIHL, ECHO, Husqvarna etc.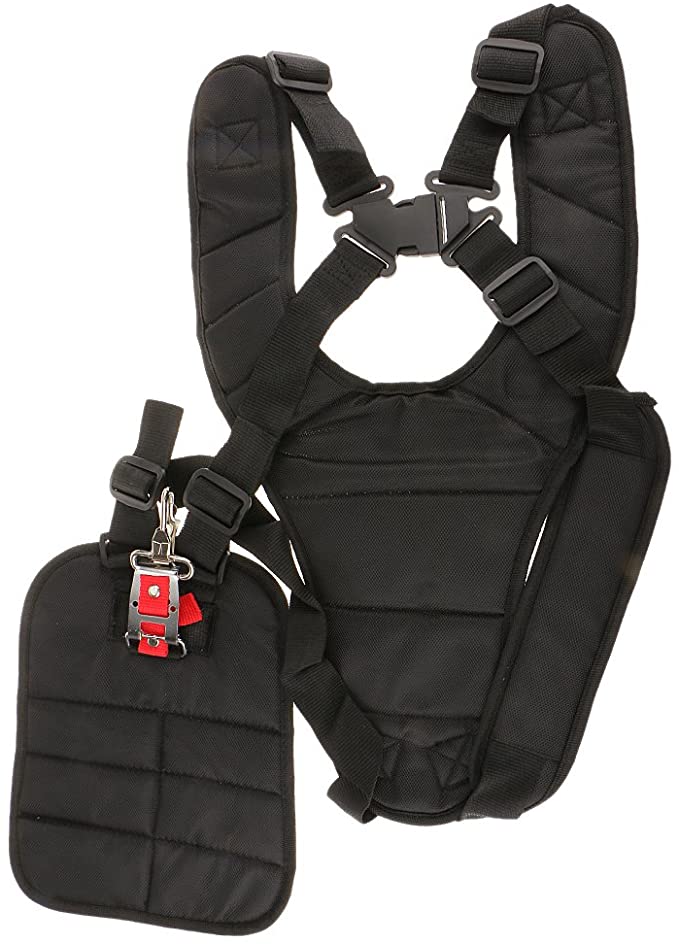 ---